Checkmate Loan Review 2020 – Over 30 Years of Lending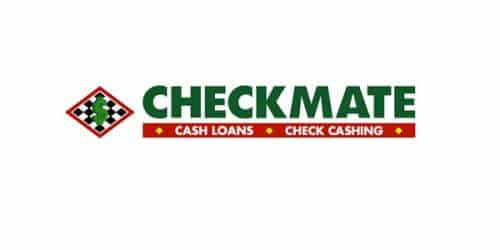 If you're looking to obtain a loan – but because of bad credit you are unable to use a traditional lender, you might need to consider a Payday loan. While this should always be a last resort, there might be a time where you need fast cash to deal with a financial emergency.
As such, the likes of Checkmate offer Payday loans to those with bad credit – albeit, at a much higher rate than what a traditional lender would charge.
If you're thinking about using Checkmate for your financing needs, be sure to read our comprehensive guide. We've covered everything from the lender's APR rates, eligibility, how much you can borrow, and more!
Apply for a Payday Loan Now! | Best Payday Lender 2020

Loans From $100 to $15,000
Instant Application & Approval
Bad Credit Considered
Lenders From All 50 US States Onboard

Due to the high fees charged by Payday loan providers, it is always worth seeing if you can raise the cash you need via other channels, such as borrowing from friends and family.

What is Checkmate?

Launched way back in 1989 and based in Arizona, Checkmate is a loan provider that specializes in a number of different financing products. While its main offering is Payday loans, the platform also covers auto title loans and check cashing. As is the case with other Payday loan lenders like BigPictureLoans or InboxLoans, the entire application can be completed online. Alternatively, you can also visit your local Checkmate outlet if you're based in one the five states it operates in.

In terms of what you can borrow, Checkmate offers Payday loans of between $50 and $700, which you will need to pay back when you next get paid. Failure to do so can lead to astronomical fees. If you're based in Arizona or California and you're after an auto title loan, then Checkmate can facilitate this up to $2,500.

What are the Pros and Cons of Checkmate?

Checkmate Pros:

✅Established since 1989

✅Suitable for people with bad credit

✅Sensible lending amounts of between $50 and $700

✅Complete the entire application online

✅Although fees are high, they are very upfront with APR rates

Checkmate Cons:

❌ Only serves 5 US states

❌ Very high fees

❌ Risk of getting your vehicle repossessed if opting for an auto title loan

Comparing CheckMate Loan service providers

Checkmate is one of the oldest payday loan services providers, having started in 1989 as a check cashing company. Throughout the years, the lender has added on the number of loan products they offer  by including auto and instalment loans on its portfolio. Some of its strengths include ability to lend to the bad credit borrowers, fast online loan application and processing as well as competitive loan APRs. But how does it fair compared to TitleMax, Advance America, and Ace Cash Express online loan service providers.

Checkmate

Borrow Payday loan of between $50 and $700 ($2,500 for title loan)
No minimum credit score – doesn't check
Payday loan APRs range from 165.12% – 912.% (state dependent)
Payday loan repayment term of 2 weeks to 1 month

TitleMax

Borrow up to $10,000 (secured title loans)
No credit score check
Annual loan APR ranges from 400% – 1,000%+ (payday loans)
Loan repayment period of 30 days to 72 months

Advance America

Loan limit starts from $100 to $5,000
Requires a Credit Score of above 300
For every $100 borrowed an interest of $22 is incurred
Weekly and monthly payback installments

Ace Cash Express

Borrowing from $100 – $2,000 (varies by state).
No credit score check
Fee rate on $100 starts from $25 (State dependent)
 Loan repayment period of 1 to 3 months

How Does Checkmate Work?

Much like in the case of other online lenders like Elastic, you can apply for a Payday loan through the lender's website. Simply head over to the Checkmate homepage, and you will be prompted to enter the state that you live in. You then need to click on the huge Apply button to begin your Payday loan application. Alternatively, if you're looking to apply for an auto title loan (Arizona and California residents only), then look for the respective button on the right hand side of the page.

As is the case with any online lending platform, you will initially need to provide some personal information. This covers the basics, such as your full name, home address, telephone number, email address, date and birth and social security number. You'll also be asked to provide your driver's license number, if applicable.

On the next page of the application, Checkmate will want some information about your financial background. This will include your employment status, how much you earn each month, whether you own your home or rent, and whether you currently have any other outstanding debts.

Checkmate does not pull your credit information from the main three credit agencies when you apply for a loan. While they will likely assess your history of repaying debt with other third party providers, the application itself won't have an impact on your credit score.

Once you've completed the above, the Checkmate portal will take about 60 seconds to reach a decision on your application. If you are approved, you will be presented with your loan offer on screen. If you want to proceed, simply provide your bank details, sign the digital loan agreement, and the funds should be deposited into your checking account the next working day.

What Types of Products Does Checkmate Offer?

Checkmate offers three types of products. Here's a brief explanation of how each product works.

✔️ Payday Loans

Payday loans are a form of short-term borrowing. Essentially, you borrow a small amount of money from a lender which you need to repay when you next get paid. As is the case with Checkmate, Payday loans come with a very high APR rate.

✔️ Auto Title Loans

An auto title loan is a form of secured borrowing. This means that you put your car or motorbike up as collateral, and in return, you get a loan. Auto title loans are significantly cheaper than Payday loans, although, if you default on the agreement, you could get your vehicle repossessed.

✔️ Cash Checking

If you have been paid by check, but you don't have access to a bank account to pay it in (or you need the funds instantly), Checkmate can cash it for you. You will need to visit one of its outlets to do this, and of course, pay a fee.

How Much Do Payday Loans Cost at Checkmate?

When it comes to fees, this will initially depend on the state that you live in. Each US state will have its own laws surrounding Payday loans, and thus, the amount that lenders can charge. However, Checkmate does have a fee schedule page on its website, which allows us to give you an idea as to how much you will pay.

For example, if you're based in Arizona, and you borrowed $100, you would end up paying $116 back when you next get paid. Based on a one month period, this would amount to an APR of 417.14%. If you were to borrow $300, this would cost you $47 in fees, which equates to an APR of 408.45%.

The only way to find out your specific APR rates is to make an application. Don't forget, the application won't show up on your credit report, so even if you aren't eligible, it won't hurt your score.

However, it is important to note that the rates you pay will also be depended on your individual credit profile. For example, those with bad credit will pay much more than those with a good financial standing. To further understand the key factors that Checkmate will look-out for when you make an application, take a look at the below.

✔️  Your Monthly income

✔️ Your Employment and home ownership status

✔️ Your history with debt

✔️ How much does you currently have outstanding

Other Fees to Consider

Although the APR fees are high, the good news is that you won't need to pay an origination fee. As such, when you are presented with your APR rates, this is the all-in cost of the loan agreement.

Am I Eligible for a Checkmate loan?

As a no credit check lender, it will come as no surprise to learn that the eligibility requirements with Checkmate are very low. However, not everyone will qualify, so you need to make sure you are eligible before you apply. Firstly, you need to make sure you are based in one of the five states that Checkmate operates in.

🇺🇸 Arizona

🇺🇸 California

🇺🇸 Colorado

🇺🇸 New Mexico

🇺🇸 Washington

If you're based in one of the above five states, then you will also need to ensure that you meet the following requirements:

✔️ Be a permanent resident or citizen of the US

✔️ Aged 18 years and above

✔️ Have a valid social security number

✔️ Have a steady source of income

✔️ Have a valid checking account

When Will I Receive my Funds?

As is the case with the vast majority of lenders operating in the online Payday loan space, you'll likely receive your funds the next working day. This will be on the proviso that the Checkmate system is able to verify your identity automatically. As you are required to supply your social security and driver's license numbers, this usually isn't a problem.

However, if Checkmate does require more information from you – such as supported documents, then expect the funding process to take an extra couple of days.

Paying Your Loan back

The only option that you have with Checkmate in repaying your loan is to set up an automatic debit via your checking account. This is where Checkmate will automatically take the funds from your account, on a set, agreed-upon date.

If you are taking out a Payday loan with Checkmate, then you will need to pay the funds back on the date that you receive your salary.

What if I Miss a Payment?

While it is hoped you are able to pay your loan back on time, there might be an instance where this isn't possible. If so, you need to contact Checkmate at the first given opportunity. If you are able to let them know at least a few working days before the payment is due, they might be able to offer you a small extension.

Although Checkmate doesn't use the main three credit agencies when you first make an application, they will likely report a missed payment to them. On top of dealing with late payment charges, your credit score is also likely to take a hit.

If you do miss a payment, then you are going to have to pay a late payment fee. This will vary depending on the state you live in, as late payment charges are regulated at a state-level. Take note, you'll need to pay interest on both the principle amount and the late payment charges, which can start to add up very, very quickly.

Customer Service at Checkmate

If you need to speak with an adviser at Checkmate, you can make contact via one of the following three methods.

📱 Phone: 1-866-722-CASH (1-866-722-2274)

📧 Email: [email protected]

✍️ In Writing: Checkmate, PO Box 35220, Phoenix, AZ 85069

Checkmate does not list its opening hours, although, as a Phoenix-based lender, you're best off contacting them during standard business hours, Mountain Standard Time.

Is Checkmate Safe?

In one respect, Checkmate has been operational since 1989 – which is long before the Payday loan phenomenon came to fruition. As such, they have three decades of experience in the lending arena. This means that as long as you repay your funds on time, you should have no issues with Checkmate at all.

On the other hand, if you begin to fall behind on your payments, then it is likely that the experience is not going to be a good one. The lender does not stipulate what its late payment policy is, meaning that the fees could be extremely high. Ultimately, if taking out a loan with Checkmate is your last resort, then just make sure that you ALWAYS meet your repayments.

Checkmate Review: The Verdict

In summary, Checkmate is one of many Payday loan providers operating in the online space. If you're based in one of its five eligible states, then you'll likely be approved for financing even if you have bad credit. What this does mean is that you will be required to pay very high fees. However, we found that Checkmate are somewhat upfront about the APR they charge, and you are under no obligation to proceed with the loan once you receive your offer.

Moreover, we also like that the platform allows you to check your individual rates on a soft credit check basis, meaning that you can apply without it having an impact on your credit score. On the other hand, it is absolutely crucial that you only take out a loan with Checkmate if you are sure you can pay the money back on time. Failure to do so will lead to extremely high charges, alongside further damage to your credit profile.

Apply for a Payday Loan Now! | Best Payday Lender 2020

Loans From $100 to $15,000
Instant Application & Approval
Bad Credit Considered
Lenders From All 50 US States Onboard

FAQ:

What credit score do I need to have to use Checkmate?

Do I need to be employed to get a loan via Checkmate?

Does Checkmate charge any fees?

How fast will I get my funds from Checkmate?

US Payday Loan Reviews – A-Z Directory