Although BP (NYSE: BP) stock price is trading well below from the 52 weeks high of $36 a share, analysts are bullish about the future fundamentals. Market pundits believe BP is in a better position to generate higher returns for investors, thanks to it's restructuring strategy and diversified asset portfolio.
BMO analyst Daniel Boyd has set BP stock price target at $53 – with an outperform rating. The analyst says BP's multi-year transformation is "on the cusp of paying dividends". The analyst believes that it is set to generate a competitive return on capital employed after years of lower returns.
Moreover, BP's strategy of not focusing on a single mega project is adding to investor's confidence. It has one of the most diverse pipelines of new projects.
Exxon Mobil (NYSE: XOM) and Chevron (NYSE: CVX) are also among the top picks of BMO analyst Daniel Boyd. The analyst is bearish on Royal Dutch Shell (NYSE: RDS.A) and Total (NYSE: TOT).
BP has generated solid results for the second quarter. It has topped revenue, cash flow and production expectations in Q2. Meanwhile, it's closet competitors Eni, Total, and Equinor missed analyst estimates.
BP's Q2 production jumped 3.4% Y/Y to 3.8M boe/day. Despite lower oil prices, its underlying replacement cost profit stood at $2.8 billion in Q2 compared to $3.36 billion in the past year quarter.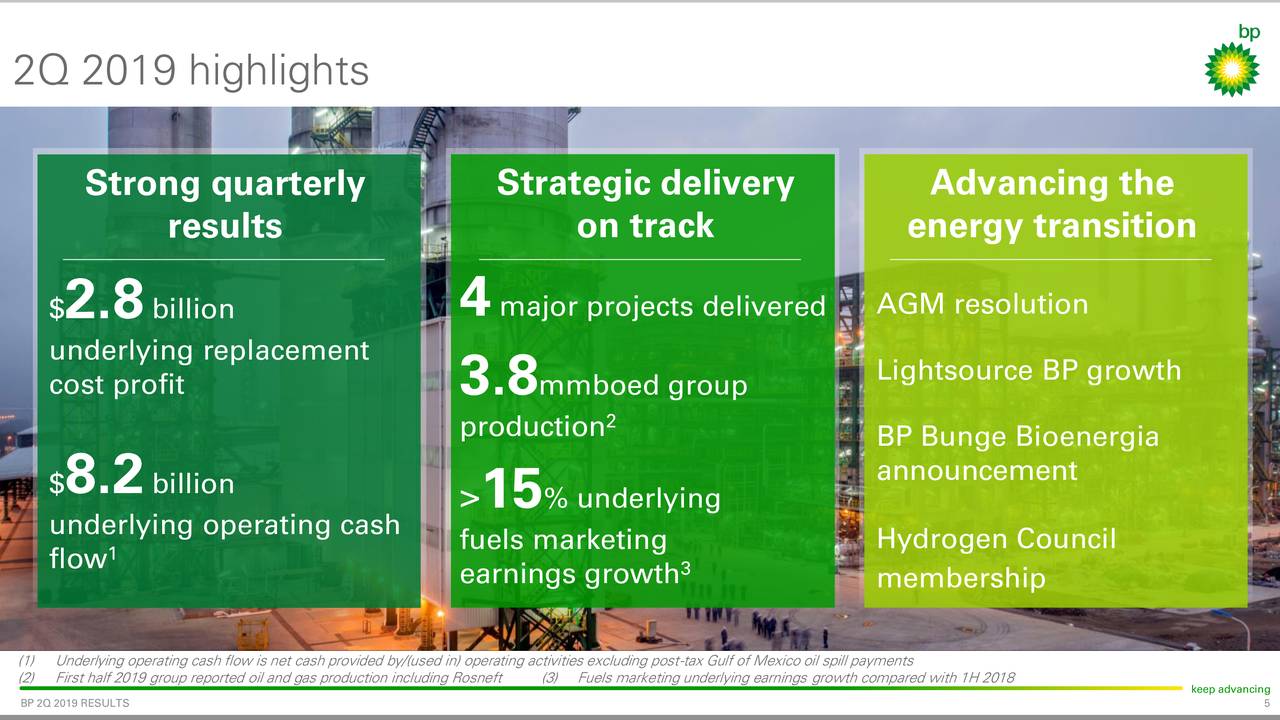 Moreover, higher production along with improved earnings helped in generating robust cash flows. Excluding the Gulf of Mexico oil spill payments, its operating cash flows jumped to $8.2 billion in Q2. The analysts are expecting substantial growth in BP's cash flows in the following quarters. This is due to the expected $10B of assets sale over the next two years.
CFO Brian Gilvary said they expect to receive $5B from asset sale by year-end. They plan to use proceeds for debt reduction. The company also plans to use surplus cash for shareholder returns in the form of dividends and buybacks