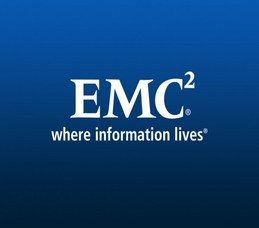 EMC Corp. recently issued new bonds, announced a share buyback and a dividend. The new EMC bonds due in 2023 yield  3.64%, larger blocks have gone for as low as $96.99 recently, with a 3.74% yield. Note bond prices have risen and fallen dramatically in the past 6 months.
EMC's prospectus supplement states:
We intend to use the net proceeds from this offering for repayment of all of our outstanding 1.75% convertible senior notes due 2013 (the "existing convertible notes"), which will mature on December 1, 2013, and for general corporate purposes
Now let's take a look at how the new EMC bonds stack up:
credit rating
price
yield

E M C Corp Mass

Sr Nt 3.375% 2023, Cont Call 03/01/23@Par, Make Whole Call (cusip: 268648AN2)
 A1/A
97.81
3.64

E M C Corp Mass

Sr Nt 2.65% 2020, Make Whole Call (cusip: 268648AQ5)
 A1/A
99.05
2.80

E M C Corp Mass

Sr Nt 1.875% 2018, Make Whole Call (cusip: 268648AP7)
 A1/A
99.81
1.91

GE Capital Internotes

 Fr 5.45%0 2023, Survivor Option (cusip: 36966R6H4)
A1/AA+
107.65
4.47
Goldman Sachs Grp Inc MTN Be Fr 6% 03/15/41, Survivor Option, Mnthly Cpn (cusip: 38141EZ28)

A3/A-

102.49
 5.81
Goldman Sachs Grp Inc MTN Be Fr 6% 12/15/23, Survivor Option, Mnthly Cpn (cusip: 38141ER84)

A3/A-

109.62
4.82

Computer Sciences Corp

Sr Nt 4.45% 2022, Cond Put Change Of Control, Make Whole Call (cusip: 205363AN4)
Baa2/BBB
98.41
4.66

Ebay Inc

Sr Nt 4% 2042, Cont Call 01/15/42@Par, Make Whole Call (cusip: 278642AF0)
A2/A

84.09

5.05

Ebay Inc

Sr Nt 2.6% 2022, Cont Call 04/15/22@Par, Make Whole Call (cusip: 278642AE3)
A2/A
92.31
3.60

Amazon Com

Inc Sr Nt 2.5% 2022, Cont Call 08/29/22@Par, Make Whole Call (cusip: 023135AJ5)
Baa1/AA-
90.16
3.75

Amazon Com

Inc Sr Nt 1.2% 2017, Make Whole Call (cusip: 023135AH9)
Baa1/AA-
96.76
1.97

International Business Machs

Sr Nt 1.875% 2022, Make Whole Call (cusip: 459200HG9) (* based on 100 bond lots currently available)
Aa3/AA-
88.98
3.29

Microsoft Corp

Sr Nt 4.5% 2040 (cusip: 594918AJ3)
Aaa/AAA
100.88
4.44

Microsoft Corp

Nt

2.125%

2022, Make Whole Call (cusip: 594918AQ7)
Aaa/AAA
90.80
3.27
*The EMC bonds have a minimum denomination of 2 bonds.
The Ebay (EBAY) 2042 bonds yield the most of the technology / online services bond selection; the Goldman 2041 bonds yield the most overall. Similarly rated GE Capital (GE) Internotes due in 2023 yield about 4.47%, lower rated Goldman Sachs monthly coupon bonds due in 2023 yield 4.82%
Lower rated Ebay bonds due in 2022 yield 3.60%, this makes EMC and Ebay an interesting comparison. Lower rated Amazon (AMZN) bonds due in 2022 yield 3.75%, notice in the chart above the Amazon bonds have a very low 2.5% coupon, however they trade well under par, at $90.16. Whereas today a lower rated 2022 Computer Sciences Corp. (CSC) bond yields around 4.66%.
Keep in mind investors typically do not overweight technology stocks, nor would they overweight technology bonds. Though some impressive mutual funds like Loomis Sayles Bond Retail (LSBRX) allocate a lot to Intel stock and bonds.
Fed's Recent Comments
Bond prices took a hit after the Fed's recent comments on the status of quantitative easing efforts.
June 19, 2013: To support a stronger economic recovery and to help ensure that inflation, over time, is at the rate most consistent with its dual mandate, the Committee decided to continue purchasing additional agency mortgage-backed securities at a pace of $40 billion per month and longer-term Treasury securities at a pace of $45 billion per month… Taken together, these actions should maintain downward pressure on longer-term interest rates, support mortgage markets, and help to make broader financial conditions more accommodative.
The Committee will closely monitor incoming information on economic and financial developments in coming months. The Committee will continue its purchases of Treasury and agency mortgage-backed securities, and employ its other policy tools as appropriate, until the outlook for the labor market has improved substantially in a context of price stability. The Committee is prepared to increase or reduce the pace of its purchases to maintain appropriate policy accommodation as the outlook for the labor market or inflation changes…
To support continued progress toward maximum employment and price stability, the Committee expects that a highly accommodative stance of monetary policy will remain appropriate for a considerable time after the asset purchase program ends and the economic recovery strengthens…
Though the content of the message seems encouraging, investors only heard one thing, QE will taper off.
Some believe the 10-year treasury could leap back to 5% after quantitative easing ends. Lower rated, investment grade corporate bonds, due in 10 years could yield upwards of 7% according to some.
EMC's Bond Decision
EMC's bond decision may have been influenced by the same perfect storm that influenced Apple. The overall market did well, while their stocks lagged, and low interest rates were very appealing to issuers. While Apple's 30-year bonds dropped around 10% since they were issued, EMC's 10-year bonds are still trading near par. EMC issued $5.5B in new bonds, whereas Apple issued $17B. Clearly one of the top reasons for these decisions is very low interest rates.
Apple issued 30-year bonds, EMC issued bonds due in 2018, 2020 and 2023. Therefore EMC bond investors need to consider smaller periods of time. However, the only lot of EMC bonds I would consider currently are the 10-year bonds, because the shorter term bonds yield less than 3%.
Let's look at EMC's business for a moment.
EMC currently provides 7 categories of products:
Storage
Backup
Cloud
Big Data
Security
Content Management
Infrastructure Management
Whereas oil companies worry about spills, tech. companies like EMC are concerned with hacking. EMC spent $2B on RSA Security in 2006, RSA SecurID generates a unique 6 digit password every minute that corresponds to a token key; even this high tech protection system was hacked in early 2011, which illustrates the complexity of big data security.
What Is Big Data?
In order to understand one part of EMC's business I looked up big data, one of the top results is a definition from IBM:
"What Is Big Data?: Every day, we create 2.5 quintillion bytes of data — so much that 90% of the data in the world today has been created in the last two years alone."
Let's take a look at a few of the competitors, though IBM is in information technology it directly competes with EMC's big data services.
Currently EMC has two featured big data products, EMC Isilon (pronounced eye-si-lon) and Pivotal One:
Pivotal One is a complete, next generation Enterprise Platform-as-a-Service that makes it possible, for the first time, for the employees of the enterprise to rapidly create consumer-grade applications.
EMC acquired Seattle based Isilon in 2010 for $2.2B. EMC's Isilon is a scale-out network-attached storage (NAS) system that the company boasts is one of the fastest on the market: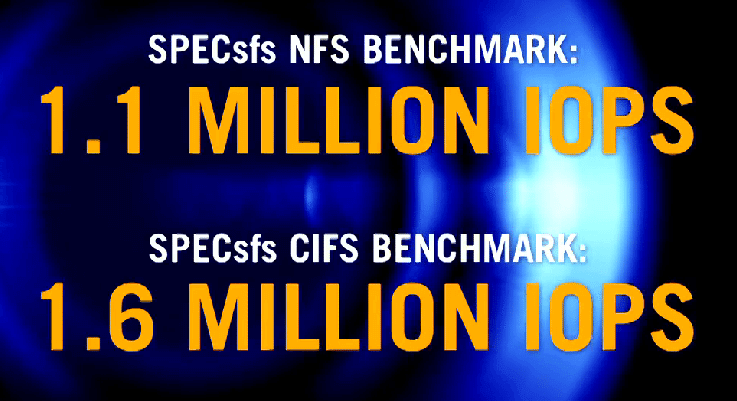 IOPS are input/output operations per second. Check out this PDF about IOPS from EMC subsidiary VMware (VMW) for more in depth information on this subject.
Now let's look at IBM's competing products:
DS800 series
XIV Storage System
SONAS (scale out network-attached storage)
An EMC employee, Stefan Radtke has written about the Isilon / IBM SONAS comparison.
"Isilon and SONAS are both targeting the high end segment of the NAS market…
One first obvious and major difference is that Isilon uses nodes with internal storage whereas SONAS does stick with more inflexible and more expensive fiber channel architecture to attach storage to it's nodes…"
Mr. Radtke continue in his subsequent article:
"SONAS has a fixed protection level based on RAID6 for all data. It uses arrays with 8 data and two parity bits without any spare disk. As a result, SONAS would for example not survive a two node failure (unless all data is mirrored)"
No matter the nuances of the technology, bond investors can gain insight by looking into the actual products. Their implications are vast, and you can be assured the technology will look a lot different in a couple years, however it will likely evolve from the current products.
The Net Income Picture
Some bond investors look  to a company's EBITDA or cash flow to determine whether to buy and sell. I prefer to look at net income and available cash to debt, these figures can literally change overnight.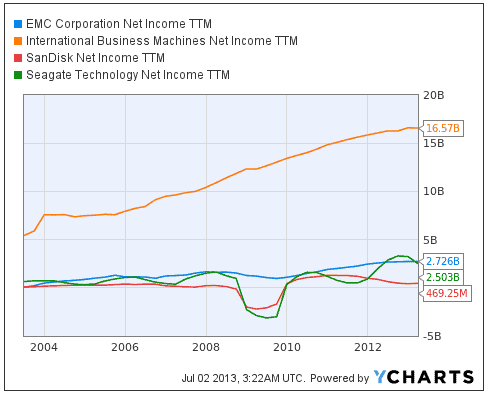 Source: YCharts
Note the above net income data is based on TTM, or trailing twelve months. Keep in mind, you can get a more detailed picture of the net income by searching "net income quarterly" instead of "net income TTM."
Let's remove IBM and look at EMC, SanDisk and Seagate Technology.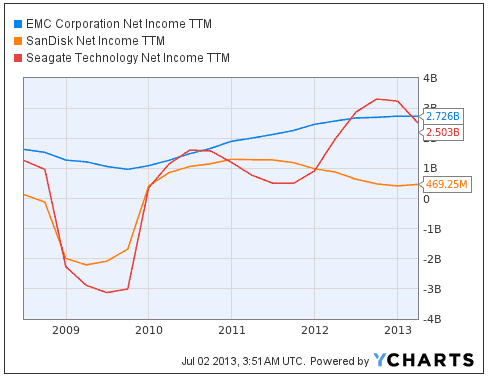 EMC appears to edge out both SanDisk and Seagate currently, though investors need to consider how EMC will perform through the maturity of their new 2023 bonds.
Tech. is fast paced, though EMC appears to be profitable, now let's look at the stock.
EMC's Timing and the Arguments Against Bonds
HOPKINTON, MA., May 30, 2013 – 
EMC Corporation (NYSE:EMC) today announced an  expanded capital allocation strategy that reflects the company's confidence in its long-term business prospects and ability to generate consistent revenue and non-GAAP EPS growth while expanding its commitment to return capital to shareholders.    
As part of the strategy, EMC's Board of Directors has increased its authorization to repurchase EMC common stock from $1 billion in 2013 to $6 billion over the three-year period ending December 31, 2015…
Additionally, the EMC Board has approved the initiation of a quarterly cash dividend to EMC shareholders. The first quarterly dividend of $0.10 per share of common stock will be paid on July 23, 2013 to shareholders of record as of the close of business on July 1, 2013.
One of the current arguments that surrounds bonds is their potential (or lack thereof) compared to stocks. I've heard investors claim they think of certain stocks as bonds. The fact is bonds are bonds, stocks are stocks, and there are reasons to consider investing in, or not investing in either.
I like to look at the company, there are some companies whose stock I like and bonds I do not like and vice versa. Though I like to find companies where I'd invest in both their stock and bonds.
Readers should ask whether EMC is this sort of company or not?
Additionally, what other company might compliment EMC as an investment?
Further more what unrelated industry would compliment allocations to technology?
Another argument against bonds is the current low interest rate environment and negative impact of inflation. This is where allocation becomes very important; in late June bond prices dropped sharply. Many believe they will drop much further, so it is important to prepare for this possibility.
This is to say whether you are a large or small investor, hopefully you realize the stock market is currently high and interest rates are low. The EMC bonds are currently rated A1, the 10-year daily treasury yield curve is 2.73%, the EMC 2023 bonds yield 3.64%, though you can not know for certain what direction their credit rating will go.
If you want 5 EMC bonds you might, or some exposure to the bonds here are three ways to consider:
Start with 2 (the minimum denomination of these bonds), if the prices go down considerably, then think about getting 3 more.
Wait, keep the bonds on your watch list, if their price goes down considerably buy more than 5, and look for a time to profit take on the amount over 5 bonds.
You could also look for a mutual fund that holds the bonds. Currently Morningstar only shows the funds that hold the EMC convertibles due this year, though in the next few months they should add the mutual funds that purchase large quantities of the new bonds on their shareholder overview page.
Consider balancing exposure to technology / online services stocks and bonds, in addition to higher yield, well rated bonds. Example being, 5 EMC bonds coupled with 2 longer term Ebay bonds and 2 Goldman Sachs monthly coupon bonds; in addition to the tech / services company stocks.
EMC's Dividend
Currently EMC dividend yield is approximately 1.7%, on the other hand Seagate's dividend is 3.4%, IBM's is 2%. Though EMC's dividend yield is half the yield of their new 2023 bonds, the stock could potentially go up more.
The 2023 bond's coupon is 3.375%, so two bonds pays $67.50 a year. $2000 worth of EMC stock (84 shares) should pay $33.60 in dividends. If EMC's 2023 bonds' yield goes to 5%, while the maturity is around 10 years, their price could go down to roughly $850 (remember a bond's yield is calculated by coupon payment and the difference between price and par. Keep in mind the price could go lower too.) If that were to happen because treasury rates go up (or EMC's credit rating changes,) bond investors could pay $1,700 for two EMC 2023 bonds.
If the EMC 2023 bonds' yield went to 5%, the investor who pays $2,000 today could see their original investment lose $300 or so. Ultimately by 2023 the bonds should mature at par, however $2,000 will likely not be worth what it is today because of inflation. So investors could consider how many bonds they feel comfortable buying, knowing they could go down $150 a bond (or more) as rates go up.
For some investors, perhaps many, the answer is zero bonds, however there are some investors who like the company, have exposure to the stock, and have profit they are looking to allocate to fixed income. Additionally, though the 10- treasury rate has soared to 2.7% (and the 7-year to 2.19%) it is anyone's guess as to whether it would go to a level whereby A1 rated bonds due in 2023 would yield 5%.
There is no definitive way to time the market, additionally it is possible that a company could default at some point for unforeseen reasons. Currently the 3.375% coupon on the EMC 2023 is much greater than the 1.875% coupon on the higher rated 2022 IBM bonds, however much lower than the 5.45% coupon on the GE Capital Internotes, of course the GE notes are priced around $108 now and GE has a whopping $397B in debt and $89B cash — in addition to rumors swirling of GE Capital one day spinning off.
For now EMC, Ebay and Amazon's 10-year bonds are on my watch list:
EMC 3.375% 2023 yield: 3.64%
Ebay 2022 yield: 3.60%
Amazon 2.5% 2022 yield: 3.75%
Take a look at their net income over the last ten years; contemplate where you think they will go in the next ten years: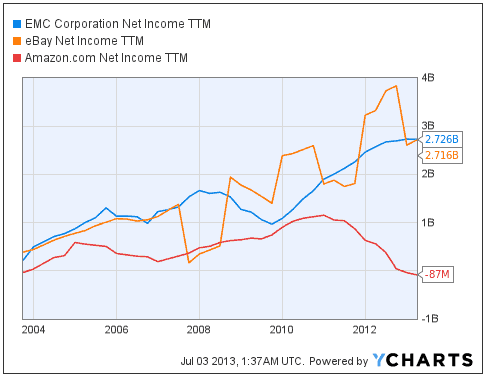 Important factors to consider are the overall direction of the market and allocation to stocks versus bonds within a given portfolio. Also simply whether $1,000 right now is worth $33.75 a year fixed income from EMC through 2023.
If you have any thoughts on EMC's new bonds please leave a comment below.
Disclaimer: This article is not a recommendation to buy or sell. Please consult a financial adviser to determine proper allocations, if any to individual bonds. I am considering the EMC, Amazon and Ebay bonds, I am long Goldman Sachs monthly coupon bonds, long-term IBM & MSFT bonds. Long MSFT, IBM & EMC stock.
Click here to learn more about best forex brokers.
Trusted & Regulated Stock & CFD Brokers
What we like
0% Fees on Stocks

5000+ Stocks, ETFs and other Markets

Accepts Paypal Deposits
Charge per Trade
Zero Commission on real stocks
64 traders signed up today
Visit Now
67% of retail investor accounts lose money when trading CFDs with this provider. You should consider whether you can afford to take the high risk of losing your money.
Available Assets
Total Number of Stocks & Shares

5000+

US Stocks

German Stocks

UK Stocks

European

ETF Stocks

IPO

Funds

Bonds

Options

Futures

CFDs

Crypto
Charge per Trade
FTSE 100

Zero Commission

NASDAQ

Zero Commission

DAX

Zero Commission

Facebook

Zero Commission

Alphabet

Zero Commission

Tesla

Zero Commission

Apple

Zero Commission

Microsoft

Zero Commission
Deposit Method
Wire Transfer
Credit Cards
Bank Account
Paypall
Skrill
Neteller
What we like
Sign up today and get $5 free

Fractals Available

Paypal Available
Charge per Trade
$1 to $9 PCM
Visit Now
Investing in financial markets carries risk, you have the potential to lose your total investment.
Available Assets
Total Number of Shares

999

US Stocks

German Stocks

UK Stocks

European Stocks

EFTs

IPOs

Funds

Bonds

Options

Futures

CFDs

Crypto
Charge per Trade
FTSE 100

$1 - $9 per month

NASDAQ

$1 - $9 per month

DAX

$1 - $9 per month

Facebook

$1 - $9 per month

Alphabet

$1 - $9 per month

Telsa

$1 - $9 per month

Apple

$1 - $9 per month

Microsoft

$1 - $9 per month
Deposit Method
Wire Transfer
Credit Cards
Bank Account