Intel (NASDAQ: INTC) stock price has been under pressure over the last couple of months amid increasing competition from AMD. INTC shares plunged from 52-weeks high of $58 at the beginning of the second quarter to $46 at present.
Investors believe that three innovative products from AMD could snatch a big market share from Intel. This is evident from Google's move from Intel product to AMD's Epyc processors for its data centers.
Oppenheimer's Richard Schafer says, "The $1B sale of the smartphone modem business to Apple removes an EPS/FCF drag on Intel. However, it won't be accretive since any cost savings will go towards pulling in 7nm/10nm investments to prevent further share loss."
Some other market pundits such as Credit Suisse's John Pitze believe that Intel shares are undervalued following the recent selloff. Pitze claims that Intel stock price losses are manageable amid increased R&D spend along with other driving factors such as AI and machine learning.
Meanwhile, BofAML has increased INTC price target from $57 to $62 and SunTrust raised its target to $58 from $54.
Although its revenue of $16.51 billion dropped 3% from the year-ago period, the revenue increased from the previous quarter.
Its Q2 revenue of $8.84 billion from the biggest business segment, the Client Computing Group, has beaten analysts' consensus estimate of $8.13 billion. The data center revenue of $4.98 billion increased from analysts estimates of $4.89 billion.
Commenting on the market environment the CEO Swan said, "Trade uncertainties created anxiety across our customers' supply chain and drove a pull-in of client CPU orders into the second quarter. We also halted shipments to certain customers in response to the U.S. government's revised entity list."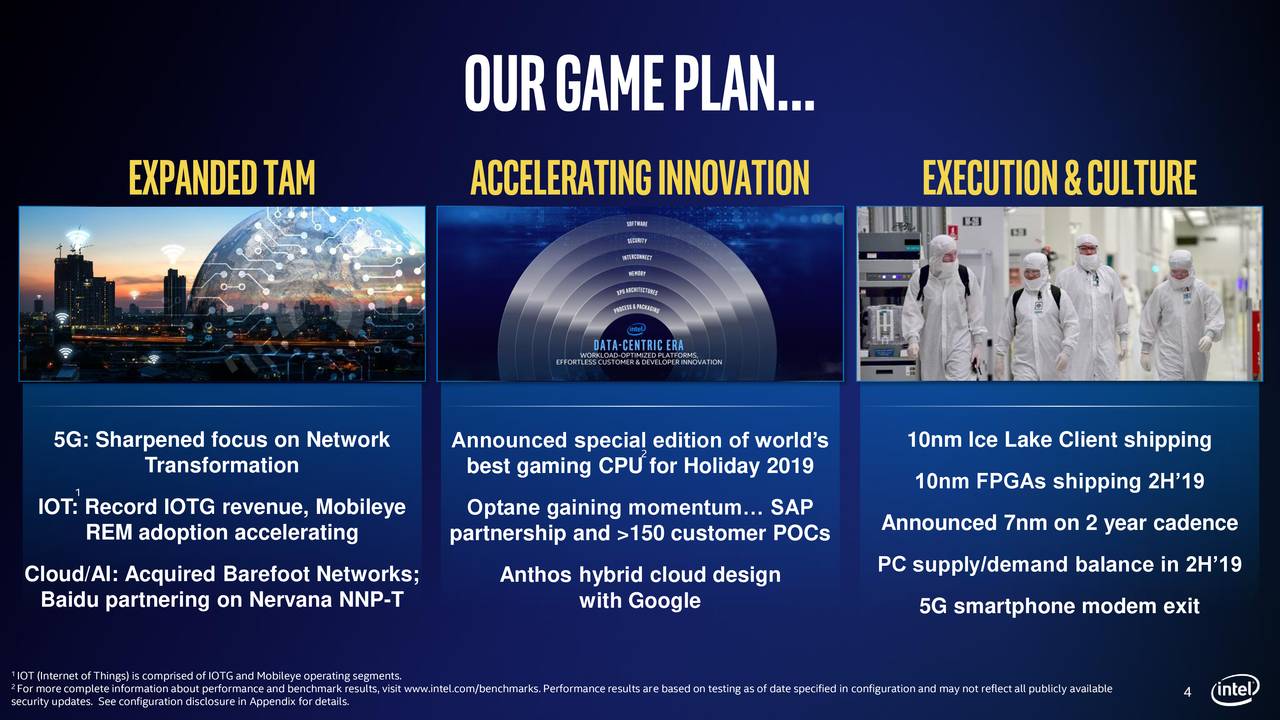 The company has recently sold its modem business to Apple for $1 billion. The proceeds from modem business sale would help it in investing in growth opportunities. Intel expects an acceleration in its quarterly revenues. It anticipates Q3 revenue to stand around $18 billion, higher from analysts expectation for $17.72 billion. Therefore, the Intel stock price could receive support from improving financial numbers.