Qualcomm (NASDAQ: QCOM) stock price soared 37% since the start of this year despite sluggish financial performance. The shares of chipmaker are currently hovering around $80, down slightly from 52-weeks high of $90 a share.
The steady upside moves since the start of this year are quite strange. This is because the company continues to generate a significant decline in financial numbers.
Its third-quarter revenue of $4.9 billion declined 13% year over year. Lower margins and revenues have also significantly impacted its earnings potential.
Its third-quarter net income of $1 billion dropped 34% from the year-ago period. The company blamed lower demand for 4G products along with the market's transition towards 5G for negative financial growth.
"We delivered another solid quarter operationally in the midst of slower demand for 4G devices as the market prepares for the global transition to 5G," said Steve Mollenkopf, CEO of Qualcomm Incorporated. "Our 5G design wins have doubled over the last three months, leaving us extremely well-positioned as 5G ramps in early calendar year 2020."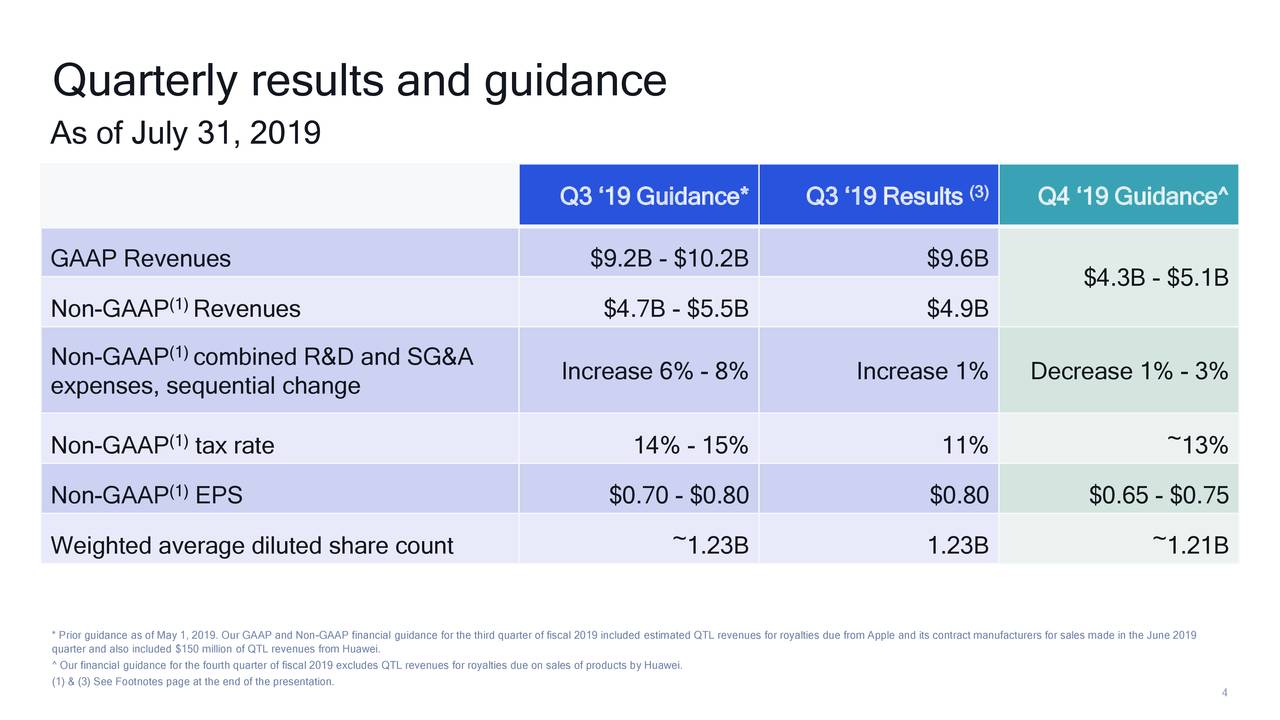 The company has also provided lower the expected outlook for the fourth quarter. It expects Q4 revenue in the range of $4.3-$5.1B compared to the consensus estimate for $5.71B. The earnings per share outlook stand around $0.65-0.75. The analysts were expecting earnings per share at $1.10.
Market pundits turned bearish about Qualcomm stock price performance. Goldman Sachs has reduced its price target from $73 to $57 – with a Neutral rating. They blamed the weakness in the high-end 4G market in China for lower price target and financial numbers.
Goldman said, "QCOM's guidance provided a materially worse-than-expected view of the overall market demand, signaling the possibility of a weaker H2 for smartphones."
Despite a steep decline in revenue and earnings, its dividends are safe. This is due to the strong cash generation potential. The company has generated operating cash flows of $6 billion in the past nine months compared to dividend payments of $2.2 billion.