The subprime lender On Deck Capital, Inc. (NYSE:ONDK) shares have lost more than half of their value from 52-weeks high of $9 a share that it had hit just six months ago. The dimmer outlook for loan growth has been impacting its share price performance.
Source: Finviz.com
The share price selloff accelerated after the company announced first-quarter results along with the bleak outlook for the rest of the year. The company generated revenue growth of only 1% from the previous quarter while its loan yield declined 100% and loan origination dropped 3% quarter over quarter.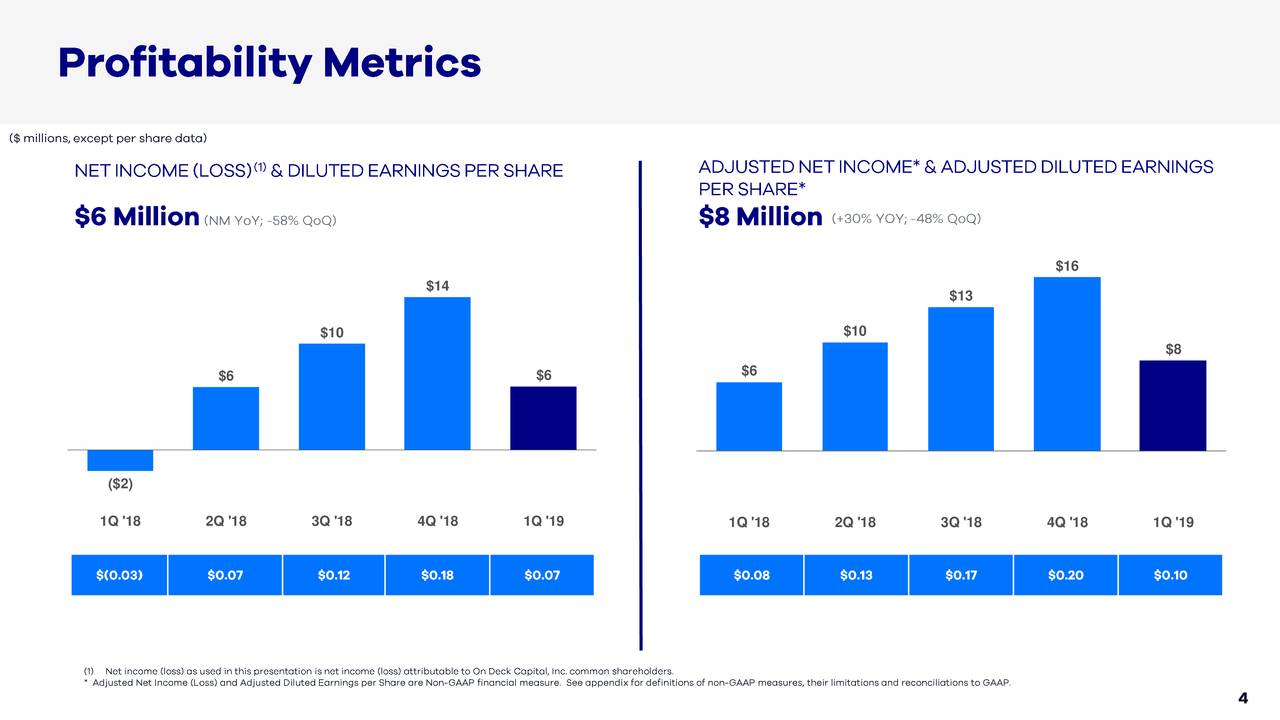 Source: Earnings Release
The company's net income dropped substantially in the first quarter to $5.9 million from $14.0 million. The drop is mostly related to higher loan loss provision, higher operating expenses and an accrual for income taxes.
The provision for loan losses jumped to $43.3 million in the first quarter; the provision rate grew to 6.8%. In addition, the 15+ Day Delinquency Ratio stood around 8.7%, up 120 basis points sequentially.
Noah Breslow, the chief executive officer says, "While the economic environment remains healthy, we continue to monitor customer and market trends and adjust our risk decisions accordingly."
The market pundits, however, believe that the poor financial performance from On Deck Capital doesn't reflect industry trends.
OnDeck Capital's (ONDK +1.5%) disappointing outlook in its Q1 earnings doesn't jibe with that of other subprime lenders, who "generally painted a portrait of stable underwriting, recoveries, and payment trends," JMP analyst David Scharf said.
See More: Are LendingClub Shares Undervalued?
On Deck Capital expects lower loan growth and higher loan loss provisions in the following quarters. It expects second-quarter gross revenue in the range of $108 million, down from first-quarter revenue of $110 million and the consensus estimate of $112.3 million.
The subprime online lending company expects full-year 2019 gross revenue to stand around $435 million compared to a prior estimate of $465 million issued in February.