Caterpillar (NYSE: CAT) stock price lost substantial value since the beginning of fiscal 2018. Concerns over trade war escalation along with pressure on the construction industry are adding to bearish sentiments.
The majority of rating agencies have lowered their price targets and financial outlook for CAT.
China recently announced $75 billion of tariffs on U.S. agricultural and other products. On the other hand, the U.S. has also been imposing tariffs on various Chinese products. This situation continues impacting big companies like Caterpillar – who have extensive footprints in both countries.
Goldman Sachs recently declined Caterpillar stock price rating to Neutral from Buy. The bank says the U.S.-China trade war could create further weakness in Chinese and North American construction equipment markets.
Buckingham's analyst Neil Frohnapple claims that lack of catalysts along with the possibility of a decline in growth could hurt stock price performance.
Stephens analyst Ashish Gupta said, "While we are impressed with [CAT's] progress, slowing global economic growth leaves the equity with a negative risk/reward trading above 10x our view of cycle peak earnings."
The company's latest financial results display pressure on revenues and earnings. Its revenue of $14.3 billion missed the consensus estimate by $40 million. The earnings per share also came lower than expectations. Its Q2 earnings per share of $2.83 were flat with the previous year period, but missed analysts' consensus estimate by $0.22.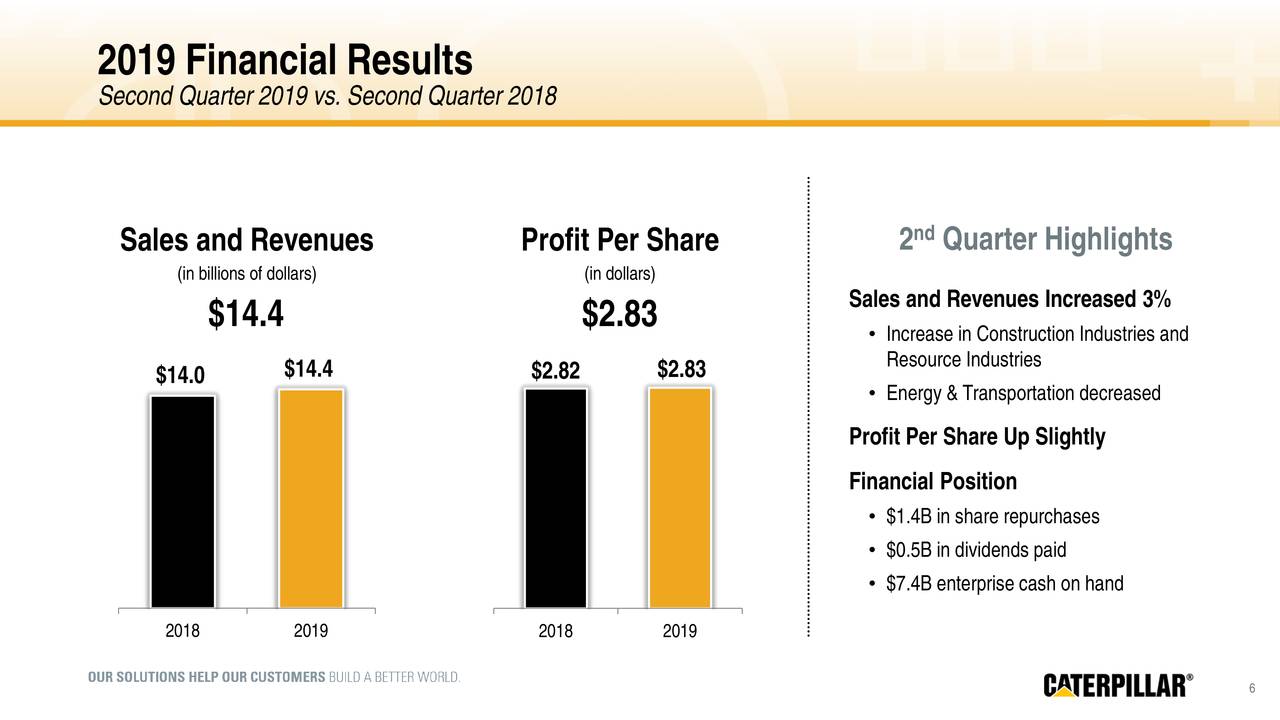 Caterpillar expects to generate modest sales growth in the following two quarters. It expects to hit the lower end of the full-year profit per share outlook range of $12.06 to $13.06.
The dividends are safe despite slower financial growth. This is because Caterpillar operates in a less capital intensive industry – which means it is free to use cash flows for dividend payments.
It has returned almost $1.9 billion to investors in the latest quarter. CAT currently offers a quarterly dividend of $1.03 per share, yielding around 3.5%. Overall, it appears that global economic growth and trade concerns are likely to keep Caterpillar stock price under pressure.