General Electric (NYSE: GE) stock price has been under pressure since Larry Club climb to the highest job post at GE one year ago. Some market pundits believe Larry's performance during the last twelve months was outstanding.
Bloomberg's Brooke Sutherland says Larry deserves credit for his aggressive strategies. The strategy of divesting noncore assets to improve the cash position is working.
Sutherland says. "General Electric stock is still lower than when he started… and at this point, most of the big, obvious buttons for change have been pushed."
General Electric stock price traded in the range of $10 since the start of this year. The shares are currently hovering around $8. It has hit 52-weeks low of $6 a share at the beginning of this year.
The market pundits believe Larry Club will focus on cost cuttings in year two of his tenure at GE. CEO Larry Culp expects $38 billion of asset sales in the coming quarters to trim the debt burden. On the negative side, the CEO expects the potential increase in pension benefit obligation by $7 billion net of investment returns.
The company anticipates the continuation of demand for GE's power division into early 2020. "We want to be optimistic, we want to be positive, but we want to be grounded," Culp said, adding there is "plenty of wood to chop" in power, renewable energy and in the corporate organization.
The company has been aggressively working on lowering its cost structure and selling noncore assets. This is in line with its strategy of moving the focus toward power and industrial businesses.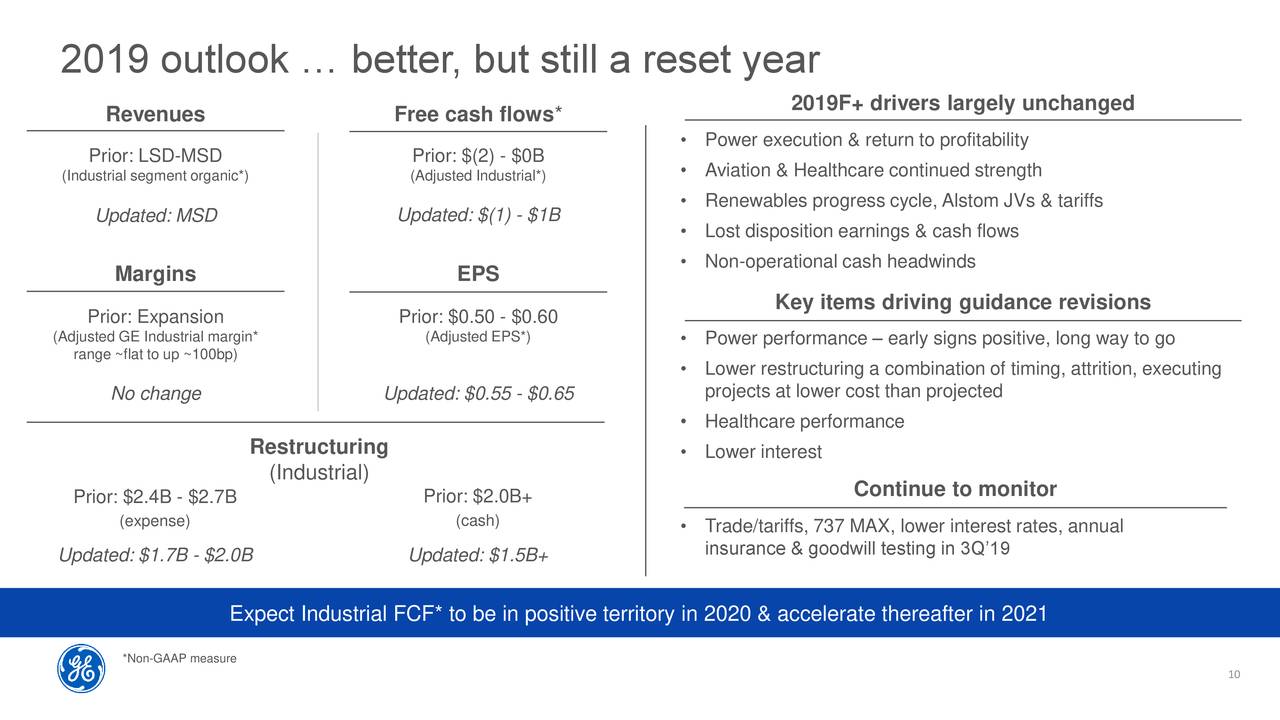 It expects fiscal 2019 earnings per share to stand around $0.55 to $0.65. This is higher from its previous earnings guidance of $0.50-$0.60. The forecast for free cash flows is around $1B. Overall, Larry Club has made several changes in the business model to improve profitability and reduce the debt burden.
Click here to learn more about stock brokers and stock trading.