Emerson Electric (NYSE: EMR) stock price surged to the highest level in the last six months after experiencing volatility throughout the third quarter. The upside momentum is supported by the potential changes in portfolio and operational strategies. The D.E. Shaw stake in EMR added to investors sentiments.
EMR shares are currently trading around $71, up significantly from a 52-week low of $55 a share. Emerson Electric stock price has upside potential as market pundits are showing confidence in business strategies. RBC Capital has raised the EMR share price target to $77, citing lower valuations and portfolio changes as a catalyst.
The New Business Strategy Supports Emerson Electric Stock Price
D.E. Shaw has recently acquired a 1% stake of EMR; market analysts believe Shaw could bring big changes in future strategies. Shaw's strategies include a possible separation of the industrial automation business, while also pursuing significant cost cuts.
Shaw believes that Emerson failed to generate significant returns for shareholders over the last decade. The investor has also criticized poor capital allocation by the company under CEO David Farr. He says CEO Farr pay of $150M is 50% higher than the S&P 500 average despite shareholder returns that have sharply lagged the index."
Fortunately, Emerson management has started a review of its capital allocation, operational and portfolio initiatives. The potential breakup and sale are also under consideration.
"While we remain positive on Emerson's end markets, we anticipate a challenging geopolitical and economic landscape over the next couple of years," Chairman and CEO David Farr said. "We are focused on ensuring we are well-positioned to successfully drive outperformance and shareholder value."
It Reaffirms Full-Year Guidance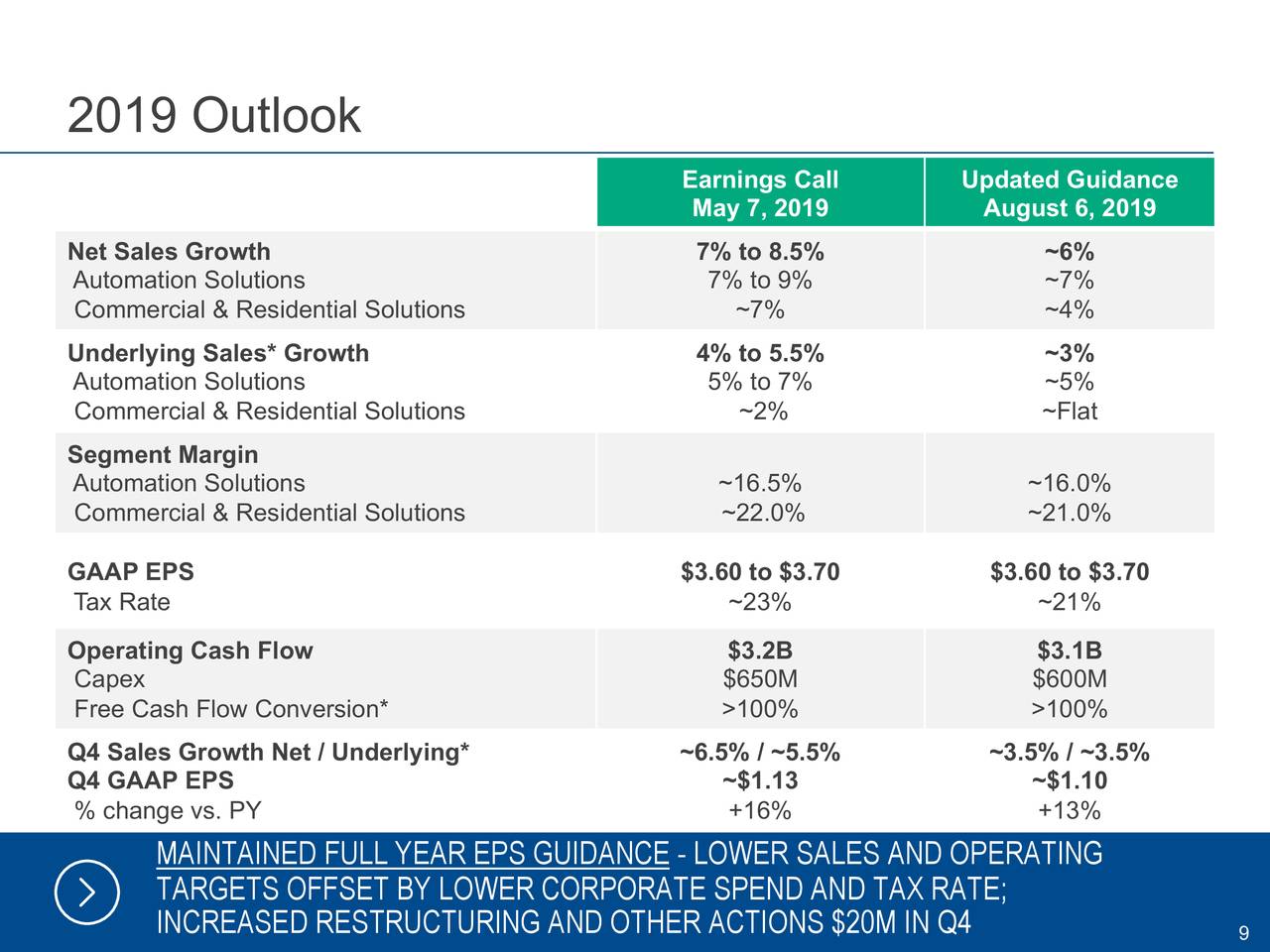 The company has generated revenue of $4.4 billion in the latest quarter, up only 0.2% from the year-ago period. However, its cost-cuttings and focus on share buybacks support earnings growth. Emerson's earnings per share grew 7% year over year in the latest quarter.  The company has also reaffirmed its FY 2019 earnings guidance in the range of $3.60-$3.70/share. This represents a mid-single-digit growth from the previous year.
Click here to learn more about stock brokers and stock trading.