ConocoPhillips (NYSE: COP) stock price plunged sharply in the last quarter amid the steady drop in oil prices. The stock price selloff accelerated in the last month after the exploration & production company missed analysts revenue estimate. The revenue and earnings also fell from the previous year quarter.
ConocoPhillips stock price is currently trading close to the lowest level in the past two years. With the market capitalization of $57 billion, the stock has 52 weeks trading range of $50.13 – $79.96.
On the positive side, the future fundamentals of largest E&P Company are improving. This is due to its strong cash generation potential along with the expected growth in oil prices. WTI crude oil price stood around $55 a barrel while Brent oil price is hovering around $60 a barrel. This is substantially higher from the realized oil price of $50 a barrel in the second quarter.
Lower than expected oil inventories are helping in enhancing oil prices. The U.S. crude oil inventories dropped 10 million barrel in the latest quarter according to the Energy Information Administration. In addition, China's import of U.S. oil rose 45% in July from the previous year period.
Besides improving market dynamics for oil prices, ConocoPhillips appears in a solid cash position to support cash returns and investments in growth opportunities.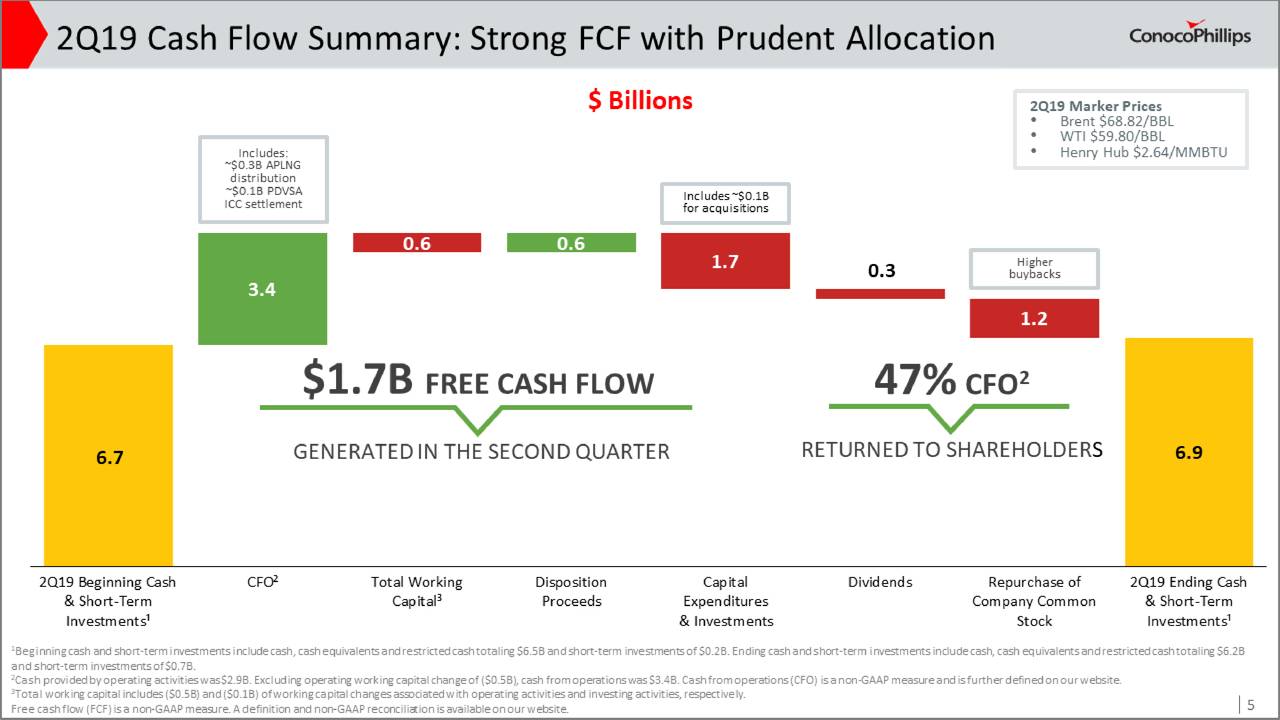 This was our seventh consecutive quarter of generating free cash flow while executing our disciplined plans and delivering on our targets," said Ryan Lance, chairman, and chief executive officer. "
It has generated cash flow from operating activities of $3.4 billion while the capital investments were standing close to $1.7 billion in the second quarter. Consequently, the company was left with $1.7 billion in free cash flows, which was more than enough to cover $0.3 billion of dividend payments.
It has repurchased $1.2 billion of common stock in Q2. Moreover, ConocoPhillips has also increased its share buyback program for this year to $3.5 billion, thanks to stronger than expected cash flow.