General Electric Company (NYSE: GE) stock price bounced back slightly after Citigroup expressed confidence in future fundamentals. The stock price also received support after the federal judge dismissed a lawsuit. The shareholders had accused GE leadership of concealing $24B in insurance liabilities.
Citigroup analyst Andrew Kaplowitz says General Electric shareholders should keep the confidence in future fundamentals. The analyst shows confidence in GE's restructuring actions and simplification strategy.
Andrew provided a Buy rating on the stock price. The analysts say the move from negative $1 billion in free cash flows to positive $1 billion in 2019 would offer support to share price performance. The analyst claims that its simplification measures are likely to generate significant improvement in financial numbers in 2020 and beyond.
General Electric management has been aggressively working on selling non-core businesses that are not aligning with future strategies.
The sale of Biopharma business is on track, which is expected to generate $20 billion in cash proceeds. Moreover, the company is also working on simplifying GE Capital.
Larry Culp says, "We continue to make the business smaller and simpler completing approximately $2 billion of asset reduction year-to-date and moving $4 billion of aircraft lending receivables to held for sale. We ended the quarter in a solid liquidity position with just under $30 billion of cash at Industrial and Capital combined excluding BHGE."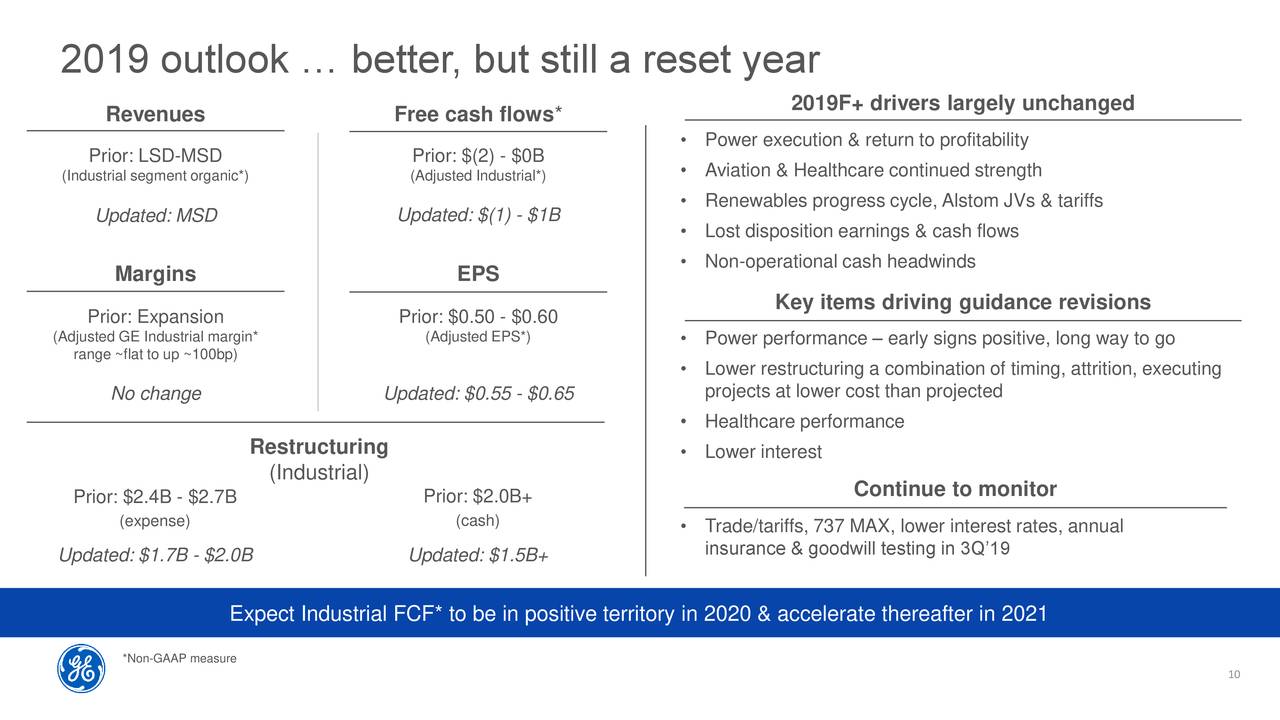 The company has raised its earnings forecast for the full year, thanks to restructuring actions. GE has raised the earnings guidance by $0.05/share.
General Electric stock price also recently received support from the dismissal of a lawsuit from a federal judge.
The shareholders had accused the company of concealing $24B in insurance liabilities. They also blamed GE for using accounting techniques to prop up its power business. GE stock price is currently trading above $8 with the market capitalization of $72 billion. The stock looks fairly priced based on price to earnings ratio of 15 compared to the industry average of 20.