Intel Corporation (NASDAQ: INTC) stock price regained upside momentum since it announced second-quarter results. The stock is up 15% in the last month alone. It is currently trading around $52, down slightly from 52-weeks high of $59 a share.
Unfortunately, Citi sees limited upside potential for Intel stock price. Citi analyst Christopher Danely has set a price target of $53 – with a neutral rating. Danley says, "Competitive pressure from AMD (AMD -0.9%), the US-China trade war, and inventory correction in microprocessors, which combine for limited visibility into INTC's Q4."
Intel generated revenue of $16.5 billion, down 2.7% from the previous year period. Its data-centric revenue stood around $7.7 billion and PC centric revenue was at $8.8 billion in Q2. Increasing market competition along with trade restrictions are among the headwinds for Intel's revenue growth.
Its Non-GAAP earnings per share of $1.06 jumped only 2% from the previous year period. Its free cash flows were also not enough to cover the cash returns. It generated free cash flows of $5.7 billion in the latest compared to cash returns of $8.8 billion.
CEO says Bob Swan says, "While we hope and expect trade issues to be resolved, further tightening of export restrictions would come with revenue risk to our business. As a result, we entered the second half of the year a little more cautious than we were 90 days ago."
The company is working on three key strategies. First, expanding the focus on XPUs and adjacent technologies. Second, it is looking to enhance its product leadership through innovation. And third, Intel is evolving its culture for customer's growth and success.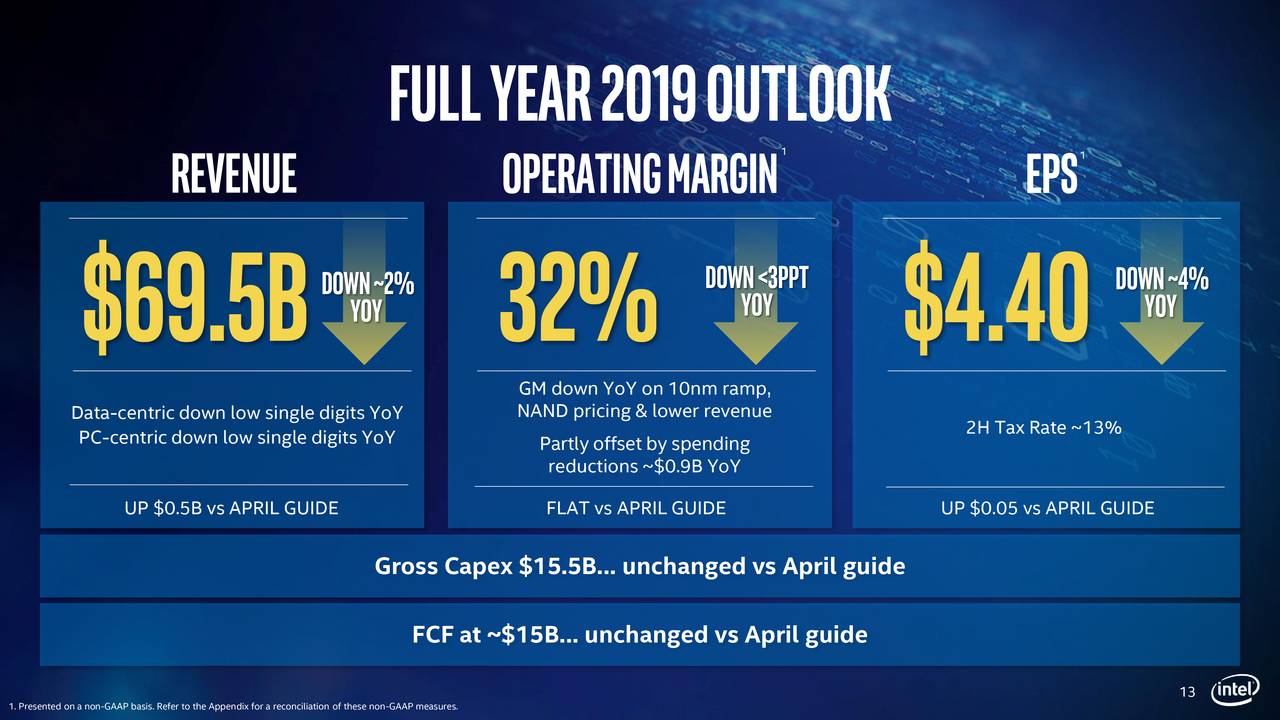 On the positive side, the company's cash position strengthened following the sale of smartphone modem business in a $1B deal. The company expects ifs FY19 revenue in the range of $69B to $69.5B, high from the consensus estimate for $68.55B. The expectations for Q3 revenue stands around $18B compared to the consensus estimate for $17.85B.