Chesapeake Energy (NYSE: CHK) stock price tumbles close to 20-year low amid falling natural gas prices. CHK stock price started falling sharply since the start of this year. The stock is down 61% in the last six months.
Chesapeake Energy stock price is currently trading around $1.28. The bearish market sentiments related to gas price and CHK financial performance added to the selloff. In addition, concerns over the losses from crude oil contribute to CHK share price decline.
Gas and Oil Prices are Impacting Chesapeake Energy Stock Price
Natural gas futures recently experienced the longest losing streak in the past 29 years. The prices plunged in the 12 consecutive sessions, the longest losing streak since 1990. Natural gas prices are down 30% from the year-ago period. Prices plunged more than 16% in the last month alone.
The price decline is supported by a natural gas glut in North America. Higher supplies compared to demand have been impacting prices.
"We are viewing selling as the beginning of a more sustained price decline," trade advisory Ritterbusch & Associates said. Analysts with Tudor, Pickering, Holt & Co., an energy-focused investment bank said, "Gas might fall below $2 per million British thermal units before prices hit a floor."
On the other hand, Brent crude trades around $58.79 a barrel, while US West Texas Intermediate crude stands around $53.17 a barrel. Both are down significantly from this year's highs.
Financials are Supporting Downtrend
Although its oil production hit a record level during the latest quarter, lower prices are likely to impact financial numbers.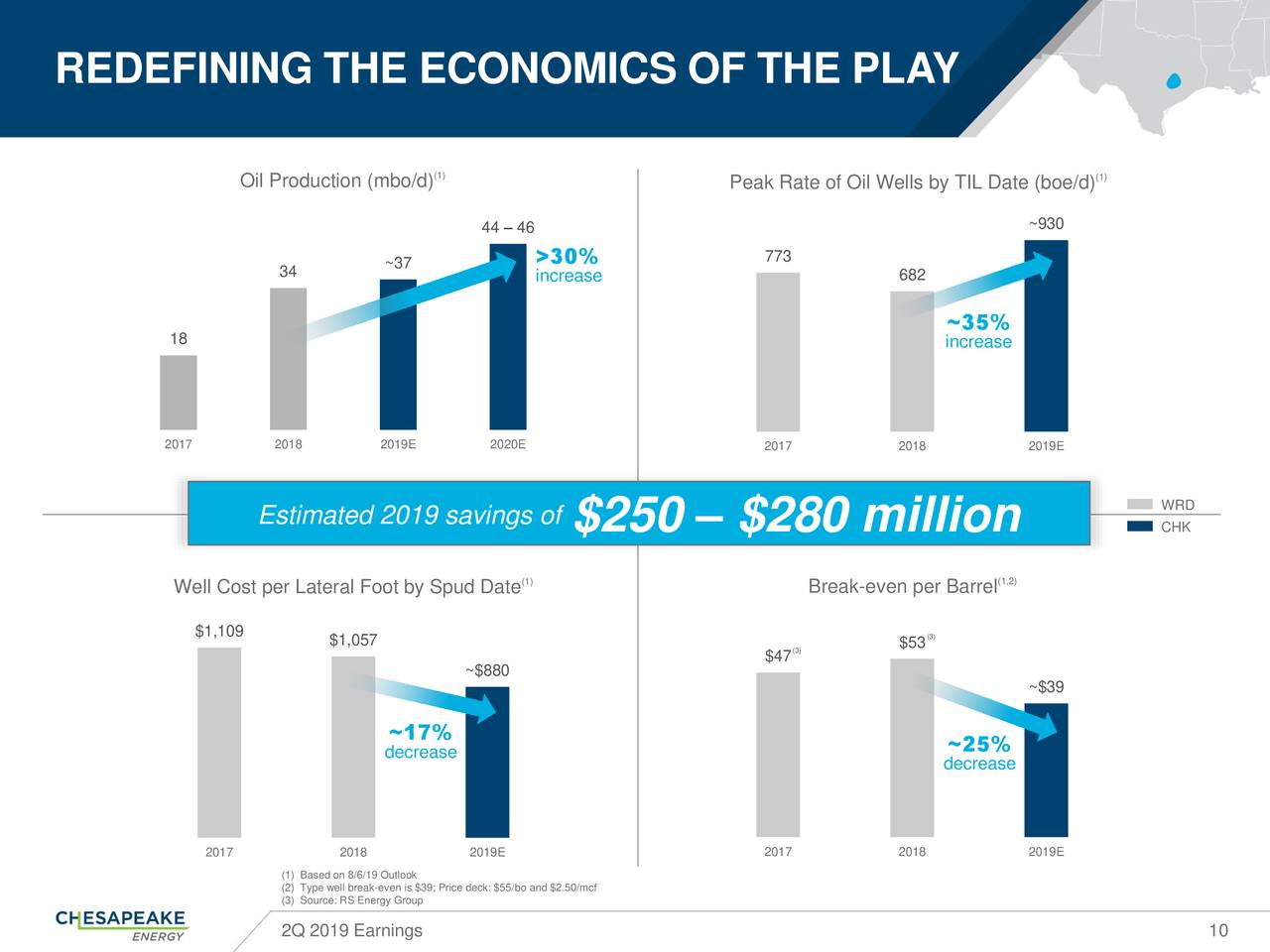 Its Q2 production of 496K boe/day is composed of 122K bbl/day of oil. Oil production represents a 36% increase compared to the past year. The oil production in the second quarter comprised 25% of the total production mix.
Analysts believe the upcoming financial numbers could create further headwinds for the Chesapeake Energy stock price. Therefore, waiting for the improvement in commodity prices appears like a good investment strategy.