Aurora Cannabis (NYSE: ACB) stock price plunged to the lowest level in two years after reporting lower than expected revenues. In addition, the company generated a wider than the anticipated loss for the first quarter.
The slowdown and bearish trend in the marijuana industry over the past six months have reversed all the gains that pot stocks had generated during 2018 and in early 2019.
The bleak outlook for the following quarter along with significant investment cuts are adding to the bearish trend. Aurora Cannabis stock price is currently trading around $3.29, down substantially from a 52-weeks high of $10 a share.
Q1 Added to Bearish Sentiments for Aurora Cannabis Stock Price
Aurora Cannabis first-quarter revenues declined 24% Q/Q to C$75.3M from C$98.9M. The company announced it would slow its expansion plans in Canada and abroad.
Its non-wholesale cannabis revenue dropped 19% sequentially while Canadian consumer cannabis revenue plunged 33% sequentially to $30.0 million. On the positive side, Its medical cannabis revenue grew 3% Q/Q to $30.5 million.
The slower than expected recreational cannabis revenue growth was due to the slow pace of getting pot shop licenses. Its Q1 adjusted EBITDA loss came in at $39.7M, higher than analysts' consensus for $20.8M loss.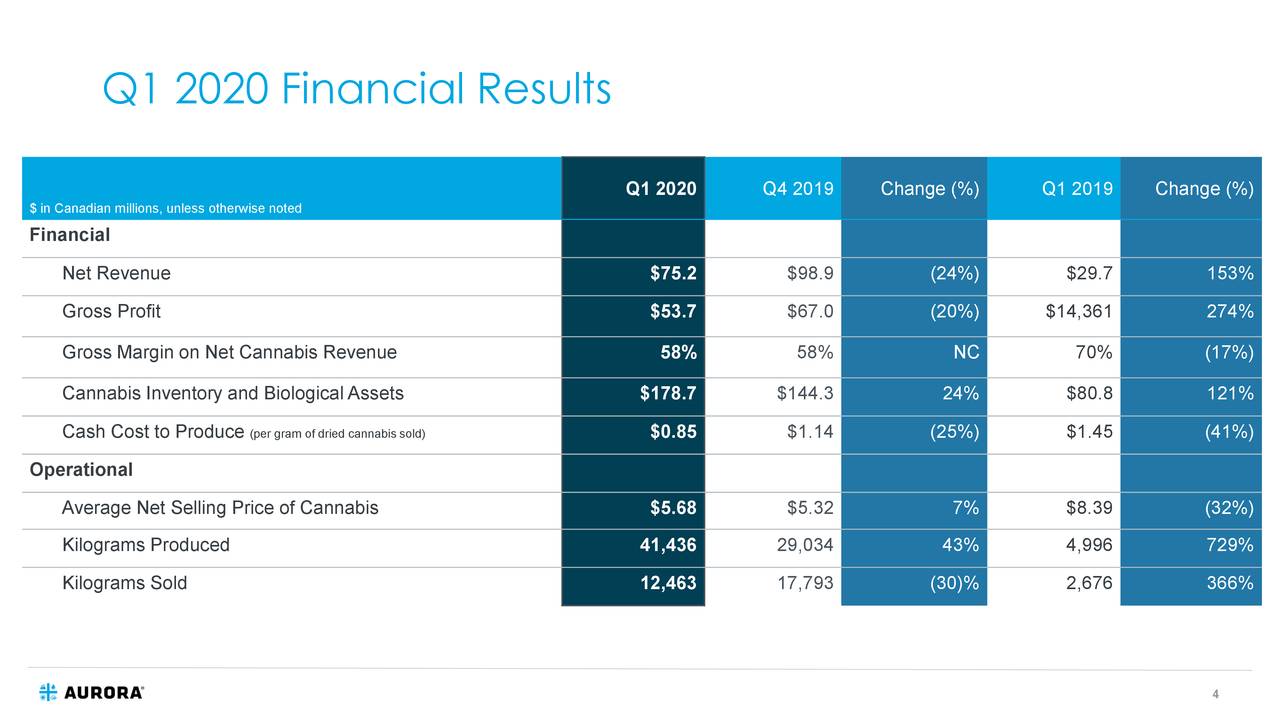 Cost Savings Could Offer Some Support
The company has also suspended its growth plans to cope with the slowing demand. It announced to immediately stop construction at its Aurora Nordic 2 weed-growing facility in Denmark. This could help in saving C$80M in the following quarters. Moreover, Aurora has also delayed the final construction and activation of its Sun facility in Canada.
The company has also been working on enhancing their operational efficiencies to improve margins. It's cash cost to produce declined 25% year over year to $0.85 per gram in the first quarter.
"Despite short term distribution and regulatory headwinds in Canada that have temporarily impacted the industry, the long-term opportunity for Aurora in the global cannabis and cannabinoids market is immense," said Terry Booth, CEO, Aurora Cannabis.