AMD (NASDAQ: AMD) stock price experienced a substantial rally in the past twelve months amid the new product line. Investor's confidence in 7nm Ryzen, Radeon and EPYC processor are adding to investor's sentiments.
These products have contributed significantly in the latest quarter. In addition, the company claims almost 50% year over year revenue growth in the final quarter this year.
Unfortunately, analysts say share price gains have considerably increased AMD valuations compared to the industry average. AMD stock price grew more than 100% in the last twelve months.
On the other hand, its price to earnings ratio jumped to 65, up significantly from the industry average of 20 times to earnings. Moreover, its price to sales ratio of 7 and price to book ratio of 20 are higher from the industry average of 2 and 13 times, respectively.
Northland Securities Downgraded AMD Stock Price Target
Northland Securities downgraded AMD rating to Market Perform from Outperform with the price target of $35. The firm says higher valuations could negatively impact AMD stock price.
Analyst Gus Richard believes AMD shares could decline during the fourth quarter to match with valuations. Therefore, it's not wise to chase the stock after a 100% gain in the past twelve months.
Richard says, "AMD's expanded market share this year, but "incremental share gains get much more difficult" due to Intel incumbency."
Investors Are Showing Confidence in Financial Growth
The investors are currently focusing on financial growth instead of valuations. The company has generated year over year revenue growth of 9% in the third quarter. Its gross margin rose to 43% in Q3, up 3 bps year-over-year.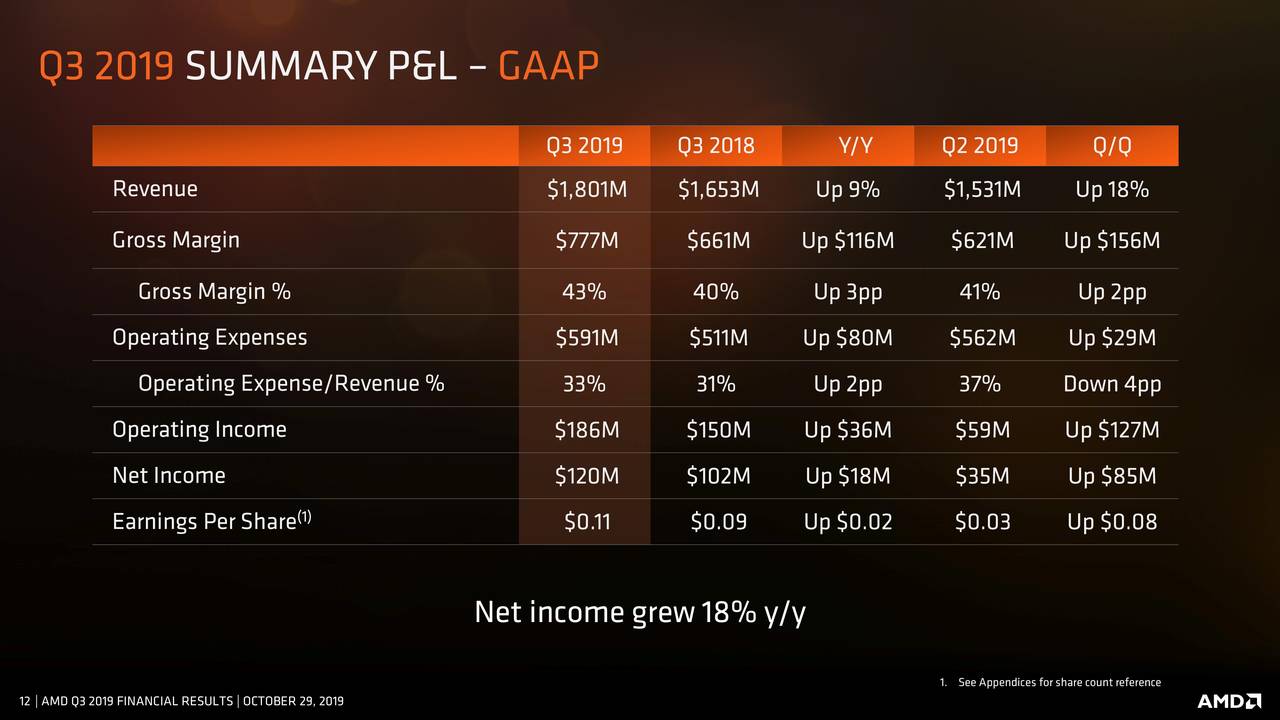 Furthermore, AMD expects fourth-quarter revenue growth in the range of 48% from the previous year period. The management is also optimistic about its performance in the coming years.
Dr. Lisa Su, AMD president, and CEO said, "I am extremely pleased with our progress as we have the strongest product portfolio in our history, significant customer momentum and a leadership product roadmap for 2020 and beyond."