Adobe (NASDAQ: ADBE) stock price generated substantial gains for investors in the last month. The upside momentum is backed by the trader's sentiments regarding improving fundamentals. ADBE shares are currently trading around $300, up close to 32% year to date.
Analysts are expecting Adobe share price to extend the momentum in the coming months. Several catalysts are supporting Adobe stock price at present.
The expectations for double-digit growth in free cash flows are among the biggest catalyst. Adobe does not offer dividends. Therefore, it has the potential to invest the entire free cash flow in growth opportunities.
Analysts Raised Adobe Stock Price Target
Several key firms have lifted ADBE shares target following strong third-quarter results. For instance, Jefferies has set a Buy rating with the price target of $340 to $350. The firm says there are numerous opportunities ahead with plenty of room for product innovations.
Citi raised Adobe's price target to $321 from $313, citing a more optimistic outlook than previous expectations. Cowen believes ADBE has bullish long-term growth potential despite macroeconomic headwinds.
On the other hand, some market pundits are seeing the huge share price upside as a selling opportunity for value investors. They argue it's a perfect time to capitalize on gains. This is because they expect a more challenging economic environment to shrink multiples across SaaS.
Strong Financial Numbers Enhances Bullish Sentiments for ADBE Shares
Adobe has generated record quarterly revenue of $2.83 billion in Q3 2019. This represents an increase of 24% from the past year period. The revenue growth is driven by the Digital Media segment – which grew 22% from the same period last year.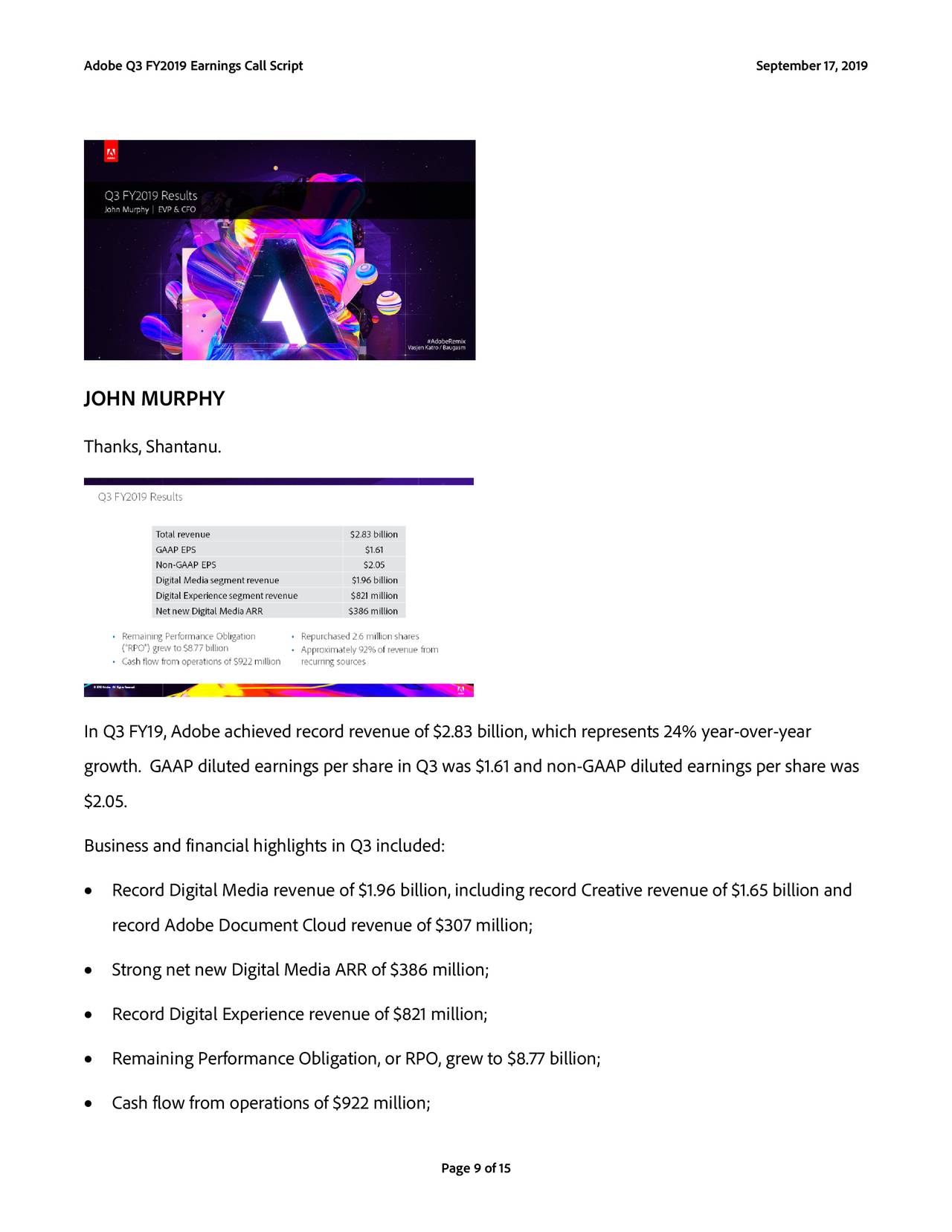 Moreover, the company has presented stronger than expected growth for fiscal 2020. Adobe forecasts 2020 revenue in the range of $13.15B compared to estimate for $13.14B. , The earnings per share is anticipated around $9.75, up from the estimate of $9.69. Overall, future fundamentals are supporting Adobe stock price upside momentum despite economic concerns.