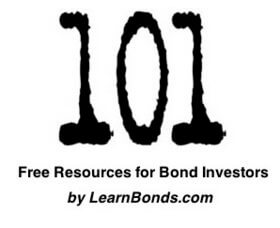 Quick Jump Links:
Bond Market Blogs
Bond Market on Twitter
Traditional Media Bond News Sources
Bond Market Data Sources
Free Bond Market Research
Free Bond Market Education
Books on the Bond Market
Discount Bond Brokers
Ratings Agencies
Did we miss something? Tweet it to us @learnbonds or [email protected]
Bond Market Blogs
Barron's Income Investing Blog – Written by Michael Aneiro, a comprehensive free source covering all sectors of the bond market including Individual corporate and municipal bonds, bond funds, Fed Policy etc.  You can also follow Michael on twitter @aneiro
Bond Squawk: Great site for both bond and general macro commentary.  This site is designed for the active bond trader however there is great commentary here for investors as well.  You can follow them on Twitter @bondsquawk
The Big Picture – One of the most well respected blogs in finance, blogger Barry Ritholtz gives great "big picture" market commentary that is still easy enough for the average investor to digest.  If you are looking for one resource for following the big picture issues in the bond market the fixed income and interest rates section of his blog is it. You can also follow Barry on twitter @ritholtz
Reuter's Muni Land Blog – Written by muni market veteran Cate Long, this is the best free source of news on the municipal bond market out there.  She is also great about highlighting other people's stories on the market through her "Muniland Snaps" pieces which appear on the blog and through her twitter feed which you can follow @cate_Long
Self Evident – Written by a former investment manager and current public finance analyst.  She gives you the inside scoop on the stories everyone is talking about and points out the ones that no one is talking about but should be.  She also has a great education section which you can find here.  You can follow her on twitter @munilass
ETF Trends: Site by financial adviser Tom Lydon was one of the first sites to cover ETFs and is one of the best.  He has a section focused specifically on Bond ETFs which you can find here.  Follow ETF Trends on twitter @etftrends
Life, Investments & Everything – While there is not too much here in terms of life advice there is plenty of interesting posts for bond investors and specifically those interested in analysis on individual junk bonds.  It's a fairly new blog so not a lot of people know about it yet, but we expect that will be changing shortly as its one of the better bond blogs out there new or old.
Van Eck Global's Muni Nation – Written by Portfolio Manager and Senior Municipal Strategist, James Colby its a great source for investment ideas and things to consider when looking at investing in municipal bonds.
PIMCO's Bill Gross – All the articles from the Bond King in one place.  Great for macro economic insights as well as where the economy is headed in simple and easy to understand terms.
PIMCO's Mohamed El-Erian – Same as above. Very cool that they put so much commentary out on the market for investors.
Economic Musings – Written by fixed income portfolio manager David Schawel.  Great writer with an ability to break down the major stories in the market and give you direct insight into how a fixed income portfolio manager is thinking about them.  He only posts a few times a month on his blog but is very active on his twitter feed which is @DavidSchawel
Counterparties  – What if you could have two top market journalists pick out the best articles of the day from all around the web for you to read?  Counterparties does exactly that.  Edited by highly respected Reuters Bloggers Felix Salmon and Ryan McCarthy they hand pick the articles and tag them so you can follow only what you are interested in.  For us it's the Fed section of the blog which is our one stop source for Fed Watching.
iShares ETF Blog – The fixed income portion of the iShares blog is a great resource for info on the bond market written from an ETF prospective.  Most articles by the Head of their Fixed Income exchange traded products group Matt Tucker and Global Chief Investment Officer Russ Koesterich are great.
Lawrence McDonald  – Blog by Bond Trader and Author of the NY Times best seller book on the financial crisis A Colossal Failure of Common Sense.  The blog focuses on bonds and global macro economic fundamentals.  If you are looking for a one stop shop for keeping up with events out of Washington his Washington Week Ahead posts are a great event calendar for the week.  He is also very active on twitter and a great follow, you can find him @convertbond
The Financial Lexicon – Also a LearnBonds contributor, The Financial Lexicon gives great analysis and recommendations on individual bonds complete with CUSIPs so you can have a look for yourself.  He is a great follow for bond commentary in general but if you are looking for great tips on individual bonds there are few that put out as much quality analysis on individual corporate bonds as he does.  The link above is to his Seeking Alpha page which has the most articles but he also publishes some exclusive articles for Learnbonds which you can find here.
About.com Bond Blog – You wouldn't think that About.com would make a list of best bond market resources but we find their bond section which is run by Thomas Kenny to be one of the better out there for those looking to learn about the bond market.
John Lothian News – Published by futures industry veteran John Lothian and run by Managing Editor Christine Nelson, their blog is a great source for summaries on all the major events affecting interest rates, bonds and credit derivatives.  You can also find them on twitter @JLNIR
The Bond Dad Blog – Written by a tax attorney that knows an awful lot about markets as well.  For the more active investors out there you should check out his morning market updates as they are a great fundamental and technical overview of the markets, including bonds obviously. You can find him on twitter @captivelawyer
Ploutos – Another Seeking Alpha contributor and Institutional Investment manager who gives great big picture analysis on all sectors of the bond market.
Michael Terry – Another good Seeking Alpha contributor and Bond Market Professional with solid overall bond market commentary as well as analysis on individual issues.
Bond Market on Twitter
Chris Adams – Editor for the Markets Section of the Financial Times.  Great for all around market coverage including direct and indirect bond market coverage.  We follow him specifically because we can keep in tune with what is going on in other markets without getting overwhelmed with non bond market related info.  The only thing we don't like about him is we went over the free article limit at the FT because we read so many of his articles so now we have to pay.
Follow Chris on Twitter @ChrisAdamsMKTS
Deborah Levine – Writes the daily bond market report for Marketwatch.  If you are looking for one piece a day to keep up with the bond market that is well written and easy to understand then Deborah's daily market wrap up piece is it.
Follower Deborah on twitter @dlevineMW
Patrick McGee – Investment Grade Bond Reporter for Dow Jones.  Good overall coverage as well as individual issues.
Follow Patrick on Twitter @PatrickMcGee_DJ
Taylor Riggs – Muni Market Reporter for The Bond Buyer. If you follow the municipal bond market actively then her twitter feed is great for intraday market color.
Follower Taylor on twitter @taylorriggs_BB
Bob Nelson  MMD Senior Analyst and Product Manager.  Knowledgeable source on the muni market and bonds in general who is very good about helping others out with info or questions they need answers to.
Follow Bob on Twitter @BNells22
Keeley Webster –  Covers public finance in the Bond Buyer's Far West region.  We like her because she keeps us up to date on the major stories in the market via her Twitter feed.
Follow Keeley on Twitter @keeley_webster
Brian Chappatta – Writes the municipal market brief for Bloomberg. We've been scared to sign up for a trial because its $1000 a year if we like it, but we've heard its good.
Follow Brian on Twitter @BChappatta
Daniel Berger – MMD Analyst great for pointing out interesting stories around the market, posing interesting questions and like Bob also good about helping others out with info when needed.
Follow Daniel on twitter @munimarketmaven
Junk Bond Mom – All this twitter profile says is "12 years of junk" but we assume from the handle that @junkbondmom is a woman and we know from her feed that she follows the Junk Bond Market Actively.  Her feed is great for active followers of the bond market in general but as the name suggest has a specific focus on the Junk Bond Market and particularly the JNK ETF.
Follow Junk Bond Mom on twitter @junkbondmom
Michael Pietronico –  CEO, Senior Portfolio Manager, and Credit Analyst for Miller Tabak Asset Management.  Great for municipal bond market color and commentary direct from the asset manager himself.
Follow Michael on twitter @millertabak
Jake Freifeld –  "Fixed income trader focused on distressed mortgages, aircraft leases and other exotic bond cash flows".  His feed is really geared more towards the bond market professional than the individual investor however he has some great insights for those looking to really up their fixed income game.
Follow Jake on Twitter @jake_f
The Federal Reserve – In a testament to how far twitter has come as well as how far the Federal Reserve has come in moving towards fuller disclosure the Fed has recently joined twitter.  So far they are doing a good job of putting out interesting facts and links without overwhelming my twitter feed.
Follow the Fed @federalreserve
PIMCO –  The PIMCO twitter account is full of great tweets on the market some from the man himself Bill Gross.
Follow PIMCO on twitter @PIMCO
Quickjump links to tweeters mentioned elsewhere on this list:
Cate Long
Michael Aneiro
Barry Ritholtz
David Schawel
Counterparties
iShares
Lawrence McDonald
John Lothian News
Bond Dad
BondSquawk
ETF Trends
Munilass
Bond Market Traditional Media
Bloomberg.com – Best free news source for information on the government corporate and municipal bond markets.  They break their municipal bond news out into a separate section which you can find here.
Reuters.com –  Their main bond section is a little too cluttered with non bond related info for our tastes however the municipal bond news section is spot on.
Wall Street Journal – For up to date bond market commentary and interesting takes on the market check out Min Zeng and Patrick McGee.  One of the best parts of the WSJ Bond section is the Dow Jones Newswire and Factiva search of the past articles going back to 1996.  Also be sure to check out the bond section of the Market Beat Blog.
The Financial Times – Unfortunately the FT has decided not to break out their bond market news into a separate section (at least that we can find) however no list on the bond market would be complete without them.  Great insights on the bond market which you can make sure you don't miss by following Chris Adams on twitter and letting him be your guide. Also be sure to check out their counterparties blog.
Morningstar.com – Great site for free in depth analysis on the bond market which of course includes their legendary coverage of bond funds and mutual funds in general.
Briefing – Good source for intraday bond market commentary and market wrapups.
Marketwatch – Their bond market wrapup which is written by Deborah Levine is the best out there (outside of our own of course:) for the individual investor.
Bondbuyer.com – The central news source for the municipal bond market with a focus on providing high quality information and analysis for the municipal bond market professional.  It is a subscription paper but you can get many of their articles for free on bondbuyer.com.  For good intra day color on the municipal bond market follow Taylor Riggs who is one of their reporters on twitter.
Fidelity Fixed Income – The news section of Fidelity is free and a good aggregation of a lot of different bond market news sources.  If you want their third party research which is great you have to have an account.
Mortgage News Daily – Best source we have found on the MBS market , and we especially like their video section which is a great aggregation of bond market videos from around the web.
Bond Market Data
MunicipalBonds.com – Provides price data on municipal bonds, a state-by-state yield table, and recent trading activity.
FRED (Federal Reserve Economic Data) – This is the best site on the internet for info on interest rates and economic data in general.  Completely free and very easy to download data and take charts from. The St. Louis Fed has outdone themselves.
Treasury.gov Data and Charts Center – Same goes for the data and charts section of the Treasury's website.
FINRA Market Data – Great free resource for government, municipal, and corporate bond price information.
EMMA – The data repository for the Municipal Securities Rulemaking Board (MSRB) where you can find the offering statements for specific municipal bonds as well as a ton of other info including trade activity and ratings. You can also sign up to receive email alerts for updates on a specific municipal bond that you hold or are interested in holding.
Bloomberg.com – Lots of free bond market data at this link and a lot more which is not listed on the page but found through the search box if you know what you are looking for.
Wall Street Journal (Subscribers) – Tons of data with interactive charts on treasuries, consumer lending rates, US and Global Benchmarks, new offering calendar and more.  Also be sure to check out their Tracking Bond Benchmark's page which is awesome.
YAHOO Finance Bond Center – Good free bond screener tool.
Seeking Alpha – Good summary page of the performance of all sectors of the bond market on a 24 hour, 3 month, 12 month, and Year to Date basis.
Thomson Reuters TM3  – The primary source of information on the municipal bond market for bond market professionals.  You have to have a subscription to get most of the data but they do have nice snapshot data for free on the homepage.
BondView.com – In a market where innovation is lagging to say the least Bondview breaks the mold.  They give the individual municipal bond investor the type of pricing and portfolio analysis that were formerly only available to stock investors.
Bonddesk.com – Bonddesk is one of the top electronic bond platforms for individual traders.  If you trade through a broker like E Trade then there is a high probability that you are trading on BondDesk's technology.  They put out a significant amount of bond market data for free through their website as well as through their twitter feed @bonddesk
MuniOS.com – Free access to over 17,000 municipal bond offering statements with the ability to create custom email alerts.
Taxmap.ntis.gov – Got a question about taxes on bonds?  You'll find the answer here.
Free Bond Market Research
Janney Capital Markets –  The most comprehensive set of institutional level fixed income research available for free on the internet.  Daily, weekly and monthly commentary and research reports from one of the most respected research shops on the street.
Raymond James – Raymond James provides several weekly reports for free that are of a quality that most people either charge for or only distribute to clients.  They allow Learn Bonds to republish their weekly taxable bond here, and have several other reports a the link above.
Blackrock Market Commentary – Lots of great commentary and research from high level Blackrock investment managers.  Be sure to check out their point of view series and don't miss the categories on the left hand side of the page.
Smith Barney – Three great monthly reports available for free online including a monthly comment on the municipal bond market that is the best we have seen.
PIMCO Insights – Market commentary, research and analysis direct from giants of the bond world including Bill Gross and Mohamed El Erian.
Bond Market Education
Investing in Bonds – The most comprehensive free bond market course on the internet.
Self Evident – Great free lessons written by a bond market pro.
About.com – Their bond market section is fantastic for education as well as market commentary.
Khan Academy – The finance section of Khan Academy has a ton of educational material on fixed income and pretty much every other part of finance and economics.
TreasuryDirect.gov – Great educational material on treasury bonds and savings bonds as well as the only place where you can buy savings bonds after the end of the paper savings bond.
Lebenthal's Municipal Bond Education Center – A free 12 lesson course on investing in municipal bonds including video which was developed by Municipal Bond Market legend Jim Lebenthal.
Publicbonds.org A site devoted towards educating the public finance community so its geared towards the professional however the information is definitely explained at a level that an individual investor can understand.
Municipalbonds.com – Free 20 lesson course on the municipal bond market.  You have to be registered to see everything but registration is free.
PIMCO's Education Center – Great educational articles exploring things from a higher level than most of the other free bond market education out there.  Be sure to check out their piece on PIMCO's approach to credit research.
LearnBonds Bond Investing Course – Our introduction to bond investing for the individual investor.
Each of the below sites offers a great entry level overview of the bond market.
YAHOO's Bond Primer
Investopedia's Bond Basics
FINRA's Smart Bond Investing
Morningstar's Bond 100 Course
Bond Market Books
The Bond Book – Not sure if this is the best selling book on the bond market, but if its not it should be.  Written by bond market veteran Annette Thau its "everything you need to know about Treasuries, Municipals, GNMAs, Corporates, Zeros, Bond Funds, Money Market Funds and more".
The Strategic Bond Investor – The bond book gives the best practical overview of bond market basics and the structure of the market.  This book which is, written by Senior vice president and portfolio manager at PIMCO, Anthony Cescenzi picks up where the bond book leaves off with education and thoughts for the individual investor.
Bond Investing for Dummies – If you are completely new to the market and want a good high level overview this is the book for you.
Fundamentals of Municipal Bonds – SIFMA's guide to the municipal bond market and the textbook for the Municipal Bond Club of New York's Muni Bond School, its written with the bond market professional in mind.
Encyclopedia of Municipal Bonds – This one is on our reading list however a well respected market blogger gives it a high review which you can read here.
Discount Bond Brokers
Many of the online brokers out there allow you to trade bonds but here are the biggest:
Etrade – Nice easy to use charts for overall market analysis and a 360 degree bond portfolio report that gives you a nice simple overview of your fixed income investments.
Fidelity – Nice suite of tools and free research analysis for individual investors.  They have a lot of free tools and that do not require an account as well such as a CUSIP lookup and their bond market news section, but you will need an account to get access to their research.
Charles Schwab – Not quite as comprehensive as Fidelity but still offer a lot of good research and have JP Morgan's Bond research reports as part of their free offerings to account holders, which is something that you cannot get from Fidelity.
TD Ameritrade – A little short on research but have a nice easy to use bond screener that allows you to answer basic questions about what you are looking for and returns potential bond candidates for investment.
While not one of the biggest two others which are worth a look are:
tradeMonster – If you are an active bond trader, tradeMonster's new bond platform is in a class by itself. They give free streaming realtime bond prices to all their clients as well.
Zions Direct – They are one of the only firms focused on the bond market that operates in an agency only fashion meaning they only earn a commission on the bonds they sell and do not mark up the prices they are giving you.  This combined with the fact that they only charge $10 commission made them worth a mention as well.
Ratings Agencies
Standard & Poors (S&P)
Fitch
Moody's
Trusted & Regulated Stock & CFD Brokers
What we like
0% Fees on Stocks

5000+ Stocks, ETFs and other Markets

Accepts Paypal Deposits
Charge per Trade
Zero Commission on real stocks
64 traders signed up today
Visit Now
67% of retail investor accounts lose money when trading CFDs with this provider. You should consider whether you can afford to take the high risk of losing your money.
Available Assets
Total Number of Stocks & Shares

5000+

US Stocks

German Stocks

UK Stocks

European

ETF Stocks

IPO

Funds

Bonds

Options

Futures

CFDs

Crypto
Charge per Trade
FTSE 100

Zero Commission

NASDAQ

Zero Commission

DAX

Zero Commission

Facebook

Zero Commission

Alphabet

Zero Commission

Tesla

Zero Commission

Apple

Zero Commission

Microsoft

Zero Commission
Deposit Method
Wire Transfer
Credit Cards
Bank Account
Paypall
Skrill
Neteller
What we like
Sign up today and get $5 free

Fractals Available

Paypal Available
Charge per Trade
$1 to $9 PCM
Visit Now
Investing in financial markets carries risk, you have the potential to lose your total investment.
Available Assets
Total Number of Shares

999

US Stocks

German Stocks

UK Stocks

European Stocks

EFTs

IPOs

Funds

Bonds

Options

Futures

CFDs

Crypto
Charge per Trade
FTSE 100

$1 - $9 per month

NASDAQ

$1 - $9 per month

DAX

$1 - $9 per month

Facebook

$1 - $9 per month

Alphabet

$1 - $9 per month

Telsa

$1 - $9 per month

Apple

$1 - $9 per month

Microsoft

$1 - $9 per month
Deposit Method
Wire Transfer
Credit Cards
Bank Account