Tally Loans Review 2020 – READ THIS BEFORE Applying!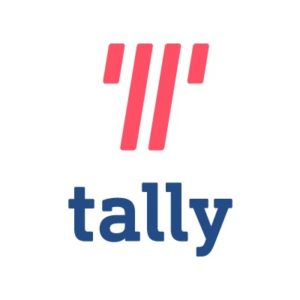 Are you currently in position where you are holding outstanding balances across one or more credit cards? If so, not only will the interest hurt you in the long-run, but keeping on top of what needs to be paid and when can be somewhat challenging. As such, it is well worth considering a form of credit card debt consolidation.
However, if you want to take things to next level, the likes of Tally utilize AI-based technologies to pay your credit cards off via a pre-arranged line of credit. If you think that this sounds like something that be would be beneficial in your current financial circumstance, we would suggest reading our  Tally review.
We've covered everything from how Tally works, how much you can borrow, fees, eligibility, and more.
As with any debt consolidation product, a line of credit with Tally comes with interest. As such, you need to ensure that your APR rates are low enough to make the debt consolidation plan worthwhile.
What is Tally?
Meet Tally – or simply 'Tally', is an innovative mobile app that seeks to help you stay on top of your credit card debts. Putting the platform's bells and whistles to one side momentarily, Tally is essentially a line of credit provider. As such, the overarching concept of using the lender is to borrow funds in the form of a line of credit, which is then used to help you pay your credit card debts. However, the app is unique in the sense that it will distribute your line of credit in the most efficient way.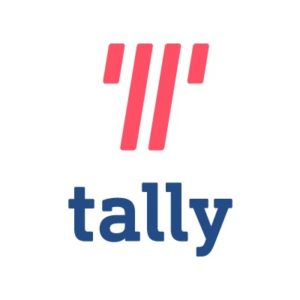 With that being said, Tally is best used if you are looking to continue using your credit cards, as opposed to simply paying them off in one go. The reason for this is the Tally algorithm can pay your monthly credit card bills automatically from your line of credit. Rather than just paying the minimum, it will also seek to target credit cards with the highest interest rates.

If you are looking to obtain a debt consolidation loan to clear all of your credit card balances, then you are best off using a more traditional loan provider. Tally is suited to those that want to keep on using their credit cards.

In terms of the specifics, Tally offers lines of credit between $2,000 up to a maximum of $20,000. APR rates will vary from 7.9% to 25.9%. Depending on which side of the range you are able get, this could potentially save you a lot of money in credit card interest payments.
What are the Pros and Cons of Tally
Tally Pros:

✅Lines of credit available from $2,000 to $20,000

✅APR rates start at a reasonable 7.9%

✅Very fast application process

✅Great if you want to continue using your credit cards

✅AI algorithm can pay your monthly bills efficiently

✅No obligation to use the line of credit

Tally Cons:

❌ Not available in all US states

❌ Not suitable if you want to clear your credit cards in full
How Does Tally Work?
The Tally platform is completely different to your standard line of credit provider. While the application process is very similar, the app aims to assist you with your monthly repayments as opposed to simply clearing your cards in full. Nevertheless, if you want to get started with the platform, you will first need to head over to the Tally homepage, and then download the mobile app to your smartphone.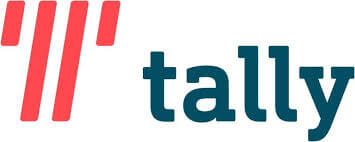 Step 1: Create an account and enter your credit score

Once you've installed the app to your phone, you'll need to enter your email address and create a password. You will also need to enter your estimated FICO credit score.

Step 2: Enter your personal information

Let Tally know who you are. Enter your full name, address, date of birth, home telephone number, and residency status. You'll also need to enter your driver's license number and social security number so that Tally can verify your identity.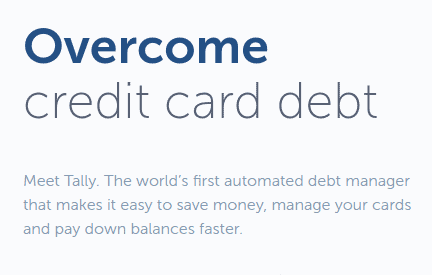 Step 3: Add your current credit cards

You will now need to let Tally know what credit cards you currently have. Choose the provider from the drop-down list, and then either enter your card details manually, or take a photo with your smartphone. Don't worry, the app utilizes top-grade security features, so all of your financial data is kept secure.

Step 4: Wait for the app to analyze your information

The Tally app will now analyze all of information you have provided thus far. Not only will it assess your current credit profile, but it will also evaluate how much debt you have on all of the credit cards you linked.

Step 5: Review your line of credit

Once the Tally app has assessed your information, you will receive an instant decision on your eligibility for a line of credit. If you do qualify, you'll be able to view your credit limit (between $2,000 and $20,000), as well as the respective APR rates (7.9% to 25.9%).

If you want to proceed, you'll need to sign a digital loan agreement to complete the application process.
How Much Does Tally Cost?
As we noted earlier, your APR rate will vary depending on your financial profile. Nevertheless, although repayments work in a similar way to other loan products, lines of credit with Tally are slightly different. First and foremost, you will be required to repay the balances that Tally paid on your behalf from your line of credit – plus the respective interest. Moreover, Tally will add an additional 1% to the total figure.

Tally allows you to check your eligibility and APR rates via the mobile app without it having a negative impact on your credit score. Take note, if you do proceed with your line of credit offer, this will be reported to the main credit agencies.

Whether or not Tally is worth using will ultimately depend on the rate you are offered on your line of credit. For example, if you are paying an average credit card APR rate of 15%, but Tally offers you a line of credit at 21%, then this would not be worthwhile as it would end up costing you more money in the long-run. On the contrary, if Tally offered you a rate of 9%, as this is much lower than the 15% you are currently paying in credit card interest, it's a super good deal.

In terms of understanding why you will be offered the rate you get from Tally, we've listed the main factors that the platform looks at during the application process.

✔️ Your FICO credit score

✔️ Your annual salary

✔️ Your total debt levels

✔️ Whether you have ever missed a credit card payment

✔️ Whether you own your home
Other Fees to Consider
Other than the APR rates charged on to your line of credit, and the additional 1% fee, Tally does not implement any other charges or fees. In this sense, we really like how transparent the lender is with its pricing structure.
Am I Eligible for a Tally Loan?
Unlike other line of credit providers like Jora Credit, RISE Credit, and Elastic Loans, Tally is a lot more selective with who it offers financing too. As such, you'll need to make sure that you meet the lender's minimum requirements before proceeding with your application.

As a starting point, you will need to ensure you are based in one of the below 30 US states, plus the District of Columbia.

🇺🇸 Arkansas
🇺🇸 California
🇺🇸 Colorado
🇺🇸 Connecticut
🇺🇸 Florida
🇺🇸 Georgia
🇺🇸 Idaho

🇺🇸 Illinois
🇺🇸 Iowa
🇺🇸 Louisiana
🇺🇸 Maryland
🇺🇸 Massachusetts
🇺🇸 Michigan
🇺🇸 Minnesota

🇺🇸 Missouri
🇺🇸 Montana
🇺🇸 New Jersey
🇺🇸 New York
🇺🇸 New Mexico
🇺🇸 Ohio
🇺🇸 Oregon

🇺🇸 Pennsylvania
🇺🇸 Rhode Island
🇺🇸 South Carolina
🇺🇸 South Dakota
🇺🇸 Tennessee
🇺🇸 Texas
🇺🇸 Utah
🇺🇸 Washington
🇺🇸 Wisconsin

If you're based in one of the above US states, then you will also need to meet the following eligibility requirements if you are to be approved by Tally.

✔️ Be a permanent resident or citizen of the US

✔️ Aged 18 years and above

✔️ Have a minimum FICO credit score of 660

✔️ Be employed with a regular income

✔️ Have a valid checking account
When Will I Receive my Funds?
As you are applying for a line of credit, you will not technically receive any funds. On the contrary, your line of credit can only be used to pay your credit card balances off. You actually have two options in this respect. First, if you sign-up for Tally Pay, you can allow the app to automatically make your credit card payments via your checking account. The exact amounts will be determined by the AI algorithm, based on the balances you have outstanding.

Alternatively, you can opt to make your own payments manually. However, this needs to be done through the Tally app. For example, if you want to pay off $200 with a particular credit card provider, you need to specify this from within the app and then Tally will execute the payment from your checking account.
Paying Your Loan back
If you've used a line of credit before, then you should know the drill. Essentially, you will need to make a repayment every month. In terms of how much you pay at the end of each month, this is entirely up to you. However, this needs to be at least the amount that Tally paid to your credit card providers in that specific month, plus your APR interest and the additional 1% . This needs to be a minimum of $25.

As you will have already connected your checking account to the Tally app, the payments can be made automatically via your instructions.
What if I Miss a Payment?
If you are late with payment on your Tally account, then this will be because there is not enough money in your checking account to cover the minimum. Fortunately, Tally won't charge you a late payment fee if this does occur, however you will still need to resolve the outstanding balance as quickly as possible to avoid further complications.

As a side note, if you haven't signed up for the automatic Tally Pay service, the app will still pay your minimum monthly credit card payment if it notices you haven't done this 2 working days before the due date. This will allow you to avoid late payment fees with your credit card provider.

If your late payment subsequently turns into a missed payment or default, then you will likely begin to incur additional charges – all of which will have interest charged on top. Moreover, Tally will report this to the main three credit agencies. If they do, your credit score will be impacted.
Customer Service at Tally?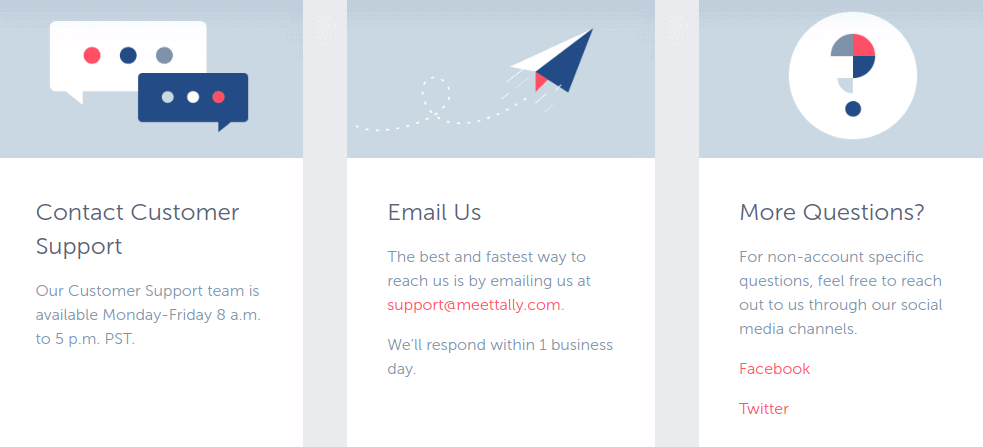 You can contact Tally on the following:

📱Phone: (866) 508-2559

📧 Email: [email protected]

The Tally customer support team works during the following hours – Pacific Standard Time

⏱️ Monday-Friday: 08:00 – 17:00

⏱️ Saturday-Sunday: Closed
Tally Review: The Verdict
In summary, we really like what the team at Tally have created. While credit card debt consolidation products have been around for decades, Tally takes things to the next level. The app allows you to keep using your credit cards – albeit, its AI algorithm will ensure that you always make your repayments in the most efficient of manners.

Before you commit, we would suggest assessing what APR rates the lender will offer you. Ultimately, you will want to ensure that they are lower than the credit card rates you are currently paying. If they are, you stand the chance of making some considerable savings.
FAQ:
What is the minimum credit score that Tally will accept?

Alongside other eligibility requirements, Tally will only approve your application if you have a minimum FICO credit score of at least 660.

How much APR does Tally charge?

Depending on your individual credit profile, Tally charges anywhere from 7.9% APR to 25.9% APR.

How long does the Tally application process take?

If you have all of the required information to hand (social security and driver's licence numbers, credit card details, etc), then the end-to-end process should not take more than 10 minutes.

Does Tally charge an early payment fee?

    

If you want to pay your Tally line of credit off early, or pay more than is due, you can do this at no extra cost.

What happens if I miss a payment with Tally?

    

Tally does not charge you anything if you are late with your monthly payment. However, if your late payment turns in to a missed payment, this will be reported to the main credit agencies.