CashAdvance.com Loan Review 2020 – READ THIS BEFORE Applying!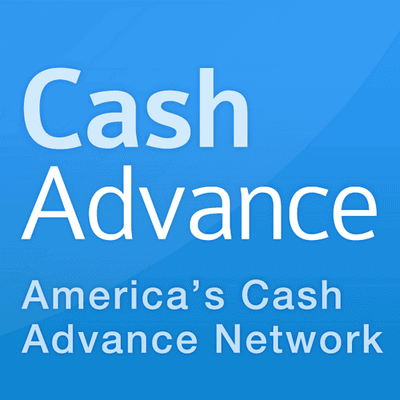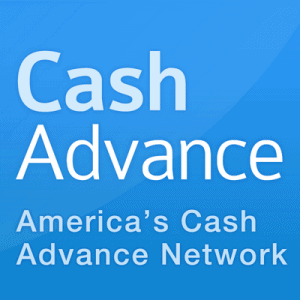 We have all found ourselves in situations where we need cash as soon as possible. But at such times, finding the kind of funding you need may not always be easy.
CashAdvance.com promises to come in handy during such times. But does it deliver on its promises? And if it does, are there any loopholes you need to be aware of?
Well, our comprehensive review of the lender seeks to address all of your questions about the platform and its services. By the end of it, you should be in the perfect position to decide whether or not to sign up and take out a loan on the site.
CashAdvance.com operates a matching service that connects borrowers to lenders in many US states. Though it is a reputable platform with lots of experience in the industry, its third-party lenders might not always live up to expectations.
What is CashAdvance.com?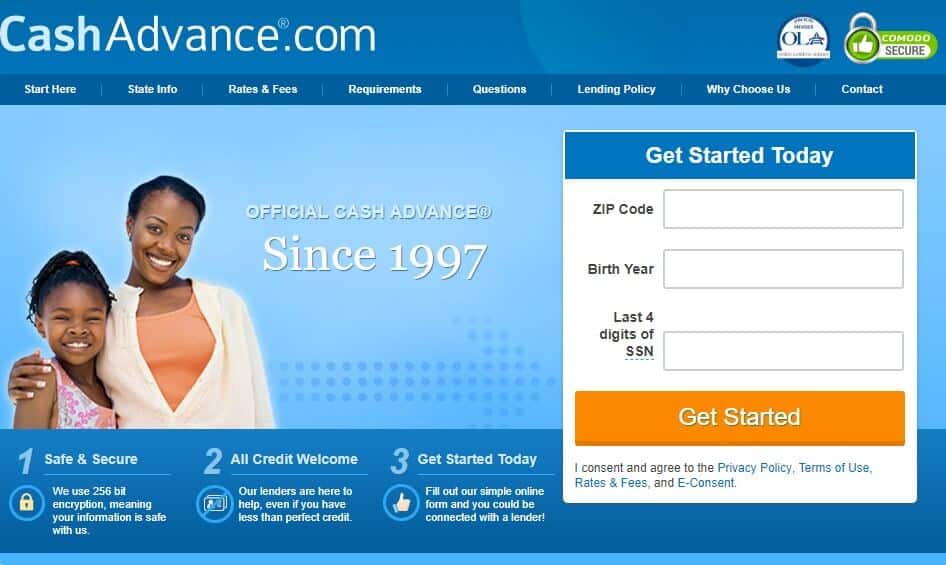 Founded in 1997, CashAdvance.com is a connection service that refers borrowers to lenders who provide short-term loans. It operates under Hawk LLC., a limited liability company chartered under the Ute Indian Tribe.
The company is, in fact, wholly owned by the Ute Indian Tribe and thus operates under the laws and jurisdiction of the tribe. Therefore, it is not subject to state laws, which govern most other financing platforms. Rather, applicable Federal and Tribal laws govern its operations including loans and contracts.
It specializes in short-term cash advances which typically range from $100 to $999.
Pros and Cons of a CashAdvance.com Loan
Pros
Established financial service platform
Allows users to access loans in spite of poor credit
Works with a large network of lenders
Loan approvals take a matter of minutes, which is great for emergency funding
CashAdvance is a member of the Online Lenders Association (OLA) and complies with its code of conduct and industry best practices
Educational resources on the site can help in fostering financially healthy practices
Reputable customer service
Cons
Not a direct lender but a connection service
Cannot give exact APRs as these vary from lender to lender
Only accessible to employed applicants with a minimum income of $1,000 monthly
Applicants need to have worked with the same employer for at least 90 days
The site has to share your sensitive information with third-party providers in order to offer matching services
How does a CashAdvance.com loan work?
One of the most difficult aspects of finding emergency cash is choosing a lender. CashAdvance is a service that can help you speed up this process. As a connection service, it works with a vast network of lenders.
When you sign up for its services to apply for a loan, it matches your application with various lenders close to you. These lenders then offer you their loan terms for approval or rejection. All you need to do is examine the terms carefully to pick the best possible offer. The opportunity to compare offers from various lenders has got to be among the highlights of the platform.
Loan amounts typically range from $100 to $1,000 and loan terms are usually up to one month. The lender's area of specialty is in payday loans and these require no collateral. Typical turnaround times are 1 to 2 business days while costs vary from one lender to another.
You have to be employed to qualify for a loan on the platform, with an after-tax income of $1,000 monthly.
A major highlight of the service is that the site provides a library of educational information. There are research tools accessible for all users as well as customer service reps and specialists on the ready to guide you through any challenges.
Its design and resources have the objective of guiding you to the information you require so as to make informed decisions.
Additionally, the site has tools that help to increase transparency into the service. Under the Customer Resource section, it has a sliding scale for APR calculations. You can use this scale to calculate the APR on a loan and the full amount payable on the basis of loan amount and term.
Qualifying for a loan on the platform is not at all complicated; you simply have to meet the eligibility criteria and do not necessarily need good credit. However, one of its requirements is regular employment and a minimum income of $1,000 monthly (after taxes).
You can be sure that the APRs on the site will be high as it only works with short-term lenders who have a reputation for high rates. And even though there are lots of potential lenders to choose from, there is no guarantee that you will find one that can work with you.
The application process on the site is quite simple and should only take a few minutes if you have all the necessary information. But you might have to wait a few minutes for the platform to process your request. After you get multiple offers from various lenders, you are under no obligation to sign up for one.
There will be no fee to pay in case you decline, but you will need to cancel your request. In case you do accept one of the offers, you should get the funds in your account in a span of 24 hours. Similarly, the lenders on the platform set up automatic debits for repayments. You simply have to ensure that the funds are available on time to avoid late payment fees or insufficient fund fees.
Depending on the lender's preferences, you might also have the option of sending in a check for repayment. It might also be possible to make manual payments or send in money orders.
Notably, though the rates from the different lenders vary from one state to another, they seem consistently higher than those of other lenders. Furthermore, the policies vary significantly from lender to lender.
Another fact to take into consideration is that using this type of service can take longer than using a direct lender. Admittedly, the application is as short as on most other platforms. But keep in mind that you will need to wait for estimates from the lenders and make comparisons.
What loan products does CashAdvance.com offer?
As its name suggests, CashAdvance.com focuses on one main product, cash advances. These are short-term loans which you typically have to pay back on the next payday. They usually attract extremely high interest rates.
What other store services does CashAdvance.com offer?
There are no other store services on the platform.
CashAdvance.com Account Creation and Borrowing Process
Filling out an application on the site is quite simple. Here is what you need to do:
1. Visit CashAdvance.com website and under "Start Your CashAdvance" select a loan amount, enter your zip code, full name and email address. Next, click on the "Get Started" tab.

2. On the next page, enter your personal information such as your home address, work and home phone number, social security number, ID number and date of birth.
To proceed, click "Continue."
3. Next, you will need to provide your financial information, starting with your employer details, income then bank account information.
4. Once you fill in all of the required information, you will get an e-consent form, which you need to read and agree to.
Additionally, you will need to read the privacy policy and terms of use and accept them, then click "Submit."
It's essential to be cautious during the sign up process for these products. This is because you can end up owing two to three times what you borrow on the longer-term loans, and many have difficulty repaying the short-term loans without reborrowing.
Eligibility Criteria for CashAdvance.com Loan
Here are some of the requirements you need to meet so as to qualify for a loan on CashAdvance.com:
At least 18 years of age or older
Be a US citizen or permanent resident
Have a valid checking account in your name
Have regular employment
Have maintained your current job for at least 90 days
Earn a minimum of $1,000 monthly after taxes
Information Borrowers Need to Provide to Get CashAdvance.com Loan
When applying for a loan on the site, here are some of the details you will need to provide:
Full name
Email address
Home address
Phone numbers (home and work)
ID number
Social security number
Date of birth
Details about your income
Details about your employer
Bank account information
What states are accepted for CashAdvance.com loans?
As is the case with most tribal lenders, CashAdvance offers services in a majority of US states with a number of exceptions. Here are the exceptions:
Vermont
Utah
Texas
Pennsylvania
Oregon
New York
New Jersey
New Hampshire
Montana
Massachusetts
Maryland
Maine
Georgia
Connecticut
Arkansas
Arizona
What are CashAdvance.com loan borrowing costs?
It is rather difficult to tell the rates that will apply for any loan taken out on CashAdvance. As a connecting service, the platform simply plays an intermediary role and does not determine rates. Instead, users can only get exact rates during the application process.
However, here is the range you can expect to pay when you borrow from any of its lenders:
Cash advance loan APRs – 200% to 2,290%
CashAdvance.com Customer Support
CashAdvance.com in itself has a reputable name in as far as customer support is concerned. Unfortunately, you will likely have to work with your lender's customer support and not the site's.
Based on this, the site has an F rating on Better Business Bureau, based on five complaints. As expected, these have nothing to do with the site's customer support.
With this in mind, it would be wise to find out about your lender's customer support before signing up.
Is it safe to borrow from CashAdvance.com?
CashAdvance.com claims to be a secure website and handles all personal data with great care. Furthermore, the lender seeks to connect borrowers only with reputable lenders.
Being a member of OLA, it has to adhere to best industry practices in all aspects including safety.
However, as a connecting service, it has to share your information with third-party lenders. The moment you sign its online application, you authorize the lender to share your data. They might share information not just with lenders but also with marketing partners.
Though it is not a safety concern, you might from time to time get text messages or calls from such marketers.
CashAdvance.com Review Verdict
CashAdvance.com does a great job of matching its users to the right lenders out there. It has wide coverage and provides a vast range of options to choose from. In keeping with its policies on optimizing customer experience, it provides educational resources for users.
The major downside to the service is that you have to deal with third-party lenders, who might not have similarly high values in customer experience. As such, the rates and fees are unpredictable and customer support varies from lender to lender.
Though the site has a short application process, making comparisons on the different lenders might take a while.
Overall though, the bottom line is that CashAdvance.com does its job pretty well and is an excellent platform.
FAQ
Why does CashAdvance need my social security number and bank details?

The lenders within the service provider's network require banking as well as social security information so as to know whether or not to offer you a loan. They also need to verify that your bank account exists as that is where they will deposit your funds and debit repayments.

Can I get access to a loan on the site if I have filed for bankruptcy?

It might be possible. Note that the site connects you to multiple lenders whose policies and requirements might differ significantly. Therefore, there could be lenders who are willing to work with you in spite of the bankruptcy on your history.

Will I qualify for a loan on the platform if I have an outstanding loan?

This will depend on the laws applicable in your state. In some states, borrowers cannot have more than a single outstanding loan at a time. As such, lenders in such states may have to check on third-party bureaus to confirm whether you have a loan.

What happens if I am late in making a repayment?

The outcome will depend on the specific lender's policies. Different lenders have varying policies on late payments. Always review the terms of the loan before signing up as such details are usually included therein.

What is the return customer feature?

CashAdvance.com seeks to optimize user experience. Therefore, when you return to the site, you simply need to go to the Existing Customer box and sign in using your email and password. You will find the next loan request already filled out. Just review, update and submit.