Starling Bank 2021 Review – Is it the Best Challenger Bank?
The banking industry is gradually changing to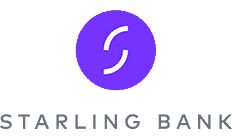 accommodate today's mobile lifestyle. Younger people spend most of their time on their phone, so it makes sense for one to be able to control their finances conveniently from an app. Since the conventional banks did not adapt quickly, many challenger banks rose to fill the gap, providing less costly and more convenient banking services to their users. In this Starling Bank review, we look at one of the leading digital-only banks in the UK.
Starling Bank is one of the most full-featured challenger banks in the UK, but before making the decision to join, here is our list of
10 best challenger banks in Europe
you can use to compare.
 

What is Starling Bank?

Starling Bank is a mobile-only challenger bank in the United Kingdom. It was founded by the current CEO, Anne Boden in January 2014 after realizing the opportunity for a new kind of bank. Prior to founding Starling, she had worked for Allied Irish Banks as the COO, Executive Vice president for ABN AMRO and for RBS as the head of EMEA. The startup raised £48 million after an investment round in January 2016, 2 years later. In July later that year, it received its banking license from the Financial Conduct Authority and the Prudential Regulation Authority; this made Anne Boden the first female founder of a British bank.

Starling became the first challenger bank to join the Single Euro Payments Area (SEPA) System in the UK. The bank provides accounts similar to what you would find in a traditional bank, on signing up, you get a full bank account complete with an account number, sort codes and a contactless debit MasterCard. The main difference is it operates online only, out of your pocket. Among the current accounts available are personal, joint, Euro and teen accounts. The challenger bank also offers business accounts.

Although it does not offer additional 'nice to have' features like Revolut and other digital banks, it still offers solid accounts. Starling won the Best British Bank and Best Current Account provider at the 2018's British Bank Awards. It also started its #MAKEMONEYEQUAL campaign to promote gender equality in finance later that year.

According to the CEO, the startup is set to break even by the end of 2021. The number of users has doubled in the last eight months to over 775,000 and it is on track to reach one million accounts and surpass one billion euros in deposits by the end of this year. But is it worth having your bank in your phone?

Starling Bank Pros and Cons

Pros

The accounts are easy to set up, no papers required or long processes and ID verification takes a few hours only
The bank is fully licensed by the PRA and FCA, therefore, all eligible deposits are protected by the FSCS up to £85,000
There are no registration or monthly fees
Free ATM withdrawals abroad up to £300 or a maximum of 6 withdrawals per day
Goal-oriented savings feature
It allows you to deposit or withdraw cash at the post office for free (personal and joint accounts)
You earn interest on your personal and joint account credit balances
Overdraft service is available

Cons

At 15% the loan and overdraft interest is higher than some traditional banks
Easy access to overdrafts and loans may encourage overspending
The interest rates on balances are lower than traditional banks
If you lose your phone or the app malfunctions, you lose all access to your account as there is no other online banking facility such as a desktop version or a branch you can visit
The accounts are only available to United Kingdom residents
The lack of face to face customer support may be limiting for some people. Although it offers 24/7 customer care

How Starling Bank works

Starling Bank is an app-only bank, that means you have to download the Android or IOS app to access its services. It does not offer a website, which is somehow a downside if you lose your phone. When you open an account, you get a free full UK bank account and a MasterCard that you can use for payments locally and abroad. The bank also offers a sole trader business current account, its aim is to make business banking straightforward, simple and quick which it has achieved if you consider the ease of opening an account, automatic categorization of transactions among other features.

Starling also offers unsecured consumer loans of up to £5,000 at interest rates of between 11% and15% depending on your individual circumstances. The loan product is connected to your overdraft. It, however, has a lower rate since its long term, unlike the overdraft. If you have an existing overdraft, you can apply to borrow the remaining amount or convert part of it into a loan.

Unlike Monzo and Revolut who have capped their free ATM withdrawals abroad at £200 per month, Starling allows you to withdraw up to £300 per day or a maximum of 6 withdrawals. You can also send money to bank accounts in 38 countries in 20 currencies at a fee.

Getting Started

Opening an account on the app is pretty straightforward and takes only a few minutes depending on the type of account you are opening. You can open an account as long as you are 16 years old or over and a resident in the UK. Also, ensure you have a valid photo ID such as a passport or a UK driving license near as it will be required for verification.

The first step is downloading the app from the App Store if you are using iOS or Google Play Store, enter your phone number and you will be sent a verification code. Create an account by entering your personal details including name, date of birth, email address and current home address. You will then be required to verify your identity by recording a short selfie video and taking a photo of your ID.

The platform will conduct quick checks at a UK Credit Reference Agency that will leave a soft footprint on your credit file. Order your MasterCard debit card within the app and it should arrive within 2-3 business days.

Starling Bank accounts

Starling offers the following accounts

Current accounts

Personal Current Account – Starling won the Best Current Account at the 2019 British Bank Awards for this account. This is the basic account you get when you signup, it is completely free. You won't be charged for making electronic transfers, domestic transfers or ATM withdrawals. Another interesting feature about it is the interest rates paid on current account balances, 0.5% AER up to £2,000 and 0.25% up to £85,000.

The account also has an optional overdraft that you can turn on or off in-app. You only get charged for the amount you borrow at 15% EAR. Once you are approved for the overdraft you will be able to manage the amount you need within your limit in the app, you can also decide to close it at no extra cost. You can also apply for a personal loan between £500 and £5,000, but this only possible if you have an active overdraft. You can only borrow what is unused in your agreed overdraft which in turn reduces your overdraft. The rates are between 11% and 15% which is great, but not the best in the market.

Joint Account – Starling offers a joint account to simplify shared spending for couples or friends. With this account, you can manage shared bills and rent or even save up. To open this account, both of you need to have a personal Starling bank account. This will make the process quicker as you have already passed the security checks. The app uses Google Nearby technology so you will have to be near your partner to locate them and connect to the joint account scanner. All they will have to do is find you and accept.

Euro account – Starling started offering Euro accounts in February for users who send or receive euros on a regular basis. To open this account, open the app and click 'get another account' just as you would to open a joint account. You will get a unique International Bank Account Number for international transactions. However, you won't need this for moving your money between your Starling Bank accounts. The account is also completely free. If you want to convert euros into pounds and vice versa, you can do that at the real exchange rate with a 0.40% fee.
Teen Account – Starling bank offers a current account for 16 and 17 years olds. They have the functionality of a full current account to help them manage their money effectively. However, they are not eligible for loans or overdrafts.

Business accounts – The platform offers a business current account similar to the personal one except it has more features and takes more time to open at around 10 minutes. It has no monthly fees; however, deposits at the post office branches are charged £3 per deposit and withdrawals at £0.50 per withdrawal. You also get integration with accountancy tools such as Xero and FreeAgent. You also get a business overdraft if you are eligible.

Starling Bank features

Spending Insights – Starling provides personalized data that shows you where, when and how you have been spending and how you can budget to save more. The transactions are grouped into categories such as eating out, expenses, entertainment and more. You can also view the transaction details, for example, the merchant, amount and how you paid for it.

Goals – This is a way to save money for your goals. All you have to do is create a new goal in 'Spaces' name it and set a target amount. You can then add money or schedule a payment, if you want to save on autopilot, you can choose to round up your transactions to the nearest pound and add the rounded up amount to your goal. You can transfer money out of your account or delete it any time.

Settle up – this feature enables users to set up their own settle up page and when they want to request money they can use the page's unique link over any service. If the person you are requesting payment from is not a Starling customer, they will be directed to a web page where they can pay using a debit card. If they are Starling users, they can pay directly from the app. You can also use this feature to split bills. The payments are limited to £250 per day.

Nearby Payments – this feature powered by Google Nearby enables you to send money to other Starling customers near you without needing their sort code or account number or phone number. You just need to open the app's payments section and locate them over Bluetooth, select the receiver and send.

Card Controls  – Starling offers handy card controls like freezing and unfreezing your card in-app if you think it's lost, stolen or misplaced. You can also disable contactless, chip, pin payments and block online payments whenever you want. You can also block or activate gambling transactions. This is a great security feature.

Overdrafts – Starling has an overdraft facility for its users, the interest charged is 15% EAR. It is accrued daily and charged on the 15th of the following month. The monthly maximum charge if you exceed your limits £2 and if your total overdraft interest charges are less than 10 pounds at the end of the month, the interest will be waived. This feature is also available for business accounts.

Personal loans – you can apply for a Starling loan up to £5,000 in minutes from your app. You can borrow as much as you have left in your overdraft and pay it out of your personal account. There are no charges for early repayment. The interest rate is tailored to your financial situation but it's usually between 11.45% and 15%.

Instant notifications – Like most challenger banks, Starling sends instant notifications any time you complete a transaction using your card or when you use your overdraft. This helps you identify unknown transactions more easily.

Starling Bank fees and charges

It is free to send, receive and withdraw money if you are using your personal account. Overdrafts are charged 15%, which accrues daily.

Starling Bank Verdict

Starling Bank is one of the most full-featured challenger banks in the UK currently. It offers free accounts with free ATM withdrawals abroad, overdrafts and personal loans. If you receive Euro payments, travel regularly, or have property in Europe, the Euro Account may be perfect for you. Starling Bank is also doing its part to promote the saving culture by providing round-ups and goals features.

However, it has no website facility you can use if you lose your internet connection or even run out of battery. The overdraft may not have the best rates in the market but overall, the easiness, convenience, efficiency and simplicity make it worth checking out.

FAQs

When will my card arrive?

How do I add money into my account?

What are the costs of ATM withdrawal in another country?

Is it available outside the UK?

What is the maximum daily withdrawal limit?

Why can I not see my overdraft option?