Monzo Review 2021 – Best UK Challenger Bank?
What is Monzo?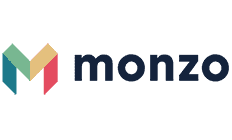 Monzo is a leading digital, mobile-only bank in the UK, it was one of the earliest app-based challenger banks. It was founded by the current CEO, Tom Blomfield together with Paul Rippon, Gary Dolman, Jonas Huckestein and Jason Bates, all who met while working at a competing bank, Starling Bank. The bank was founded as Mondo and operated that way for over a year before another company with the same name legally challenged it. It later changed its name to Monzo in August 2016.
Monzo, like other challenger banks is seeking to change what banking has been for the last hundred years by going directly after the customers with its technology-enhanced offerings. But is it suitable for you? Check out our list of
10 best challenger banks in Europe
The company holds the title of the 'quickest crowd-funding campaign in history' after it raised £1 million in 96 seconds via Crowdcube in February 2016. It was valued at £30 million then. The company was issued with a restricted banking license in 2016 by the PRA and the FCA, the restrictions were lifted by April 2017 allowing the platform to offer current accounts. However, the platform discontinued one of its most popular features, free ATM withdrawals abroad and replaced it with a free monthly withdrawal of up to £200 per month.

Despite that, Monzo has been growing rapidly, today the platform boasts of over 2.5 million users in the UK and it has plans of launching its operations in the US later this year. Its value has also tremendously increased, from the first valuation of £30 million before the 2016 crowdfunding to being valued at £2 billion in 2019, making it one of the UK's tech unicorns. In just three years, it increased its value by almost 63 times, which is more than impressive. But, should you join the 55,000 people who open a Monzo account every week? Well, that depends.

Monzo Pros and Cons

Pros

No credit checks required to open an account
You can divide your account into pots for easier management and saving
You can move money instantly to friends and family, this makes bill splitting easier
Monzo supports joint accounts between two individuals. This can help you better manage rent and other bills with a roommate or family
It offers overdraft services for eligible account holders; however, a credit check will be carried out and will leave a hard print on your record.
A free £20 buffer to cover you if you go a few ponds overdrawn whether you have an arranged overdraft or not
It pays 1% interest on savings above £1,000
You can pay in shops, online anywhere in any currency without extra fees. It uses the MasterCard foreign exchange rates

Cons

Monzo is only available in the UK
The free withdrawals abroad are limited to £200 per month after which you are charged 3% for amounts above the limits
Although the ATM withdrawals are free in the UK, there is a daily limit of £400
There are no physical branches for users who prefer face to face support

How Monzo Works?

Monzo is a fully licensed UK bank, and it works almost the same as a conventional bank. The account it offers is the same current account in the already established banks, the only difference is, it operates fully online. When you apply for the current account, you get an account number and a sort card just like in any bank. You will also be issued with a bright coral contactless MasterCard that you will be using to make ATM withdrawals and online payments. When you make a payment, you will receive instant notification to help you detect unauthorized transactions.

The MasterCard can be controlled through the app, you can freeze the card if misplaced and 'defrost' it when found. Monzo does not automatically let you use Magstripe card machines and ATMs as they can be used to clone your card by fraudsters. However, if you are in a country where you have to use it, you can turn it on for 24 hours in the app. Unlike Revolut, Monzo only allows you to have one active personal card at a time unless you have a joint account. In that case, you and your account co-owner will each get a MasterCard.

Monzo also allows you to save by creating savings pots, these can earn up to 1.66% interest. It also allows you to see where your money goes each month to help you control your spending. The transactions are broken down into twelve major categories including transport, entertainment, bills, groceries, holidays, personal care among others.

Another thing that stands out about the bank is its transparency. Monzo claims it's focused on solving problems and not selling financial products and the best way is by being as open as possible. On the platform's 'Transparency Dashboard', you can find the annual reports, system status, investment ethics among other information.

Getting started on Monzo

To sign up with Monzo, download the app from Google Play Store or the Apple App Store. Open the app and fill the forms provided with your details. The process will take only a few minutes to complete, your card will arrive in the next couple of days.

To open an account, all you need is a smartphone, internet connection and proof of ID (ID card, Driving license, passport or other government-issued photo ID). You don't require proof of address as it is with many banks, instead, Monzo verifies your date of birth. This makes it suitable for people who may have moved into the UK. You can also use the Current Account Switch Service and let the bank do the legwork.

The account is also available for anyone aged between the age of 16 and 18. You get the same full account as people over 18 get – complete with the contactless card. The only difference is the kind of transactions you can make, for example, you cannot pay for gambling. These blocks will not, however, restrict you from shopping in supermarkets or any other place where there may be age-restricted stuff. You also won't be getting overdrafts. The limitations will be lifted automatically on your 18th birthday.

Monzo Accounts

By signing up, you open a current account similar to a conventional bank, you also get an account number and a sort code. You can also add features to the current account by signing up for Monzo Plus for a monthly fee. You can also open a joint account with a partner or friend. Business accounts are being tested although the platform is not offering new accounts, you can register your interest.

Joint accounts

Monzo allows you to open a joint account and pool resources with someone for easier management. To sign up, you will both need regular Monzo accounts, this way there will be no new ID checks or processes, just a few taps and you are done. You will get a separate joint account card with a different design so you can tell it apart from the regular card. However, you must bear in mind that you will be financially linked to the person you open an account with and their credit history may have an impact on yours.

Monzo business accounts

Monzo is still developing business accounts, you can join the waitlist if their features interest you. This will enable you to connect accountancy tools like Xero and FreeAgent directly to the Monzo app, give people limited access to your business account, 24/7 human customer support, and the saving pots. It also plans to add other features this year, such as international payments, help with taxes, categorized spending, batch payments, organized expenses and payment with a link. You can suggest new features or view what they are working on next on their public Trello board.

Monzo features

Monzo offers a wide range of banking features

Track your spending – This is one of the app's earliest selling points, it puts all your spending into categories automatically based on who you are paying although you can change them yourself. These categories include transport, groceries, shopping, entertainment, bills among others. You can also put a limit for each category to help you budget better.

Saving pots – these are mini accounts that you can set up to put money aside for different purposes. You can round up purchases and add the spare change to your saving pots automatically or schedule monthly deposits. The money saved can earn up to 1.66% AER and is protected by the FSCS up to £85,000.

You can send money to other users instantly – you can use the Monzo.me link to pay anyone with a Monzo account instantly and free. You can also pay friends via Bluetooth if they are nearby or activate pay with friends by giving Monzo access to your contacts. You can also send money to anyone with a UK bank account provided you have his or her name, account number, and sort code. This should happen immediately although they may take up to 2 hours.

Splitting Bills – Monzo has a split a bill feature that allows you and your friends or family to contribute money for a bill. You can do this by selecting 'split this bill' from your Monzo home screen and selecting the people you would like to split the bill with and press 'Request Money'.

Support for Apple Pay and Google Pay – you can add your Monzo debit card to start making payments with your phone

Overdrafts – Monzo offers an overdraft service that allows you, if eligible to draw more than the amount in your account. The service is optional and you only use it when you want to. There is a free £20 buffer for all accounts, if you overdraw more than that, you will be charged 50p every day up to a maximum of £15.50 a month. However, the platform will conduct a credit check to determine your eligibility.

International transfers – Monzo partners with Transferwise to provide international money transfer services directly from the app. You can make payments using up to 16 foreign currencies. The transaction will be processed using the mid-market exchange rate.

Monzo Plus

This is a premium version of its current account that allows you to decide what features you want to use and pay for them accordingly. The account was launched in April 2019 and more features are being added.

The core features include:

Exclusive Monzo Plus card – you can pick from Midnight Sky, lagoon Blue or the Hot Coral colors, they are also looking to offer metal cards (like N26)too in the future.
Custom Monzo.me username – you can personalize the link to for sending or requesting money
Discount and offers – you get discount deals with select companies including Tidal, Hotels.com among others
Earn interest on your balance – earn 1.5% on your balance and regular pots up to £4,000.

You will be able to add extra custom features for extra fees. The membership costs £6 a month, other add ons such as travel insurance costs £4 a month and for £3 you can withdraw £400 free from foreign ATMs.

Monzo fees

Using your card in the UK is free, paying by card abroad is free. For ATM withdrawals abroad, the first £200 in a rolling 30 day period is free after that you will be charged 3% for every withdrawal. For overdrafts, the fee is 50p every day whenever you have overdrawn by more than £20, the maximum charge is £15.50.

Monzo review 2019: Verdict

Monzo is one of the leading challenger banks in the UK and it is very popular with millennials, most of them terming it as the bank of the future. It is very transparent about its products and involves its users when they are developing new features.

The budgeting features are interesting if you want to track your spending and save more without using a third-party app. The in-app card management is necessary especially for security reasons. You can freeze, unfreeze or replace the cards any time if they are lost or misplaced. However, the limit on foreign ATM withdrawals to £200 a month is one of the major cons and means there may be a better option.

FAQs

Is Monzo a bank?

Yes, Monzo is fully authorized by the PRA and regulated by the FCA and the PRA to operate as a bank

Is my money safe with Monzo?

Money deposited or saved with Monzo is protected by the Financial Services Compensation Scheme up to £85,000

Is Monzo available in other countries?

No, Monzo is only available to UK residents currently. It has expanded to the US but it's yet to launch its services there.

Does Monzo offer loan services?

No, at least not currently. But it has an overdraft service for qualified users

Is Monzo Plus available for joint accounts?

No, it's only available for the regular accounts at the moment.

Are Business accounts available?

Monzo launched a small test of business accounts to 100 traders in February, they are still being fine-tuned and will be launched to other users soon.

Why does Monzo require a selfie during signup?

It uses it to match your face to the photo ID you provide since it does not have physical branches where it can check your identity.