Sundial Growers shares surge after being targeted by WSB traders
Shares of Canadian cannabis producer Sundial Growers surged nearly 50% yesterday after the company announced a share offering valued at $100 million, while organized retail traders from Reddit forum WallStreetBets coordinated efforts to pump the share price with the expectation of pulling another short-squeeze.
Sundial Growers, a cannabis stock that was first launched to the open market in August 2019, plans to use the proceeds from this capital raise to acquire equipment, facilities, and other similar assets to keep expanding in business, with the equity raise consisting of 100 million Series A shares with warrants to purchase one-half of a stock and 33.33 million Series B units with warrants to purchase one-half of series A shares as well.
Series A and B units were priced at $0.75 per share, a price that is 10% lower than the stock's 28 January closing price, while the warrants attached to each of the shares had a cost of $0.0001 per exercisable unit.
According to data from research firm Fintel, Sundial Growers share accumulated a short interest ratio of 29% of its float, with a total of 500 million shares currently being shorted while the firm's average daily volume ranged from 300 to 700 million shares.
Since 27 January, the price of Sundial Growers stock has doubled from $0.60 per share to $1.21 per share yesterday, which could end up pulling a successful short-squeeze if short-sellers are forced out of their positions to cut losses due to the latest uptick.
Apparently, one of the first mentions of Sundial Growers on the WallStreetBet's forum dates back to early November, with the price jumping roughly 83% after that. Since then, the former penny stock has progressively gained traction until it reached today's levels, effectively becoming a trending topic within the community.
Investors within WSB also highlighted that the company has not taken any debt at the moment while this capital raise might end up boosting the company's performance as the funds will allow it to keep expanding its operations as needed.
What's next for Sundial Growers shares?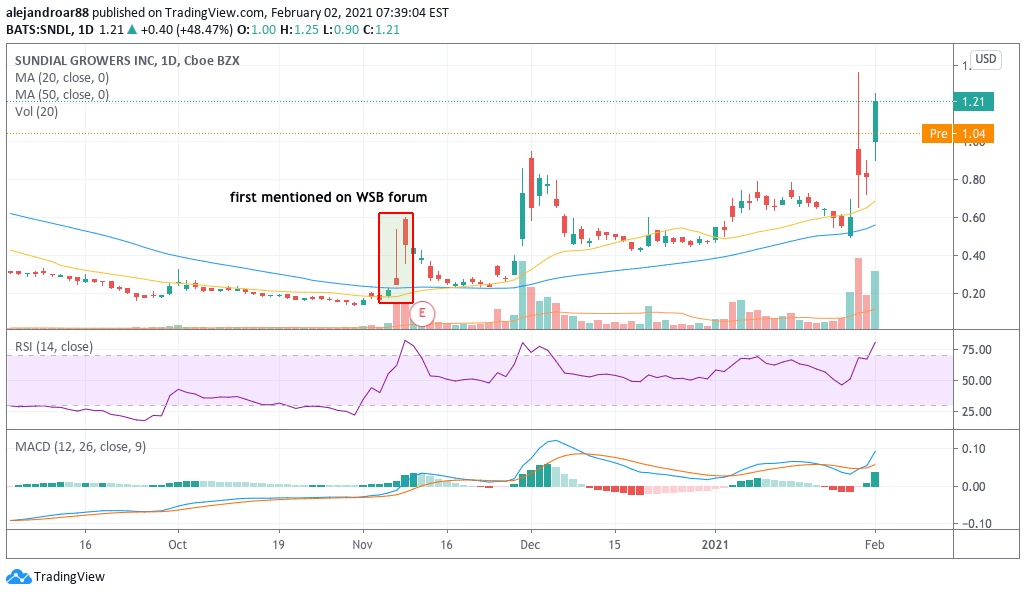 Based on the number of shorted stocks and its daily average volume, it doesn't seem that short-sellers are going to have a hard time covering their positions – which could result in only a temporary spike in the price.
At this point, with the share price currently sitting 60% above the latest valuation given to the company by institutional investors, long-term holders might take the opportunity to dump their shares in response to the uptick – capitalizing some strong gains while also possibly waiting for an opportunity to jump back in at a lower price if they keep believing in the company's future.
That said, one should not underestimate the power of organized retail traders in pulling this kind of move as they have already been successful multiple times as reflected by the GameStop short-squeeze.
Meanwhile, yesterday's closing price pushed the market capitalization of the firm to roughly $130 million – which is only $30 million more than the proceeds of the share offering before discounting transaction fees and other similar expenditures.
By the end of the third quarter of 2020, Sundial Growers had total assets of $177 million American dollars and no interest-bearing long-term debt aside from some convertible notes that might be exercised shortly as the price has already exceeded the $1 conversion price of the notes.
This means that the company is being valued at roughly half of its assets – even after yesterday's strong uptick – a situation that could support some further jumps in the stock price once the market realizes this disparity.