CashCrate Review 2021 – Read Before You Try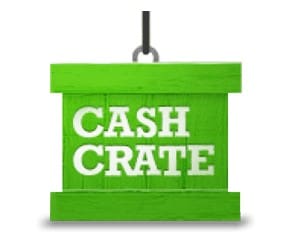 Are you looking for more information about CashCrate?
CashCrate is a GPT (Get Paid To) website where you can make some money for completing offers, taking part in online surveys as well as doing some simple tasks.
This survey platform has been in the market research business since 2006 and boasts over 2 million users across the world. CashCrate claims to have awarded over $3.9 million to its members since its launch. The company, CashCrate LLC, is headquartered in Las Vegas. To prove its credibility, CashCrate includes a 'Payment Wall' section on its website where members post their earning so as to show its transparency.
Read on to learn more about CashCrate, how it works as well as its pros and cons.
What is CashCrate?

CashCrate or CashCrate LLC is a Get-Paid-To or reward site that pays people to complete tasks such as playing games, offers, watching videos online and taking surveys. The company is headquartered in Las Vegas and was incorporated in 2006.

The paid survey platform cannot make you rich overnight but has the potential to help you take home some good bucks month after month. The tasks on the site are quite simple and you can take part in a couple of them daily.

It is reported that CashCrate members make thousands of dollars every month as the platform gives 70% of its earnings directly to its members.

What are the pros and cons of using CashCrate?

Pros

Free to join and is open to people from multiple countries
Has an excellent referral program
A good number of tasks and surveys are available
A very friendly site which is clutter-free and easy to navigate
Doesn't have the pesky point system and pays members in cash
Fairly low payment threshold

Cons

Some offers involve using your credit card information which can be risky
Harder to qualify for higher-paying surveys

How does CashCrate work?

CashCrate membership is open to almost anyone who is 14 years or older and people from a majority of the countries are free to join. The site is used by two groups of people: CashCrate members and clients. The first group is people who are looking for an opportunity to make money online while the other group is made up of businesses or brands as well as advertisers who want to get more engagement for their products and services. CashCrate partners with brands and advertisers in order to get high-quality traffic.

Registering for a CashCrate membership is free. You simply need to fill out a registration form on the website, providing your email address, name and mailing address. Once you become its member, you'll be required to play games, take surveys and complete paid offers. Each of these tasks will earn you some money.

CashCrate ensures that members who participate in the surveys and offers are those that meet the requirements and description of its clients' target consumers. As such, the platform requires members to provide some personal details. The demographic profile that they fill ensures that CashCrate will be able to find the fit members for certain surveys and activities. You might not qualify for all surveys since the platform uses pre-screeners, which are sort of questionnaires to find the right respondents it requires for its market research campaigns. Once you're eligible for targeted surveys, CashCrate will send them to you. Make sure accurately fill your profile so you can take part in suitable surveys as these targeted surveys tend to pay more than other surveys.  These surveys and offers are geared towards helping brands and businesses improve their ROI. That's why you earn more money for taking part in these activities.

Surveys on CashCrate want to get feedback from you about several topics. By answering these surveys, you earn money that will be credited to your account. Completing surveys is the main option you'll have to earn cash on this platform but you can also participate in other activities. Typically, surveys on this platform pay in the $0.25 to $2 range and the payout depends on the duration of the survey. A 5-minute survey will likely pay a minimal amount while a 30-minute survey will pay a couple of dollars.

You can also earn cash on CashCrate by doing what it called offers; this is a great way to boost your earnings. These offers can, for example, require you to sign up for a free trial for a certain site and play a couple of games and download an application on your phone among other similar offers.  These offers can earn you quite a lot of money, as some come with some good rewards. However, some offers may require you to register with a credit card. One offer can earn you anything from $2 and upwards.

Another option on the platform that can earn you some dollars is by watching videos, and they also cover several topics. You can also earn money by downloading apps on your phone. However, you'll be required to keep the app on your phone for a particular period before you get your payment.

Each activity you take part in on this site is worth a certain amount of dollars. CashCrate doesn't use a point system to reward its members like a majority of other paid survey sites. Once your earnings reach the minimum payout of $20, you can request for payment and your check will be released.

How to get started with CashCrate

Becoming a CashCrate member is free and is a simple and straightforward process.

1. Create your account.

First, you need to head over to the CashCrate website and visit the 'Sign Up' section.

CashCrate offers free membership so you'll not be asked to pay any amount to become a member. Registering for the platform is easy as you'll only be asked to provide your name and email address. CashCrate also allows people to register using their Facebook accounts. You`ll also be required to fill and confirm your password.

No other unnecessary personal information will be required during sign up.

2. Complete your profile.

Once you're done filling your personal information, you'll now be asked to fill details like your address, gender, date of birth, country and zip code, which will be used to send you the cash you earn on the platform.

3. Confirm your email address.

After filling your basic information and address, CashCrate will send you an email with a link to confirm your email address. Once you confirm your email address, you'll be able to login to your account and access your dashboard.

4. Answer the welcome survey.

Now, CashCrate will offer you a welcome survey. Keep in mind that this first survey is designed to help the platform get your demographics and determine the type of surveys you will be asked to complete, so make sure you give accurate and honest answers. Also, note that the length of the welcome survey may vary depending on your answers.

5. Explore your account.

After completing the first four steps, you'll be granted access to your CashCrate dashboard. From the dashboard, you can check the different sections of your account such as the surveys and offers section, as well as check your earnings. The board appears like a homepage where you can search for available surveys.

6. Start taking surveys.

Now that you're done setting up your account, you can start participating in activities like surveys or offers of your choice. Keep checking your account for any available surveys. CashCrate seems to have multiple surveys available at any given time, so a lack of surveys is unlikely. The platform also sends some emails notifying its users of any available surveys, and you may receive 2 to 3 emails a day. Be sure to take your time and answer these surveys as honestly as you can.

7. Cash-out.

You'll need at least $20 in your account to request a payout. CashCrate sends the money via check to the address you provide during registration.

If you don't want your earnings in terms of cash, you can choose to shop. The platform offers a list of stores, including Macy's and Walmart for you to shop from. When you shop for something, you'll receive a percentage of cashback.

8. Participate in contests.

Sometimes, you'll find that CashCrate runs some contests regularly, where you can win some cool prizes. It can be a monthly contest weekly contest and other times it can be something else.

Here are 25 ways you can make money online in 2021.

Types of surveys on CashCrate

CashCrate claims that its members can receive around 8 surveys a day. The surveys usually take a short amount of time for the amounts its willing to pay, which usually range from 50 cents to $2. The surveys are versatile and focus on a variety of topics and industries. Surveys you find on this platform include the following:

Market and product surveys – These surveys are designed to help CashCrate's clients understand their customers, their wants and needs.
Human resource and employee surveys – These help a business determine employee engagement and satisfaction.
Events and conference surveys – An event and conference survey is used to express how well a certain event or conference was received by its audience.
Net promoter score surveys – The purpose of these surveys is to find out how likely you as a customer or client is to refer a certain business to a friend.
Customer satisfaction surveys – Such surveys are aimed at gauging how clients and customers feel about a particular service, product or business activity.

Earning and rewards on CashCrate

The amount you can earn on CashCrate depends on how much time you are willing to spend. That's why it's difficult to estimate how much money you can make.

The tasks that will likely give you the most bang for your buck include surveys and offers. They can earn you anywhere from $0.30 to $2 without taking much of your time. This translates to around $5 to $7 per hour. While this cannot be compared to a full-time job, it's quite a decent amount to make while at the comfort of your home.

You can complete offers on CashCrate and get some rewards as well. These rewards could be discounted airplane tickets, online shopping or free product samples to try out. How much you can make from an offer will depend on the offer itself. Most of them are around a dollar or two.

You'll also earn a few cents when you watch videos on the platform or play some online games; a one-minute video on CashCrate will pay you a penny.

CashCrate has one of the most generous referral systems around. Its referral system is hierarchical, where you earn 20% of what your referrals earn and 10% of your referrals' referrals' earning. This translates to 30% if your referrals have their own referrals and 20% if they don't.

Payment methods

You need at least $20 to withdraw your earnings from the site.

CashCrate makes payments at the beginning of every month and mid-month via checks. PayPal deposits are available but only after requesting your first check. Direct deposit is also available but for US residents only.

Customer support

CashCrate has a great support service. If you face any problems on the site, you can reach out to the customer support through a couple of channels.

If you encounter some common problems with your CashCrate account, it has a dedicated FAQs section where you can find solutions to some of these common issues.

CashCrate also has a customer support phone number on the site that you can use to talk to one of their agents and request for assistance directly.

If you can't find a solution on the FAQs section and can't reach customer support via phone, then you can submit a support request right from your account and that will reach them as an email. They are quick to reply so you can expect a reply within a few minutes.

How does CashCrate differ from other paid survey sites?

Unlike other GPT sites of this nature that usually employ a point system, CashCrate prides itself on the fact that it pays for every survey, offers, any videos you watch or any task you do that requires compensation. The issue with a majority of other sites in this sector is that points don't always get awarded as a result of glitches and errors within the points systems. CashCrate gets rid of this problem entirely by operating on a strict cash-only system.

When it comes to its referral system, CashCrate ranks among the best sites. It makes use of a hierarchical referral system that allows its members to earn some good money even for their referral's referrals. Members who refer people to the site get 20% of whatever their referrals make and 10% of whatever their referrals make. They also receive a bonus of $3 when these referrals make their first $10.

Conclusion

If you wish to start taking online surveys or participate in other activities to make some money, then CashCrate is a great option.

There are tons of good reasons to try the platform. For example, it's free to register on CashCrate and it has a low minimum withdrawal threshold rate. The platform also boasts a relatively high qualification rate as well as multiple surveys and offer choices on a variety of topics.

Lastly, CashCrate's reward system is excellent as it pays in cash and not using a points system. It also offers some additional ways to earn extra cash. Overall, CashCrate is worth a try.

Update on CashCrate

It is worth noting that CashCrate officially shut its operation on April 1, 2019, but it converted the website into a directory of how to earn money online. It is also worth noting that when the GPT section of the platform was shut down, members who had not attained the minimum cashout requirement were unable to redeem their earnings. The platform did not offer to give the final payment for these balances.

FAQs

Is CashCrate a legit platform?

Can I make money on CashCrate?

Is CashCrate a secure site?

Can I join CashCrate for free?

Can I ask my friends to join CashCrate?

Paid Surveys – A-Z Directory