Shopping apps are helping in saving and earning money. These apps are gaining popularity over the last couple of years amid big cash backs.
It's true that shopping is only a way to spend money. However, with the help of shopping apps, people can spend less without making any change to the shopping list. These apps work both online and in grocery stores. Along with discounts, some of these apps are returning real cash.
It's also true that every penny counts when you are saving money to achieve financial goals. Therefore, it's vital to use the services of shopping apps. However, it's also essential to choose the right shopping app to achieve higher saving along with other perks.
To help you with that, we review Ibotta, which is well known for offering big discounts and cash backs in stores, restaurants and online.
What is Ibotta?
The Ibotta app works online with the users to find discounts and coupons on the things you buy. It's not necessary to shop through the Ibotta portal. The user is eligible to add coupons after shopping at the store. Ibotta works at hundreds of different grocery stores, clothing stores, pharmacies, convenience stores, restaurants, home improvement stores and even shopping online. It also works for several top rated brands.
The platform offers cash backs even on the cheapest item such as milk, shredded cheese, apples, frozen veggies, bananas, bread, eggs, and pasta. It offers cash back on both imported and national products. Rebates are available for companies like Ragu, Pampers, Seventh Generation, Hormel and more. It also permits users to get a bonus from team rebates. For instance, if anyone from your team or the person you referred to this platform earns $10 in a month from cash backs, you are also eligible to earn a $5 bonus.
Ibotta allows you to earn cash back three ways:
Selecting offers on everyday products purchased in store
Linking a rewards card
Online purchases (similar to Ebates).
What are the Pros and Cons of Ibotta?
Ibotta Pros:
✅Ease of use
✅Rebates are offered on a variety of products
✅Rebates are also offered on common products
✅Low minimum withdrawal requirement
✅Bonus offers
Ibotta Cons:
❌ Aldi is not included
❌ Ibotta does not cover all grocery and convenience stores
How Ibotta Works?
Ibotta is a digital app that helps in saving money. The user can easily look at all the available options through the phone. Once you selected a coupon, you need to tap on the "+" symbol. You don't need to present that coupon to the cashier at checkout. The platform permits users to just scan a shopping or the QR code and upload it on the app. The platform will immediately deposit earnings to your Iboota account.
The platform permit users to withdraw at least $20 from their earnings account. This means that the minimum withdrawal limit is $20. They allow various payment methods such as PayPal for withdrawal of funds. Below is the brief procedure of how Iboota works. To begin, you will tap on the Ibotta symbol on your mobile device and that will bring you to the heart of the app, called the "Offers" section.
The user will see pictures of products along with offers. You will also view the total amount of the product and how much you can save it by using Ibotta.
Once you selected the products that you are seeking to purchase, just tap on "Earn $–". Once you click on this tab, you will view tasks that you need to complete to earn the cash back.
The platform offers more than one way of earning cash on products.
These tasks include participating in a quick poll, reading a fact, watching a short video, writing a brief comment about the product and posting on your Facebook page.
Once you completed the task, the product will automatically add to your "Checklist" on the Ibotta app.
It takes less than one minute to complete tasks.
The user is required to purchase the product to get the cash for completing the tasks.
What is Account Creation Process of Ibotta?
The account creation process is simple. It will not take more than a few minutes to setup Ibotta account. They don't require personal information and other details. You only need to provide an email address and password for account creation. You can create an account both through website and app. They will send you a verification link on your email address to verify your account. The platform will also ask you to add a withdrawal method. They only accept Venmo and Paypal as valid payment methods.
What is the Procedure of Using Ibotta for Shopping?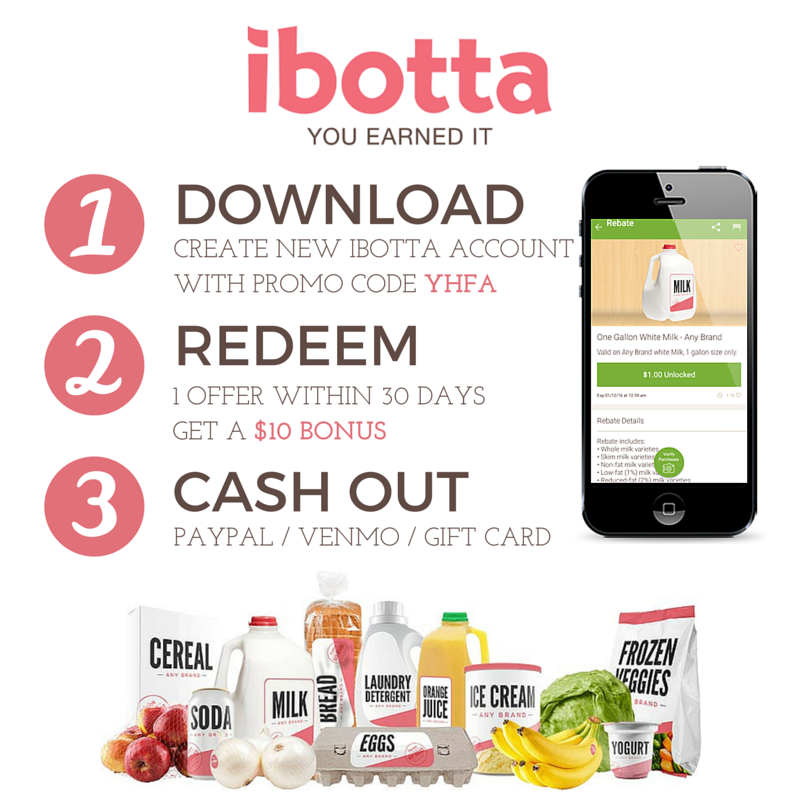 Add Offers to your Account:
Once you are done with signup and downloaded the Ibotta app, select the preferred stores.
Once you selected the store, you are required to find offers. On the Home page, the user can easily browse the suggested offers.
Complete one or more fun tasks to add offers to your account.
The user can get back big cash if they add more offers.
Go for Shopping:
Once you added the offers, these offers will be added to "My Offers list". The user is required to go for shopping and buy those items at over 300 retailers where Ibotta works.
Redeem
The platform offers credit for entitled and successful redemptions within two days. Below are the three ways to redeem offers:
1 Manual Receipt Submission:
The user is required to Tap "Redeem" which is located on the Navigation Bar.
Select the retailer you used for shopping and take clear photos of your receipt and select any eligible offers.
Its also true that some retailers require a scanned copy of QR code or receipt bar code to redeem your offers.
2. Loyalty Account Submission:
The user is eligible to connect their loyalty card or account with specific retailers and add offers to their Ibotta account prior to shopping. This represents that you don't need to take pictures of your receipt. Indeed, the retailer will automatically send your receipt information to Ibotta. The cash back will be credited to your account within two days. The user is required to follow the following steps to receive credit on purchases:
Connect your loyalty account to your Ibotta account.
Add all offers you seek to buy to your account before you go shopping
Don't forget to provide your loyalty card or phone number at the register when ready to check out at the store
The store will send the receipt to Ibotta.
3. Online Shopping Submission:
Earning cash online is different from the above two methods. This is because the user will create an electronic link between the online retailer and Ibotta. The linking will allow Ibotta to receive your information about the purchase. The user is also required to submit a receipt. Below are the steps that you need to follow to successfully redeem an online shopping offer:
The user is required to select the specific online shopping retailer
Once you locate the offer, tap the pink "Shop" button.
After that, you need to make your purchase
Once you are done with the purchase, you need to move back to Ibotta.
You need to check the details of the offer for any special guidelines. This includes when you get the purchased product and the pending period.
What are Other Features and Ways to Earn on Ibotta?
Ibotta has expanded its service to over 300 national and multinational retailers. These retailers include:
Grocery
Pharmacy
Clothing
Beer, Wine & Spirits
Beauty & Wellness
Specialty.
Along with its extensive reach and foot-prints, users can enjoy several other enticing features of this platform – which permits users to earn more money. Below are the few features that could result in higher earnings and savings:
Bonuses
People always like to get a bonus as a way of earning additional money. In the case of Ibotta, they offer several types of bonuses to its users. The more you use this app the more bonuses you can get from the platform.  There are two types of bonus that a user can avail from this platform:
Specific Bonus: The bonus which is required to redeem is a specific bonus. It could also be a set of offers that must be redeemed.
A non-specific Bonus: These bonuses generally require users to complete a specific number of offer redemptions within a set amount of time.
Ibotta platform offers the following type of bonuses to users:
Teamwork bonus: This bonus is offered to Shoppers that must achieve the teamwork goal to get bonus credit.
A Brand or category specific bonus: You must redeem branded offers to get a bonus. For example, the a2 Milk Bonus details state: "Earn an additional $1.00 when you redeem a2 Milk on 3 separate shopping trips.
A non-specific bonus: You can get a non-specific bonus by redeeming non-specific branded offers.
A referral bonus: This type of bonus is available for users who recommended other people to use this platform. The user can get this bonus when your friend creates an account. The bonus is around $5 for referrals.
Expiration Notices
The platform is user-friendly. It shows all the information with products and offers. They show expiration dates with all offers. In addition, they show an expiration flag if the offer has less than 5 days.
Activity
This is one of the best features of this platform. Ibotta app offers its users the ability to track earnings activity. This activity includes tracking your receipt submissions, invitations to friends and bonus rewards. The user can also view their all-time earnings.
How does Ibotta Make Money?
Ibotta is free. Indeed, it offers bonuses to users. They make money for their business operations by referring customers to retailers and online stores.  It has a partnership with more than 300 merchant stores. Ibotta receives a referral commission from the store once something is bought by a customer. The platform uses this commission for paying cash backs and bonuses to users.  The other way Ibotta earns revenue is through advertising ads to the consumer.
What is the Procedure for Getting Money Back from Ibotta?
Withdrawing funds from Ibotta is really easy. They have set a minimum withdrawal limit of $20 for all the users. Once the user has $20 in account; the user has three different ways to withdraw the money. Below are the three ways:
The platform permits the user to purchase a gift card instead of withdrawing cash. You can use that gift card anywhere you want. The majority of gift cards have a minimum price of $25.
The platform permits the user to transfer that money into your PayPal account.
The user can also transfer money to Venmo account.
What Countries are Accepted on Ibotta?
Ibotta only accepts clients from the United States. They do not accept clients from foreign countries. This is due to regulatory restrictions. It accepts clients from all U.S. states. Below is the list of few states that are accepted on this platform:
Alabama
Alaska
Arizona
California
Colorado
Delaware
Hawaii
Idaho
Utah
Virginia
Wisconsin
Wyoming
Illinois
Kansas
Louisiana
Mississippi
Missouri
Nevada
North Dakota
Ohio
Oklahoma
Rhode Island
Tennessee
Texas
Is Ibotta Customer Support Good?
Ibotta seeks to strengthen its relationship with users. Therefore, they seriously take all the queries of users. They have developed an extensive frequently asked questions segment. They answered all the questions related to account setup, cash-backs, withdrawals, bonuses and other general questions. The user can also contact the support team directly through the website. The user is required to click on 'Submit a request' to reach the support team.
Is Ibotta Safe?
Yes, Ibotta is safe. This is due to its clean history and transparent system. They do not charge any fee for using their service. They also offer bonuses. In addition, its partnership with the most prominent brands indicates that the platform has recognition and goodwill in the market.
Ibotta Review 2019 – Verdict
Ibotta is one of the best online apps for savings and earnings on shopping. It offers low mid-single digit to double-digit cash back on shopping. The user can avail cash backs on every kind of small to large products in specified stores. It covers more than 300 retailers. Ibotta app also offers various types of bonuses to its users – which is a way of earning additional money. The platform has paid back almost $500,000,000 to its users and it is seeking to expand its service into the new markets. The withdrawal of money from this platform is easy with a minimum limit of $20.
FAQ: 
Card". • Tap "Log In". • Add the login data and tap "Connect"." image-0="" headline-1="h2″ question-1="How do the user redeem offer multiples?" answer-1="The multiple offer work when the user gets more than one redemption on more than one purchase of the same product. You can get multi offers by following the below steps 1. Try to redeem several offers every week. 2. Always evaluate bonus page for earnings opportunities. 3. Referral 4. Review Ibotta website and app for the latest Offers and bonuses." image-1="" headline-2="h2″ question-2="Can the user transfer earnings between Ibotta accounts?" answer-2="The platform does not allow its users to transfer earnings between different Ibotta accounts. However, the user can transfer his earnings to friends Paypal account." image-2="" headline-3="h2″ question-3="How long the user can keep earnings in Ibotta account?" answer-3="The platform does not have any limitations regarding the holding period. The user can hold funds in Ibotta account as long as the user wants. However, the user is also free to withdraw funds once the amount reached $20." image-3="" headline-4="h2″ question-4="How do the user remove a teammate?" answer-4="Teammates are important in achieving monthly goals. Even one of a user is not adding now, they might contribute strongly in the future. However, the user is eligible to remove someone from the team; you are able to complete this within the app." image-4="" headline-5="h2″ question-5="How do the user refer to a new user?" answer-5="Referring to a new user to Ibotta can earn your rewards as well as build your Team. Using your unique referral code, a new user must sign up for Ibotta and complete the new user redemption process in order for you to receive credit." image-5="" count="6″ html="true" css_class=""]
Paid Surveys – A-Z Directory