WorldMarkets Review 2020 – Is it a Scam?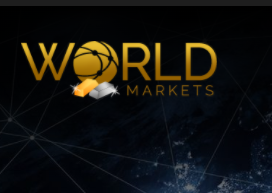 The online trading arena is jam-packed with thousands of platforms, making it a challenge to know which broker to go with.
One platform that appears to be growing in popularity with seasoned investors is that of World Markets.
In a nutshell, the brokerage platform allows you to buy, sell, and trade a variety of assets that typically centers on physical commodities.
This includes the likes of gold, silver, copper, and platinum. Moreover, the platform has since partnered with well-known broker HYCM, giving its members access to a number of other asset classes.
This covers everything from Forex, indices, conventional stocks and shares, and even cryptocurrencies.
If you're keen to find out whether or not the broker is right for your individual needs, we would highly recommend reading our in-depth World Markets review before taking the plunge.
Within it, we'll cover the ins and outs of what you need to know – such as the markets available to trade, fees, payments, minimum deposits, and more.
Trade with eToro - World Leading Social Trading Platform

Trade Stocks, Forex, Crypto and more
0% Commission on Real Stocks
Copy Trades of Pro Investors
Easy to Use Trading Platform

67% of retail investor accounts lose money when trading CFDs with this provider. You should consider whether you can afford to take the high risk of losing your money.

If you're keen to yield the benefits of artificial intelligence within your trading endeavors, World Markets offers native AI-backed accounts. The technology itself is supported by Microsoft AI software.

Pros and cons of World Markets

The Pros

Gain exposure to the global precious metals market at the click of a button
Established since 2003
AI-backed software allows automated trading
Partnership with HYCM broker provides access to thousands of additional financial instruments
Seamless registration and funding process

The Cons

Regulatory standing remains somewhat unclear

What is World Markets?

In its most basic form, World Markets is an online trading platform that allows you to buy and sell a range of commodities.

The platform launched way back in 2003, subsequently giving it a long-standing track record in the investment space than spans more than 16 years.

With World Markets' native investment platform you are just a few clicks away from trading precious metals. You can easily buy and sell gold, silver, platinum or copper.

Crucially, the team at World Markets has partnered with brokerage counterpart HYCM. What this means for you as a client is that you will have access to thousands of assets outside of the precious metals space.

This includes most asset types, such as stocks, currencies, futures, indices, and more. Since the platform was incepted in 2003, it has now a user base of more than 50,000 loyal clients.

World Markets is considered significantly smaller in comparison to other brokers operating in the space – including that of HYCM.

One of the stand-out selling points to the World Markets platform is that it offers you the chance to engaged in AI-backed investing.

You can hand the reigns over to the AI software, which will then proceed to locate, analyze, and subsequently act on potential trading opportunities.

According to World Markets, their AI trading algorithm has netted an average monthly return of 21.77% since February 2017. They claim that several third-parties have verified this return, like BarclayHedge, FXSTAT, MyFXbook, and A to Z Approved.

Not a bad figure, considering that traditional stock markets like the S&P 500 average 10% gain a year.

What assets can I trade at World Markets?

As noted throughout our review thus far, the World Markets platform specializes in precious metals. As such, here's a breakdown of the assets you can buy, sell, and trade at the platform.

✔️ Gold

✔️ Silver

✔️ Platinum

✔️ Palladium

✔️ Copper

✔️ Rhodium

However, due to the partnership, the platform has made with fellow broker HYCM, you also have access to the following asset classes.

✔️ Stocks and Shares

✔️ Futures and Options

✔️ Index Funds and Indices

✔️ Currencies (Major, Minor, and Exotic)

✔️ Cryptocurrencies

✔️ Energies (Oil and Gas)

Payments and Withdrawals at World Markets

When it comes to funding your account at World Markets, you can choose from a plethora of payment methods.

Before we explore your options in more detail, be aware that you will need to make a minimum deposit of $2,500 (or local equivalent) if you wish to utilize the AI-backed trading software.

Alternatively, if you access the financial instruments available via the HYCM platform, you can get started with an initial deposit of just $100.

It is also important to note that regardless of what payment method you opt for (apart from credit cards), you will not be charged any funding fees.

This remains constant for both deposits and withdrawals. On the other hand, you will be capped to 6 fee-free withdrawals per year, so do bear this in mind.

Check out the following payment methods that you can link to your World Markets account.

💳 Visa

💳 MasterCard

💳 Bank Wire

💳 WebMoney

💳 Skrill

💳 Bitcoin/Ethereum

Trading Fees and Commissions at World Markets

The trading fee structure at World Markets centers on the usage of its highly successful AI-backed algorithm.

Before we unravel the fundamentals, you should know that the platform does not charge any upfront fees when going through the account opening process, nor does the broker execute any mark-ups or rebates on your trades.

Besides, fees are only encountered on net profits in a 'high-water mark' structure: you will not pay any fees if your trades are unsuccessful. How does that sound?

Of course, you'll need to make some considerations on fees concerning profitable AI-backed trades. In this sense, the amount that you pay will depend on whether you have a Standard Account or a Gold Premier Account.

Here's the lowdown of what you need to know.

✔️ Standard Account

If you own a Standard Account at World Markets, then you will pay both a performance fee and an annual management fee. This operates in a similar nature to a conventional Wall Street Hedge Fund.

The performance fee, in particular, is an excellent motivator for the broker to ensure its AI trading algorithm performs consistently well – otherwise, it will not make any money from its clients. The performance fee on a Standard Account amounts to 20% of all net profits.

For example, if over the course of the month the AI software makes you $1,000 in gains, World Markets will retain $200.

Similarly, you will also need to pay an annual management fee of 1%. Unlike the performance fee – which is based purely on profits, the management fee is based on the amount of capital that you hold at the platform. So a $10,000 balance would yield $100 in annual fees.

✔️ Gold Premier Account

If you are a seasoned trading veteran and thus – expect to be injecting significant volumes into the platform, then it might be worth considering the Gold Premier Account.

In a nutshell, those that hold a balance of $25,000 or more will qualify for this particular account type.

In doing so, you will benefit from a 50% reduction in performance fees, taking your charge to just 10% of net proceeds. On the other hand, you will still need to pay an annual management fee of 1%.

Trading Platform

In terms of the main trading arena, the specific interface will depend on the type of trading that you wish to engage with.

For example, if you plan to utilize the AI-backed software trader, then you will use the platform's native MQL Copy Trader interface.

Alternatively, if you wish to engage in DIY trading through HYCM – meaning that you will have thousands of financial instruments at your disposal, then you will have the choice of either MetaTrader 4 or MetaTrader 5.

Both trading platforms are recognized globally in the online trading space, so the one that you opt for will depend on personal choice. They also give you the option of trading via your standard web browser, or via a dedicated software program. If opting for the latter, this is compatible with both Windows and Mac devices, but not Linux.

Opening an Account at World Markets

The account opening process at World Markets is largely the same as any other online broker operating in the space. In order to meet and comply with all relevant laws surrounding anti-money laundering and terrorist financing, the broker must identify each and every client that uses its services.

You will need to provide your full name, home address, country of residence, date of birth, national ID number, and contact details.

Plus, you will then need to go through a KYC (Know Your Customer) process, which will require you to upload some supporting documentation. This will include a proof of identity (passport or driver's license) and a proof of address (bank statement, utility bill, etc.). Once your identity has been verified by the team at World Markets, you will then be free to make deposits and withdrawals at will.

Customer Support

As is the case with any online brokerage platform, you also need to make some considerations regarding customer support.

After all, you will potentially have a lot of money held at the broker, so you need to know where you can turn to if things go wrong. In the case of World Markets, it is somewhat disappointing that you will only have the option of sending an email or submitting a ticket through its website.

The platform does not offer a live chat facility, nor can you contact the team via telephone. This is especially surprising considering that the platform has been in existence since 2003, and that it has a five-figure customer base.

Eligibility

One of the best things about the World Markets platform is that it does not require you to be an accredited investor to join. Moreover, the platform accepts account registrations from the vast majority of countries, barring a few.

You can open an account as long as you are not a resident of one of the following jurisdictions.

❌ Austria

❌ Belgium

❌ Cuba

❌ North Korea

❌ Syria

❌ Iran

❌ Libya

❌ Somalia

❌ Sudan

❌ Myanmar

❌ Yemen

❌ Russia

❌ United States of America

While the vast majority of prohibited countries listed above will likely come as no surprise, the one that stands out is the USA. If you're a US resident or a US citizen living overseas, you will need to find an alternative broker.

World Markets Review – The Verdict?

In summary, if you're looking for a highly established online broker that will allow you to benefit from the ever-growing abilities of artificial intelligence, it is well worth considering the merits of World Markets.

The broker's Microsoft-backed algorithm allows you to make gains without lifting a finger.

Instead, the software will identify and analyze potential trading opportunities on your behalf. This strategy can be used on the platform's native trading arena, which covers several precious metals such as gold, silver, copper, and platinum.

We also like the pricing structure that the AI-backed trading software commands.

While you will need to pay 1% in annual management fees, the 20% commission is only applied on net proceeds.

Finally, if you have an appetite for trading financial instruments outside of the precious metals scene, World Markets has partnered with leading broker HYCM. This allows you to buy, sell, and trade thousands of other assets such as stocks, indices, futures, currencies, and more – at the click of a button.

Trade with eToro - World Leading Social Trading Platform

Trade Stocks, Forex, Crypto and more
0% Commission on Real Stocks
Copy Trades of Pro Investors
Easy to Use Trading Platform

67% of retail investor accounts lose money when trading CFDs with this provider. You should consider whether you can afford to take the high risk of losing your money.

FAQs

What can I trade at World Markets?

What is the minimum deposit amount at World Markets

Do I need to provide ID when signing up at World Markets

How much does World Markets charge on its AI-backed trader?

See Our Full Range Of Forex Brokers Resources – Brokers A-Z