Mint Review 2021 – Is it the Best Money Management Platform?
The consumers move towards more online products has helped in creating money management tools and Apps.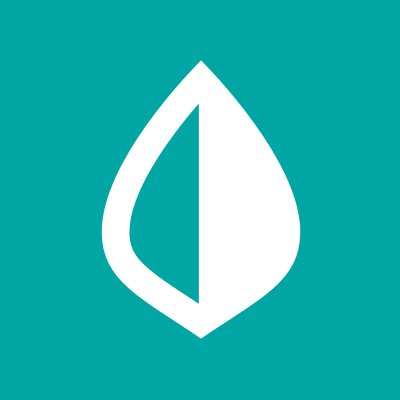 The digitization and innovation of smartphones have now been permitting peoples to manage their finances through a single app. These apps allow you to pay monthly bills, make an online transaction or even manage your investments portfolio. Indeed, these small companies are seeking to offer a complete package of personal finance management solutions.
Although managing money and handling investment decisions seems easier than ever before, it's essential to choose the best money management tool to remain ahead of all your finances.
In order to help you with that, we review Mint – which is one of the most famous budgeting and personal finance platform.
Mint's personal finance service has won numerous awards in the last decade amid its ease of use, simplicity, and availability of several financial tools.
What is Mint?
Mint has developed an enticing money management platform – which is considered as one of the best premier personal finance tools. This platform is available both on the web and mobile app. Their management is working on the strategy of bringing together all financial aspects of life, including budgeting, bank accounts, credit cards, bills, and investments.
This platform was developed in 2006. After experiencing huge success, Intuit (INTU) has purchased this platform. The acquisition has further added to its security features and account tracking. Its operations improved significantly after its acquisition by Intuit (INTU) in 2009. Since Mint was purchased by Intuit, Mint started using Intuit's methods for tracking financial information with the help of Intuit's web-scraping applications.
Intuit bought Mint in November 2009 for $170 million. It had over 1 million users at that time. Mint now has over 10 million users.
What are Pros and Cons of Mint?
Mint Pros:
✅Helps in managing all expenses
✅Ability to check credit score
✅Bank accounts review and handling
✅Alerts and notification
✅Budgeting tool
Mint Cons:
❌ Only available for U.S. and Canadian clients
❌ Synchronization issues
How Does Mint Work?
Mint is working on the strategy of offering a tool that gathers all aspects of an individual's personal finances into a single place. The user is required to link all the bank accounts; Mint has the potential to show all the bank statements and other banking activities. It receives all the financial information that you linked. It provides customizable reports. Similarly, this platform tracks all the information related to credit cards and trading accounts. It also helps in tracking real estate properties and other assets that the Mint account holder holds.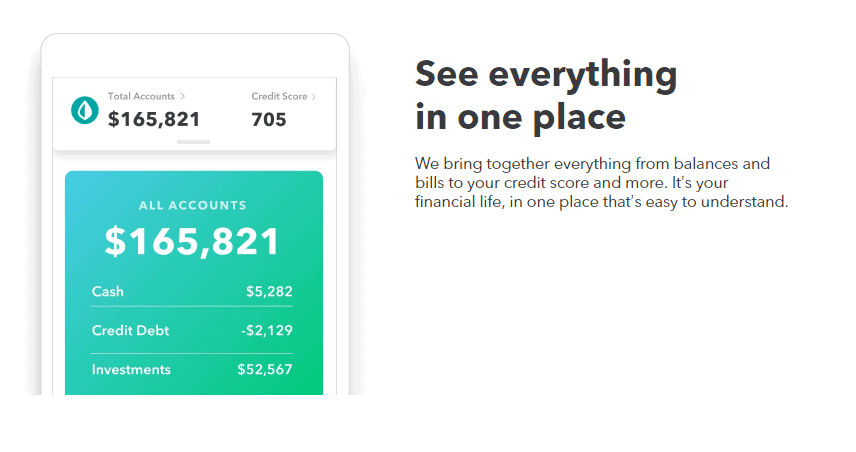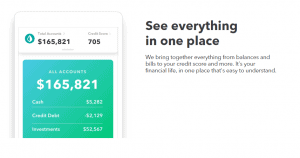 Besides tracking features, its budgeting tool is best in the online industry. Its strategy of gathering information related to income along with expense detail and bills helps in creating and managing a budget in a more customized way. Its tracking features enable users to avoid unnecessary fees. In addition, the platform automatically creates a Smart Budget based on your income and expense history. The platform has also started offering loans, savings and checking accounts to customers.
Mint offers all these services free of charge. This means that the user has nothing to pay for tracking all the financial information. It actually generates revenue from advertisements that are placed on various parts of its website. It's "Mint Credit Monitor." The system helps in generating revenue. Mint Credit Monitor is a service which offers multiple credit reports, statistics regarding the user's credit score, three-bureau credit monitoring and identity theft monitoring. The platform charge $16.99 per month for using this special service.
It also generates revenue through a referral system. When they refer customers to other financial institutions, credit cards companies, and saving accounts, they receive a referral fee.
Mint is not the only web and mobile-based money management tool. There are many other heavyweights in this industry like Microsoft Money Online, Geezeo, Wesabe and others.
What is Mint Account Creation Process?
The account creation process is simple and free. To get started, the user is required to visit the website where they can easily find the 'Signup' button at the right top of the home page. Once you click that button, the new screen will appear where you have to provide an email, phone number, and password. Once you provided that information, you are free to use Mint.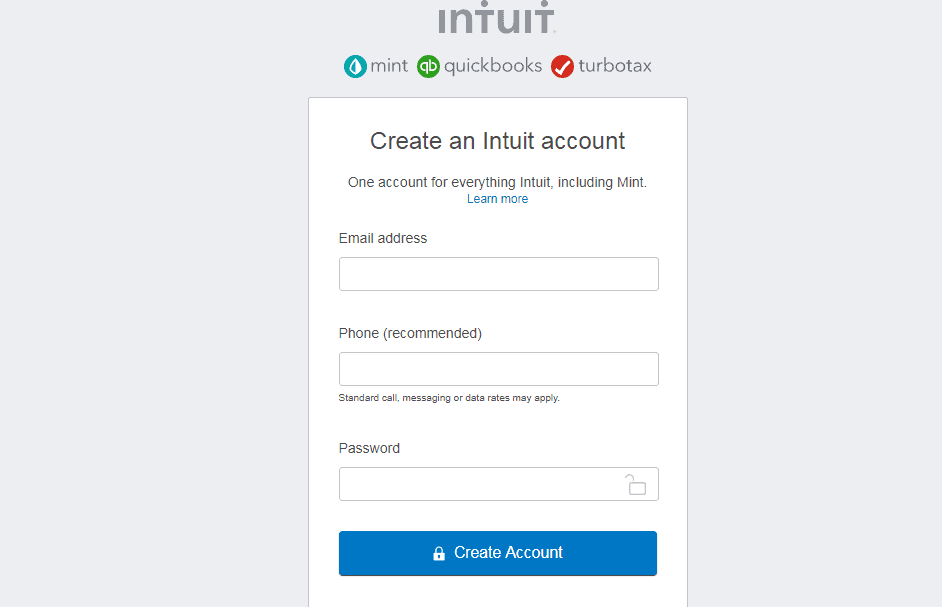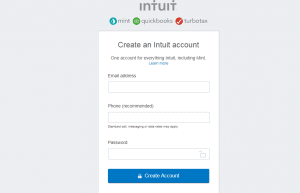 However, using mint without providing financial information is useless. This is because mint tracks all your financial information to create a budget and alert system for you.
It offers a feature tour on account creation. The platform will request you to provide information to connect your credit card and banks account with Mint. Besides adding banks accounts, the user is also required to provide other information such as your contact and demographic information. The user is required to click 'Settings' to add as much information as they want. You also need to activate notifications to get alerts about debt repayments, charges, bills, etc. Indeed, the platform allows customers to add information related to vehicle, investments, and homes.
Once you provide all the financial information, the web-based platform will start offering budgets recommendations by using your financial history.
The platform permit users to create their own budget by offering them recommendations based on the previous history. You can use various categories that the platform offers for adding income and expenses. The platform permits a user to edit and create new category and sub-category according to their choices.
How Does Mint Dashboard Works?
Mint has created an exceptional dashboard. The dashboard is user-friendly and easy to use.  The home page of the dashboard highlights a summary of your financial picture. This summary updates at the end of every day to include changes that occur in the 24 hours cycle. If you don't like the dashboard summary screen, you are eligible to customize it to add or exclude anything. For instance, the user doesn't want to include a vehicle in total worth, you can exclude it.
The platform shows all of the financial accounts and assets on the left side of the dashboard along with the total value of assets, debts, and liabilities. On the right side of the dashboard, the user will see the spending chart, a list of upcoming bills, along with credit score. You will also view a budget combined with actual spending.
Another enticing feature is your investment accounts and what goals you have set. The platform will show you the progress that you have made in achieving goals. The platform offers several other buttons and tools on the dashboard such as checking for bills and managing your budgets.
What Key Products and Features Mint Offers?
Mint is seeking to fulfill all the financial needs of consumers. It is among those platforms that offer a variety of features that almost covers all the financial aspects of an individual. Following are the key features that one can enjoy using this platform:
Accounts Tracker
This is one of the best features of this platform. Account tracker helps users to see all their bank account details in one place. This means that you can anytime review all the bank statements from Mint platform. This feature helps users in tracking deposits, withdrawals and other fees that banks charge on ATM transactions.
The platform does not charge any fee for using the account tracking feature. The user just needs to create a Mint account and link the bank account details. This platform connects almost every US financial institution that is connected to the internet. Once you linked the bank account, you'll immediately see where your money is going.
The account tracking feature is not only limited to bank account tracking. You can also track physical assets and credit cards, mortgages and other loans.
Credit Accounts: This is the most important and broad category. This category includes loans, mortgages, non-card revolving lines of credit and credit cards. Once you created the Mint account, you just need to go to settings and add any type of credit that you have to pay.
Major Assets: This category includes tracking of physical assets including homes and cars. The platform requires you to answer a few questions when you set up each asset. These questions include vehicle type, year, model, price and mileage.
After setting up bank, credit and assets details, the platform will track all the changes and shows a net worth of all of your assets and liabilities in the dashboard. The platform updates all the information as it happens. With the help of Zillow, it also updates the price of your property.
Investment Tracker
This feature is different from a bank account, credits and assets tracking. The investment tracker is purely developed to tracks your investment accounts. It tracks three types of investment accounts:
Traditional brokerages
IRAs
Employer-sponsored 401ks.
Although the platform does not offer trading and investment services, it still offers investment tracking in a safe style. It synchronizes each investment account and makes all the updates such as interest rate income, profit, and loss. The platform allows users to track each investment that they had made in the brokerage account. The bank accounts along with the availability of net worth of assets increase investor's potential to make the best investment decisions.
Bill Tracker
Mint's bill tracker is its most popular and widely used feature. It offers a free bill organization system that is available both on the web and its mobile app. They have developed a billing feature in such a way that it completely appears like a typical bank bill-pay system. The platform allows you to track all the information related to bills. They also send alerts before the due date to avoid the unnecessary fee.  You can track all the activity on the dashboard. The billing system is also customizable. You can track the following types of a bill on the go in Mint:
Credit card
Utility bills
Rent payments
the babysitter
Internet and phone charges and so on.
Budgets
Mint's budgeting tool helps its users in setting the budget that they can actually stick to. They permit users to create their own budget along with making recommendations according to changes in your bank accounts and liabilities. They also create a smart budget automatically for you after looking at your previous financial history. Its budgeting tool is user-friendly and simple. The user can set monthly, quarterly or yearly budgets.
In fact, the platform tracks all your expenses and income and tells you how much you have already spent and how much space you have for the coming months. The platform will ask you to set goals that you are looking to achieve by smartly spending and saving money.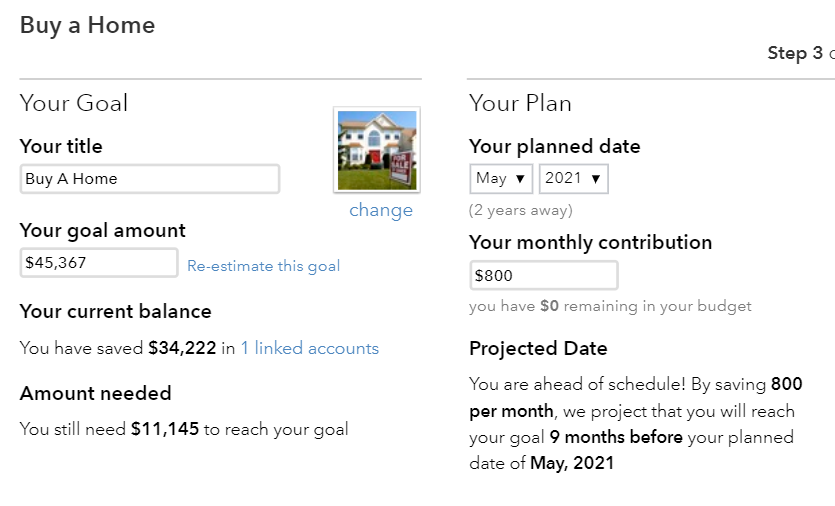 It has developed numerous predefined goal templates. The platform permits users to choose the template according to their requirements. They have already added some information in those templates and also allow users to customize it according to their requirements. They keep a close eye on your income and spending to encourage for savings. It constantly informs you how much more savings you need to reach your goals.
Saving Accounts
Although Mint does not offer banking services, it allows users to create saving accounts in most popular banks. They make revenue when they refer a customer to these banks. It allows banks to advertise on their saving accounts on this platform to encourage customer.
What Countries are Accepted on Mint?
Mint only accepts clients from the United States and Canada. This is due to regulatory restrictions. European and other banks don't share their banking data. In addition, the billing system also doesn't work accurately in other countries. It accepts clients from all states of America. Below are the few states that are accepted on this platform:
Alabama
Alaska
Arizona
California
Colorado
Delaware
Hawaii
Idaho
Utah
Virginia
Wisconsin
Wyoming
Illinois
Kansas
Louisiana
Mississippi
Missouri
Nevada
North Dakota
Ohio
Oklahoma
Rhode Island
Tennessee
Texas
Is it Safe to Use Mint?
Yes, Mint is one of the most recognized platforms. It is a registered and licensed platform. In addition, it is a subsidiary of Intuit, which is listed on the U.S. stock exchange. Therefore, the platform is completely safe for users who want to attach their banks and credit card details.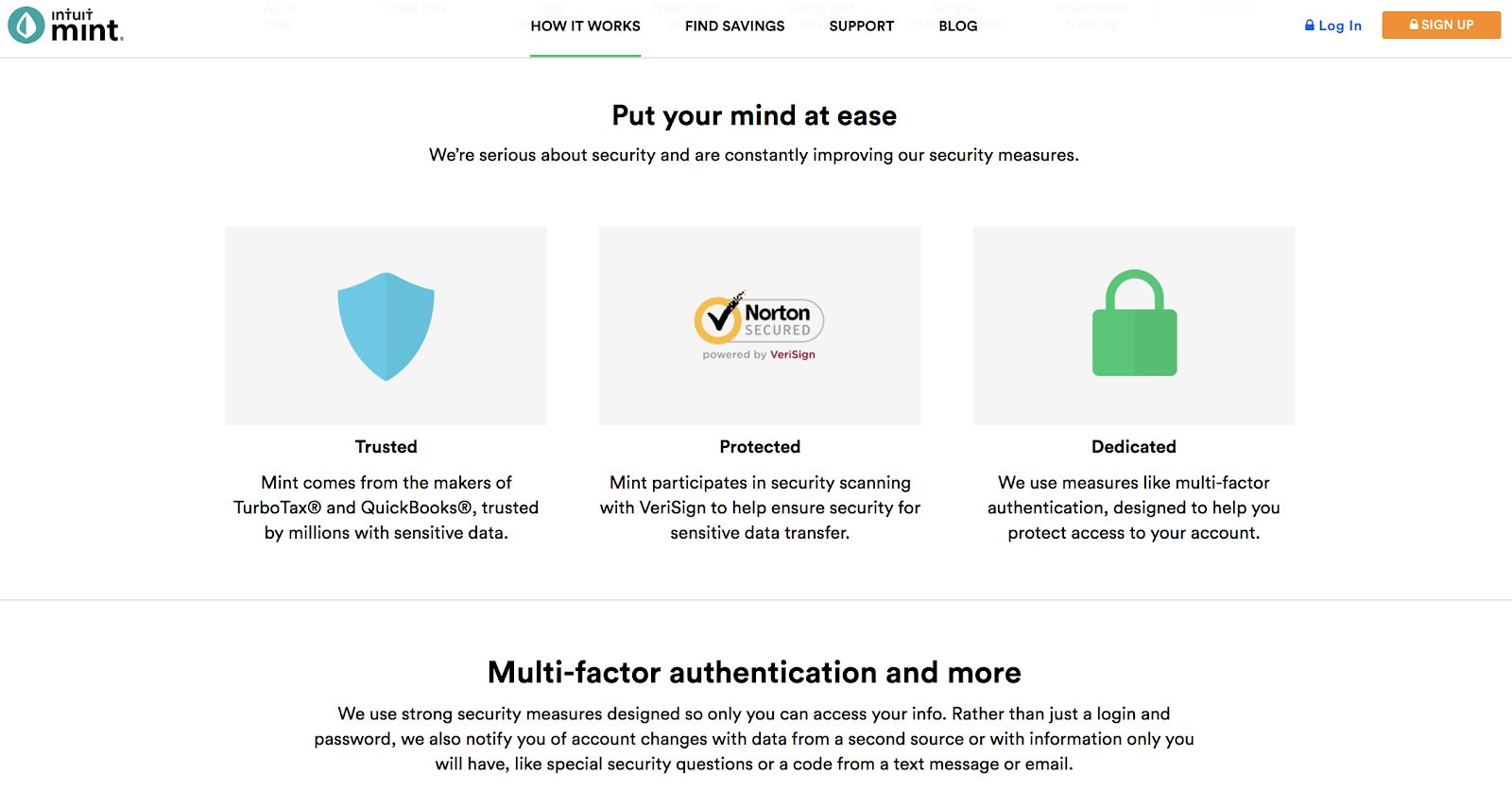 The platform seriously takes users data security. They use numerous measures such as multi-factor authentication to protect access to your account. Additionally, it participates in security scanning with VeriSign to help ensure security for sensitive data transfer.
Is Mint Customer Support Good?
Mint has gathered more than million of users amid its robust platform and strong customer support. The platform seeks to reply to each query within three days. The management team is supportive. They always show positive energy in solving user's problems. They have created extensive FAQ page – where they have answered all the frequently asked questions related to the platform, account setting, and other features. The user can contact the support team through email and phone calls. The instant chat feature is available. Mint support is currently available 7 days a week between 5 AM – 9 PM Pacific Time. You can contact them through the instant chat feature.
Mint Review 2019 – Verdict
Mint is a perfect tool for personal finance services. The platform allows users to cover all their financial details in a single space. They have developed a platform in a user-friendly way so anyone can easily understand its features and functionality. The user can easily link and track banks accounts and credit details. Their billing feature helps in avoiding extra charges and inconvenience that people face. All these services are free of charge – which makes this platform even more attractive when compared to human services and other online platforms.
FAQ:
What to do if an account is not refreshing?
How to add an account that can't be linked?
How the user can add a bill manually?
What to do if the user forgot the password?
How does a user can change or delete the phone number?
Why user account closed or inactive on Mint?