Investments in real estate assets that generate steady returns over the long-term have been the first priority of advanced investors when it comes to portfolio management. With the arrival of online real estate investment platforms, it becomes easier for investors to enjoy the opportunities in real estate assets. Indeed, retail investors can also invest in real estate assets – which were previously available to big asset managers. Online real estate investment platform permits investors to invest as low as $1000. These platforms offer a constant stream of income to investors against their hard-earned money.
Choosing the right platform is essential when it comes to investments through online investment platforms. This is because the amount of return on investment along with other factors such as fee, commission and withdrawal process depends solely on what platform you choose for investment.
To help you with that, we review stREITwise – which is famous for offering one of the highest returns in the form of dividends and capital appreciation.
What is stREITwise?
stREITwise is an online real estate investment trust that enables investors to invest money in real estate properties against a quarterly return of 10%. The platform is regulated by respective authorities and it uses innovative technology and their experience in this sector to make commercial real estate investing accessible to everyone. They permit investors to invest as little as $1,000. The platform seeks to generate passive income for investors. Therefore, they invest the money in real estate assets that have the potential to generate consistent growth in cash flows.
What are the Pros and Cons of stREITwise?
stREITwise Pros:
✅Low account minimum.
✅Non-accredited investors
✅The simple and transparent fee structure
✅Automated investment option
✅Dividend reinvestment program
stREITwise Cons:
❌ One-year lockout
❌ No mobile app
❌ Limited properties
❌ Dividends paid quarterly
How stREITwise Works?
Returns from stREITwise have outperformed returns from bonds and REIT markets. It has returned 10% annualized dividends since its inception while public REITs has generated returns of 3.75%. It is launched in 2017 by co-founders Eliot Bencuya, Jeffrey Karsh, and Joseph Kessel.
The platform is working on a simple business strategy of investing money in assets that generate steady returns for investors. They invest your money mainly in income-producing commercial spaces, offices along with properties requiring less than $20M in equity. stREITwise claims that these properties offer promising returns. Below are the features that this trust offers to its clients:
Lower Fee and Higher Returns: The platform charges a small fee compared to other investing platforms. This is because they directly sell shares to investors compared to other platforms that use broker's services.
Experienced Management: Its management has extensive experience in investing and real estate. The management team is led by its three founders who have a combined 40 years of experience of real estate investing.
Direct Ownership: Instead of working like a middleman who works on commission for other market players, stREITwise directly invests and own each investment. Consequently, they don't have to pay profits to anyone else other than its investors.
Tax-Advantaged Structure: It is not a publically traded company. This is because they are not taxed at the corporate level. That means REITs avoid the dreaded "double-taxation" of corporate tax AND personal income tax.
SEC Regulated: the platform is regulated by the SEC. This means that they are complying with policies of regulators. Investing through unregulated platforms often exposes investors to various types of risks and scams. It is regulated under A+ of the Jobs Act, which obligates it to follow strict reporting requirements including annual financial audits.
stREITwise does not work like a crowdfunding platform: It does not allow people to raise funds for investments. It invests all the money according to their own business strategy in real estate assets. When the investor uses stREITwise platform for investment, they are investing in an equity REIT. The investor can enjoy several benefits of becoming an equity investor. These benefits include a steady stream of dividends along with capital appreciation when the properties are ultimately sold.
What is the Investment Process of stREITwise?
stREITwise has developed a simple and user-friendly platform. They permit investors to invest as low as $1000. The investors need to visit the stREITwise website to start investing.
The investor needs to click on "Start Investing" tab – which is displayed on the home page of the website. Once you click that button, the platform will take you to the new page where they have displayed all the factors associated with the investment. The investor should read all the information carefully before proceeding further.
Once you decide to invest through stREITwise platform, you again need to click "Invest today" tab. The platform will display a form where you have to add basic information. This information includes your name, email address and the amount you want to invest. You also need to select between four types of investment accounts. These accounts include:
Individuals
Companies
Trusts
Self-directed IRA or 401 (K).
They will show a form related to the account you select. If you are investing as an individual, you need to skip forms related to companies, Trusts and Self-directed IRA or 401 (K). You only need to fill individuals form. You also need to mention whether you are accredited or non- accredited investor. Once you are done with all the information, you need to add information related to the bank account. The platform will send a confirmation email once they receive your funds.
What is the Eligibility Criteria of stREITwise?
The platform accepts both non-accredited and accredited investors. If you are a non-accredited investor, you cannot invest more than 10% of your individual or joint net worth. The non-accredited investor must have to show individual or joint income for the two most recent years along with expected income in the current year.
They accept clients from both international and U.S. markets. Subject to specific clearances and limitations, they accept non-U.S. international investors. The process for accepting non-U.S. investors is the same and the enrolment could also be done over the phone. They accept clients from all states of the U.S. Below are the states that are accepted on this platform:
Alabama
Arizona
Arkansas
California
Colorado
Connecticut
Delaware
Georgia
Hawaii
Idaho
Illinois
Indiana
Iowa
Kansas
Louisiana
Maine
Mississippi
Missouri
Montana
Nebraska
New Jersey
New Mexico
New York
North Carolina
Ohio
Oklahoma
Oregon
Pennsylvania
Rhode Island
South Carolina
Utah
What Investment Strategy stREITwise Use?
The platform has developed its business strategy with the aim of generating steady and stable returns for investors. Their investment strategy is based on the below five key points: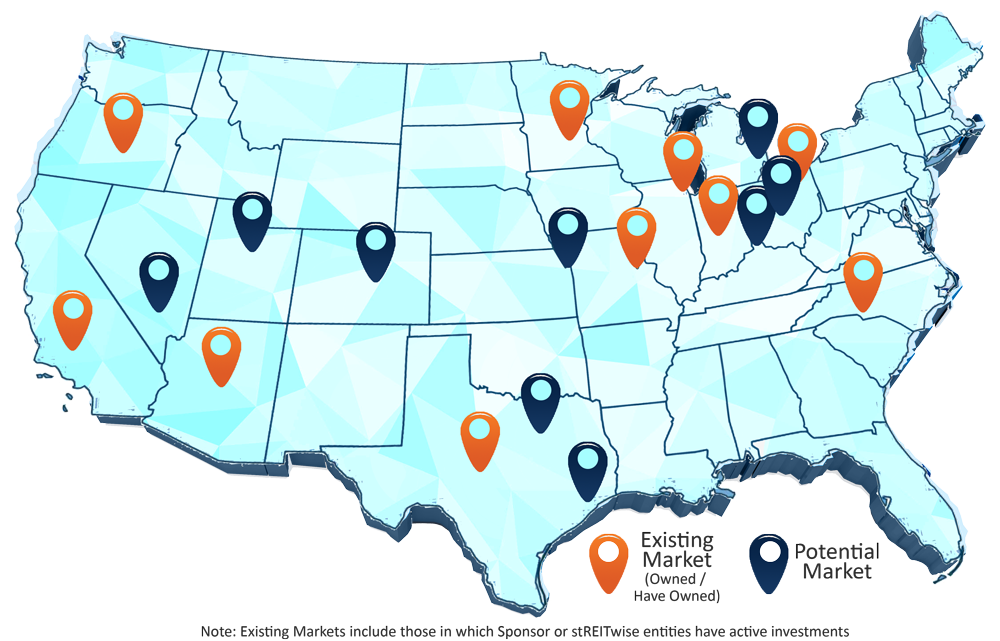 Value-oriented investments – The platform seeks to manage a diversified portfolio of properties that they can rent out to creditworthy tenants. The platform seeks to use the rent for returning steady and growing dividends. The platform also aims to focus on non-gateway markets that are typically more fairly priced at higher capitalization rates.
Creditworthy tenants – The platform always seeks to rent out properties to big names like Wells Fargo, IBM, Edward Jones, and Verizon.
Non-gateway markets – The platform seeks to buy non-gateway properties. According to different sources, non-gateway properties are those that are not situated at the entry point of the country. stREITwise always avoids the high-priced coastal markets. They favor more moderately priced cities that provide higher dividend returns.
Modest leverage – The platform always seeks to minimize risk and maximize returns. They target modest leverage in investments. This is because high leverage equals high risk. This online real estate investment trust targets leverage between 40% and 60% of the value of each property.
The platform aims to hold commercial properties for more than 10 years to fully enjoy the steady stream of income and the possible capital appreciation. Once they believe the property has reached the maximum value, they sold that property. They use these proceeds for dividends and investment in new properties.
What are the Features of stREITwise Real Estate Investments?
There are several enticing features related to stREITwise Real Estate Investments. Below are the features that attract investors for investments in real estate properties?
Several Types of Accounts: The platform permits various types of investors to enjoy steady and stable returns. Consequently, they have developed various types of accounts to fulfill investors requirements.
Low Minimum investment requirement: Generally investments in real estate sector requires a lot of capital. Consequently, these types of investments were previously available to fund managers and accredited investors. However, stREIT wise permit retail and small investors to play with real estate markets. They have set the minimum investment requirement of $1,000.
Investment liquidity: The liquidity of an investment is among the biggest issues when it comes to investment through online platforms. Some online platforms have developed their own secondary markets – where the investor can easily liquidate the investment. Other times, the platform buy investments from investors. This platform also permits investors to liquidate the investment. However, this platform uses a one-year lockout within which the investor will not be able to liquidate the investment. After one year of investment, the investor is eligible to sell the investment anytime. They have created the Stockholder Redemption Plan. The Stock Redemption Plan is based on the following schedule:
Investment held less than one year, no redemption allowed.
One to two years, 90% of net asset value (NAV).
Two to three years, 92.5% of NAV.
Three to four years, 95.0% of NAV.
Four to five years, 97.5% of NAV.
Five years or more, 100% of NAV.
Dividend Reinvestment: Dividend reinvestment is among the most loved feature for defensive investors. This feature permits investors to reinvest their dividends to increase the amount of total capital. Dividend reinvestment happens automatically once you activate this option.
Tax Benefits: There are several benefits of investing in an online real estate platform including the tax benefit. The investment in a REIT can help investors in deducting up to 20% of your dividends from taxable income.
What is the Fee Structure of stREITwise?
stREITwise is clear and transparent regarding the fee structure. They do not charge any hidden fee to investors. They have clearly listed their fee on the website. They take 2% management and 3% upfront fee from investors. This fee is taken out before the dividend distribution. For instance, the platform has distributed 10% annualized dividends to investors last quarter. This means that dividends are distributed among investors after taking out management and upfront fee.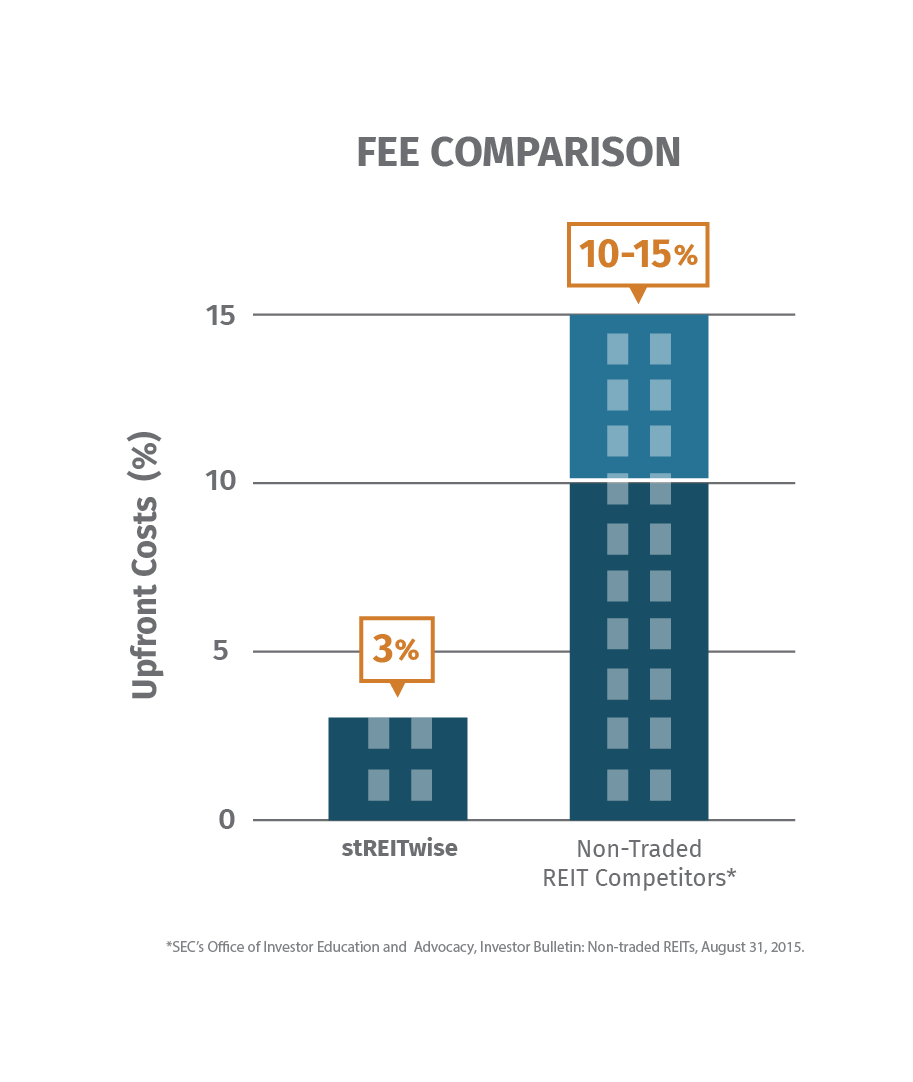 Meanwhile, other players in the industry charge up to 15% of upfront fees along with other fees such as asset management fees, disposition fees, acquisition fees, financing fees, other expenses and performance fees. It has also received the Best Fees Award by the Real Estate Crowdfund Review amid its low and transparent fee structure.
Is stREITwise Customer Support Good?
Customer support service always plays a big role in strengthening investor's sentiments particularly when it comes to online investments. In the case of stREITwise, the platform has developed a strong customer support service.
They have developed extensive frequently asked question segment – where they have answered several general questions. The investor can get a lot of information about the platform, its fee structure, and investment strategy through this segment. The platform also permits investors to make a phone call. They have highlighted their phone number on the website. They suggest non-US customers contact the support team before applying for investment. The clients can also contact the support team through email. They respond to all queries in three business days.
Is stREITwise Safe?
Yes, stREITwise is safe for investors in terms of regulatory compliance. This platform is regulated by the SEC. They are strictly complying with the regulatory guidelines. The platform has also been regularly filing its financial statements. Its offerings are regulated by the Securities and Exchange Commission (SEC) under Regulation A+ of the Jobs Act, which obligates it to follow strict reporting requirements including annual financial audits.
However, every investment carries risk and stREITwise has no exception. There's always a risk of capital depreciation in real estate investment and dividends are also not guaranteed.
stREITwise Review 2019 – Final Verdict
stREITwise is one of the best platforms in the online real estate investing industry. This is due to its high dividend yield along with the lower fee structure. The platform has paid uninterrupted dividends since 2017 and it plans to increase the dividend in the coming days. Their fee structure is transparent; they do not charge any hidden fee. The platform is safe for investors as it is regulated by the SEC. The investors can also liquidate the investment after one year of investment. On the whole, the platform is perfect for investors who are seeking a steady stream of income.
See stREITwise offering circular for more details about the offering here.
FAQ:
What the investor is investing in?
stREITwise is working on the strategy of offering steady returns by investing the money in real estate. They primarily invest money in cash flowing properties located in non-gateway markets. They like to buy offices – which they can rent out to reputable institutes. The platform currently permits investors to invest in two offerings. Here's the link: https://streitwise.com/current-offering/
How often the investor will receive dividends, and at what rate?
The platform pays dividends on a quarterly basis. The dividend rate depends on how the platform is moving forward. The platform pays dividend according to their strategy and financial numbers. They keep the dividend rate at a level that is sustainable over the long-term. They currently offer a 10% dividend.
How the platform keep investors personal information secure?
stREITwise processes all the documents electronically through its website. They also use technology and stock transfer agent services provided by FundAmerica and Computershare. This strategy helps in increasing the efficiency of the investment process along with improving the security and authenticity of your information. The platform will inform you through email once your investment is processed and funds are received.
Do the dividends be taxable as ordinary income?
The dividends always have tax implications unless your investment is held in a qualified tax-exempt account. There are three forms of dividends:
• Return of Capital Dividends: These types of dividends are not taxed and instead reduce your tax basis for future capital gain consideration
• Capital Gain Dividends: These types of dividends are generally taxable at long-term capital gain rates)
• Dividends from Current or Accumulated Earnings: These types of dividends are generally taxed at ordinary income rates.
What is the length of the investment?
You will be able to redeem your shares after one year through its share redemption program and subject to certain restrictions. However, the platform encourages all investors to take a long term approach to their investment with stREITwise.