Intel (NASDAQ: INTC) stock price has been under pressure over the last couple of months. INTC shares are currently trading below from 52-weeks high of $60 a share. Fortunately, analysts believe the latest financial data would offer support to share price performance.
Intel stock price is also trading at attractive valuations. INTC shares are trading around only 11 times to earnings compared to the industry average of 20 times. INTC shares are up only 9% since the start of this year.
Strong Q3 Results Supports Upside Momentum
The company has topped revenue and earnings expectations by $1.13 billion and $0.18 per share. Its revenue of $19.2 billion increased by 0.2% from the year-ago period. Analysts, on the other hand, were expecting their revenue to decline on a year over year basis.
The revenue growth is driven by data-centric revenue – which jumped 6% compared to the same period last year. On the negative side, INTC PC-centric revenue plunged 5% year over year.
"We've been on a multiyear journey to reposition Intel's portfolio to take advantage of the exponential growth of data. Our third-quarter financial performance underscores our progress as our data-centric businesses turned in their best performance ever, making up almost half our total revenue in a record quarter," said Bob Swan, Intel CEO.
Higher Full-Year Guidance is Adding to Sentiments
The company has raised its full-year guidance following higher than expected growth in the third quarter. It now expects full-year revenue to stand in the range of $71 billion. This represents an increase of $1.5 billion from its previous guidance.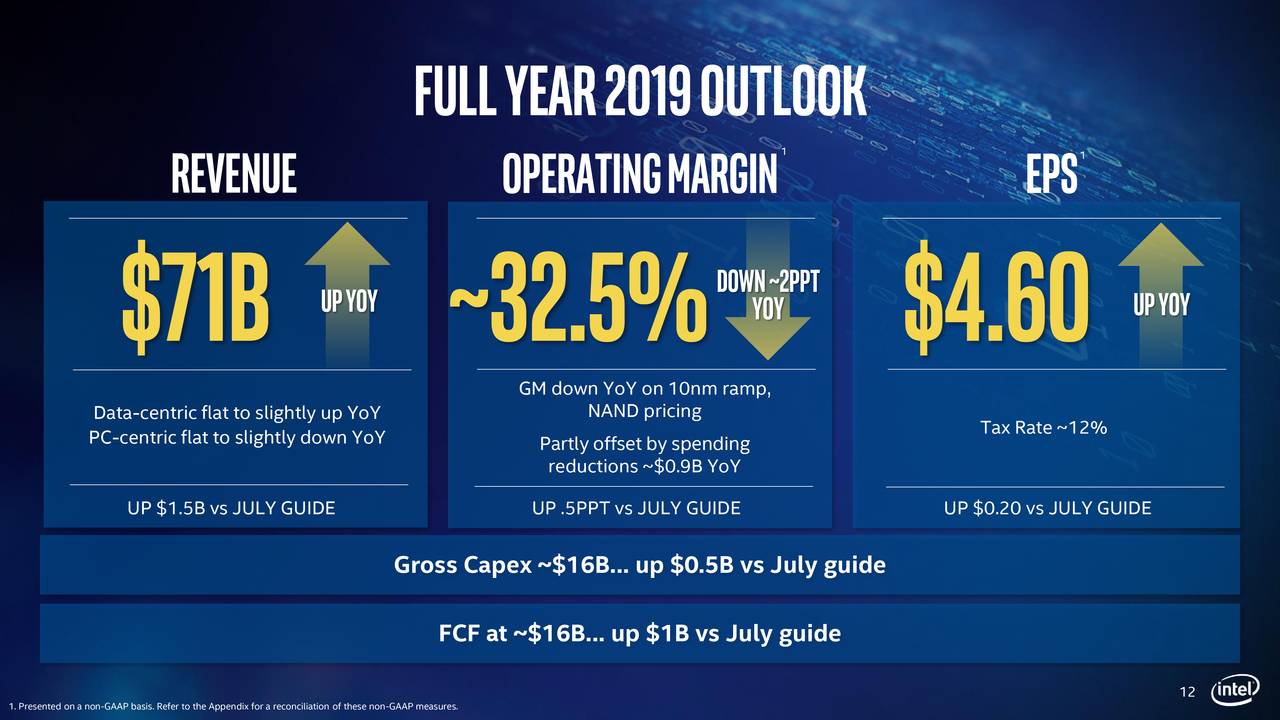 The full-year earnings are likely to hit $4.42 per share. The cash returns are also safe amid strong cash generation potential. INTC anticipates free cash flows in the range of $17 billion for this year – which is more than enough to cover dividend payments of almost $5.5 billion. Overall, Intel stock price is likely to receive support from financial numbers.