ConocoPhillips (NYSE: COP) stock price bounced back sharply since the start of this month. The stock price soared 20% in the last two weeks. The potential increase in oil prices due to supply disruptions from Saudi Arabia would add to ConocoPhillips stock price upside momentum.
Saudi Arabia has lost almost half of its production due to drone attacks on Armco oil facilities. This accounts for 5% of global production. The Energy minister said production resumption could take one month.
The analysts look optimistic about the future fundamentals of ConocoPhillips even if the recent oil spike does not last for a longer time.
UBS analyst Lloyd Byrne has set ConocoPhillips stock price target at $75 – with a buy rating. The analyst claims that COP has a lower breakeven point along with significant free cash generation potential.
The underperformance of COP stock price in the first half is presenting a buying opportunity, according to UBS analyst.
Lloyd Byrne said, "COP can generate free cash flow and pay its dividend even if oil falls back to $40/bbl, Byrne believes, because "the Eagle Ford can sustain growth for the next decade plus, while the Bakken can sustain flat production for a decade plus."
It has generated total production of 1.29M boe/day in the second quarter, representing an increase of 6% Y/Y. It expects Q3 production in the range of 1,29M-1.33M boe/day for Q3.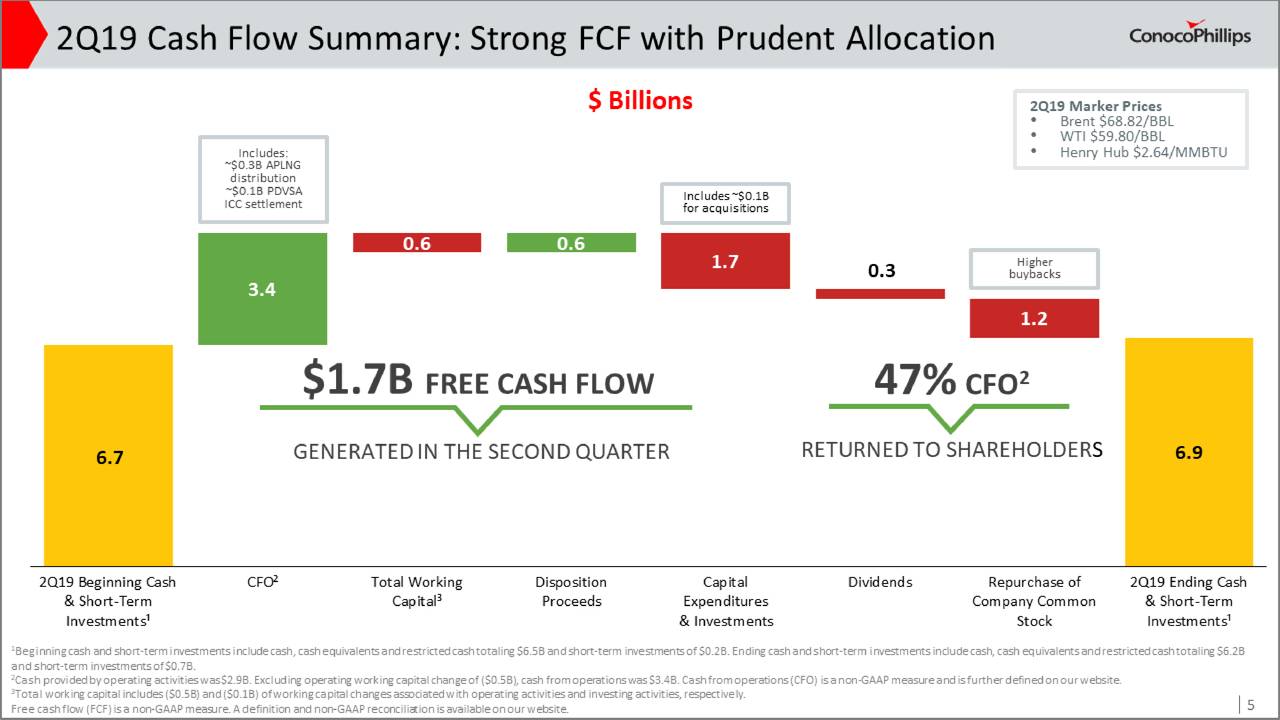 The company has generated operating cash flow of $3.4B while its capital expenditures and investments were standing around $1.7 billion. Thus the company was left with $1.7B in free cash flow.
It had repurchased $1.2 billion of common stock in the latest quarter. The dividend payments stood around $0.3 billion. With the significant cash generation potential, COP has also raised its share repurchases to $3.5 billion for this year. It has funded dividends, share buybacks, and capital investments through free cash flows in the past seven consecutive quarters.