Business Club Review 2021: Platform, Fees, Pros & Cons, and Features
Business Club is a blockchain ecosystem that is specially designed to help businesses grow, streamline their operations, and increase their capital. To achieve these objectives, it provides businesses and individuals with high-quality digital products and services like a social network, an independent cryptocurrency token, a crypto wallet, and a highly secure blockchain environment.
Business Club takes pride in being one of the most secure and highly transparent business environment. The company has, for instance, committed to not sharing its client data with any third parties, placed a limit on the amount of personal data it collects from its clients, and presents users with a clear roadmap.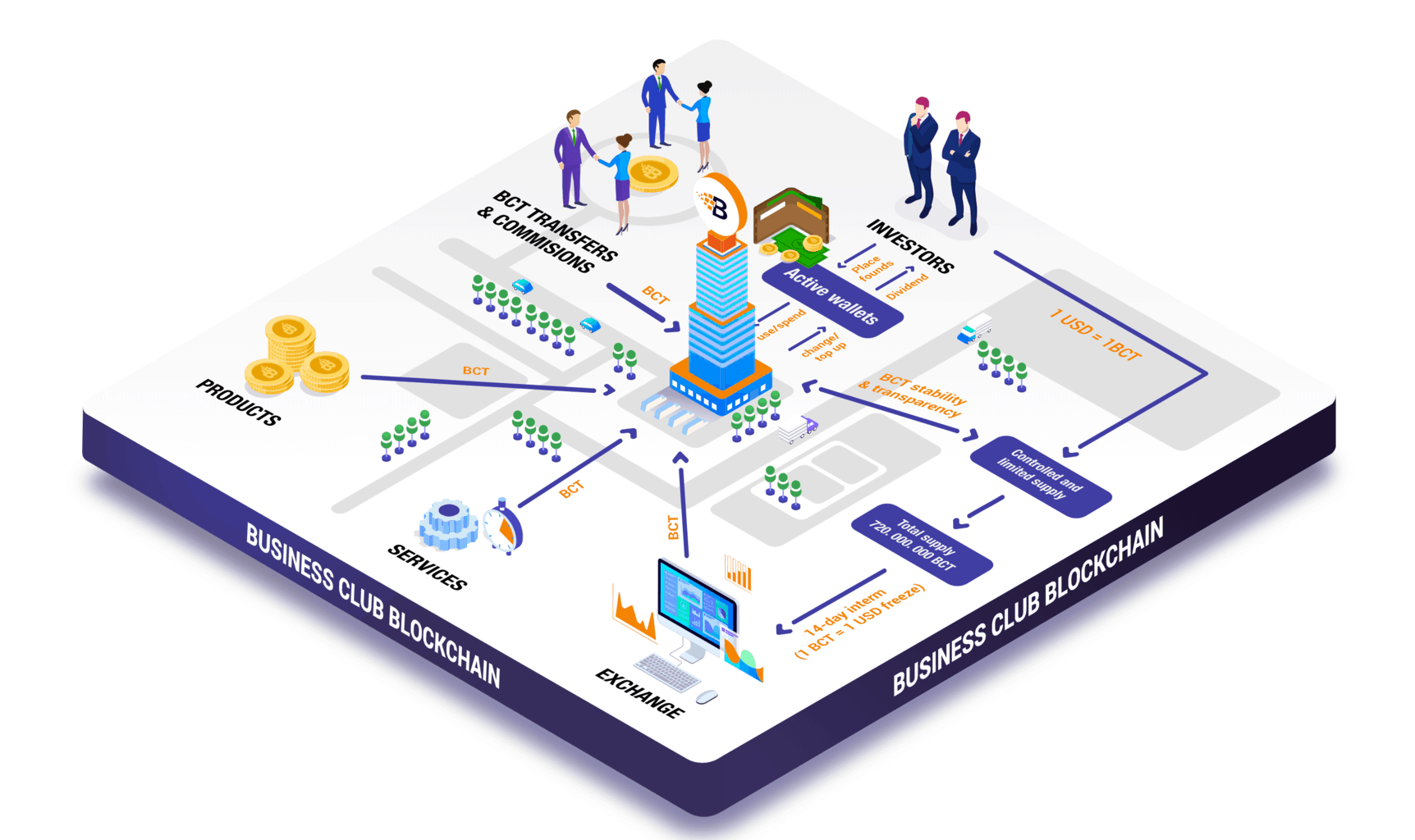 In this review, we will be helping you gain a deeper understating of Business Club and its operations. We will be looking at how it works and key product and service it seeks to provide, its commitment to data privacy and everything else you need to know about Business club.
What is Business club?

Business Club describes itself as a blockchain-fueled online platform that brings together success-oriented people with the sole aim of helping them grow their operations and capital. It can also be referred to as a crypto trading platform where different businesses and individuals get to buy, sell, and exchange the Business Club tokens. Note that on the Business Club Social network, you don't just get to share ideas and interact with success-oriented businesses and individuals, You get to join and invite other businesses and individuals to your team and get paid for it. This is a commission-based system where you get to earn money based on how much your invitee deposits into their Business Club wallets.

How does it work?

Ideally, Business Club was designed to help you and your business learn, expand your social networks, and grow your capital. By joining Business Club – the world's largest online club – you are opening yourself to a world of opportunities. You get to learn how to push your business and productivity to the next level, join a team that allows you to invest within the network's Active Wallet system and earn dividends and also enjoy a free and highly-secure multi-currency crypto wallet.

Essentially, Business Club can be seen to work in three key ways. First, you get to join the Active Wallet teams, deposit funds and earn from both the deposit and your invitee's deposits. Secondly, its social networking platform comes in handy for members looking for insights on how to grow their brands and remain productive. Lastly, it can also be viewed as a crypto exchange wallet where you get to buy and sell BC Tokens and converts them to other cryptos like Bitcoin and Ethereum.

Products and services offered on the platform

Unlike most other crypto-friendly platforms that specialize in one aspect of the crypto and blockchain industry, Business Club is more of a blockchain and cryptocurrency ecosystem. It seeks to pool together different aspects of blockchain and cryptocurrency by presenting them in a unified platform to the global community. Here, you will find both a secure wallet, a highly engaging social network that specializes in crypto- and blockchain topics, a capital-growth scheme that helps players expand their crypto investments as well as a highly secure wallet for the storage of digital assets. Here is a breakdown of all the products and services offered on the Business Club ecosystem:

Business Club Active Wallets:Business Club Tokens (BCT):Business Club blockchain:Business Club social network:Business Club cloud:Business Club payment cards:Business Club live transmission:Business Club Easy Mall:

The Business Club Active Wallets can be viewed as the core around which the entire BC ecosystem is built upon. It is the heart of the Business Club operations as it influences key aspects of the ecosystem. The active wallets program works in two ways; it helps members keep their digital assets secure and also has a capital growth side to it. When you join Business Club and deposit your funds, they will be stored in the active wallet. Platform users seeking to use these BCT to fund transactions both within and outside the platform will be charged a fee for every successful transaction. The Business Club system will then distribute this profit as commission to all BCT holders based on their BCT contribution, which implies that the larger your BCT depository, the higher your profits.

Like most other blockchain ecosystems, Business Club has developed its in-house tokens to facilitate transactions within the platform known as Business Club Tokens (BCT). Their supply is limited and there will – according to the platform originators – only be 720 million BCT. The tokens are the life of the ecosystem as they fuel every transaction within the platform and have even recently found their way into other exchanges and blockchain platforms. And for every transaction completed via BCT, be it an appreciation for ideas and services rendered, the purchase of different products, or the conversion of BTC into numerous other cryptocurrencies, a small transaction fee will be charged. This is the distributable profit shared with BCT holders. Note that 1BCT = 1USD.

Creating a unique platform, products, and services call for an equally unique set of tools and operational base. And we believe that this has pushed Business Club to establish its own blockchain. This goes a long way in guaranteeing the transparency and integrity of all the transactions performed on this ecosystem.

Business Club social network can be defined as a blockchain-fueled ultra-modern social media. It was specially designed to offer above-average solutions and products and services to its members and a balance of both transparency and data privacy. The network that is available and freely accessible to all Business Club members boasts of such features as encrypted-chat capabilities, advertising and sponsored content, an exchange allowing for the transfer of BCT, and video transmission features.

One of the key challenges facing both small and large business enterprises today is data handling and Business Club has a solution. In this age of ransomware and strict data-privacy laws, businesses are having a hard time keeping both their sensitive business and client data safe. To address this, Business Club came up with a cloud service – a modern and highly secure file hosting system where members can store up to 2 TB of data.

Business Club sets itself apart from the competition in the sense that it is actively looking to bridge the gap between traditional and digital currencies. To this end, they have come up with the Visa-powered Business Club payment cards that allow you to buy or spend both your crypto and fiat currency deposits seamlessly around the world.

Within the Business Club ecosystem is the Live Transmission feature that allows you to live stream conferences and webinars in a highly secure and encrypted environment in HD. And the Livestream hosts and participants get to receive and send BCT.

The easy mall feature makes it possible for virtually any Business Club member to open an online store. The blockchain-based ecosystem is rigged with a host of easy-to-use tools that anyone can use to modify their store.

Business Club roadmap:

Business Club started in early 2018 and this implies that the ecosystem still is a work in progress. On their website is their roadmap detailing the significant steps the company has made so far and the direction it seeks to assume going forward. Some of the most recent additions to the platform include the establishment of their first physical office in June 2019, taking Business Club online in July, and launching Business Club Android and iOS apps in December. Significant milestones expected in 2021 include hitting the total supply of 720 million BCT, launching the Business Club Crypto Exchange, listing BCT with external exchanges and chasing licensing from global monetary regulatory agencies like the FCA.

Business Club privacy and security:

Some of the things we liked most about the Business Club's ecosystem is its dedication to privacy and security. Our conclusion is based on the fact that all payments on the platform are blockchain-supported. Others include the multi-signature crypto wallet security, cold storage of crypto accounts, fully encrypted chats and interactions as well as the two-factor authentication used in keeping the account safe. Additionally, the company holds a Maltese operating license issued by Malta Financial Services Authority, not to mention that it uses the innovative CloudFlare and embraces DDoS attack protection features.

Customer support:

Business Club's customer support starts with a comprehensive FAQ page on the company's website. This not only walks you through the system but also addresses some of the most common challenges you might face registering and activating different aspects of your account like verification and currency conversion. More personalized account challenges may be channelled towards Business Club's support team via email, a support ticket on their website, or through their different social media handles with an average response time of 12-24 hours.

What are its pros and cons

Pros

Business Club presents a wholly inclusive business environment where you get to interact and earn
The ecosystem employs highly advanced security features
Business club has a hugely promising scalability scheme that's boosted by the plans to launch the lucrative crypto exchange
Business club shares the profits made from transaction fees with its members and these are bound to surge with the launch of an in-house exchange and listing of BCT into other exchanges
Presents a member with a free multi-currency wallet that supports not just BCT but all other popular Cryptocoins like Bitcoin and Ethereum

Cons

Operates under the relatively weak Malta financial regulatory license with no regulation or licensing from leading financial regulatory agencies like FCA or SEC
Not so many physical offices

Bottom Line

While Business Club may be a work in progress, one cannot help but take pride in some of the significant milestones they have managed to accomplish in less than two years. You will especially like the level of transparency adopted throughout the club's ecosystem, especially when it comes to earnings and profit-sharing. You also can't help but appreciate the effort the Business Club developers have put in guaranteeing the security of your deposits and accounts as well as their innovativeness in ever-broadening this ecosystem by introducing such lucrative projects as the cryptocurrency exchange to the platform.

FAQs:

What is Business Club active wallet?

Who regulates Business Club?

Can I convert cryptocurrencies with the Active wallet?