Michael Graw, Writer at Learn Bonds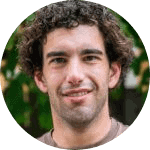 Michael Graw is a freelance journalist based in Bellingham, Washington. He covers finance, trading, and technology. His work has been published on numerous high-profile websites that cover the intersection of markets, global news, and emerging tech.
In addition to covering financial markets, Michael's work focuses on science, the environment, and global change. He holds a Ph.D. in Oceanography from Oregon State University and worked with environmental non-profits across the US to bridge the gap between scientific research and coastal communities. Michael's science journalism has been featured in high-profile online publications such as Salon and Pacific Standard as well as numerous print magazines over the course of his six-year career as a writer. He has also won accolades as a photographer and videographer for his work covering communities on both coasts of the US.
Michael has been a member of the LearnBonds team since March 2020.
Online Contributions
Areas of expertise
Trading
Cryptocurrencies
AI trading