The market pundits are expecting the extension of Microsoft (NYSE: MSFT) stock price upside momentum. The stock has already gained 37% of value since the start of this year.
Market analysts are showing confidence in Microsoft's potential to lead the tech industry.
Morgan Stanley analyst Keith Weiss believes Microsoft is well set to generate durable double-digit growth amid Azure opportunity.
The analyst is also optimistic about its profitability. Keith Weiss says MSFT is best positioned in the tech for the emerging Hybrid Cloud architectures.
Improving gross margins across the commercial cloud line adds to its growth prospects. The analyst said, "The recently announced buyback and dividend increase pushed MSFT's total return profile to a mid-to-high teens CAGR through CY21."
Microsoft has recently hiked its quarterly dividend by 11%. The company has also announced a $40 billion buyback plan. The latest buyback plan accounts for almost 4% of the total outstanding shares.
The dividend increase is the outcome of its robust financial performance in fiscal 2019. The company has generated record revenue of $125 billion in 2019. This represents a 14% increase relative to fiscal 2018. It's fiscal 2019 net income also rose 22% from the previous year.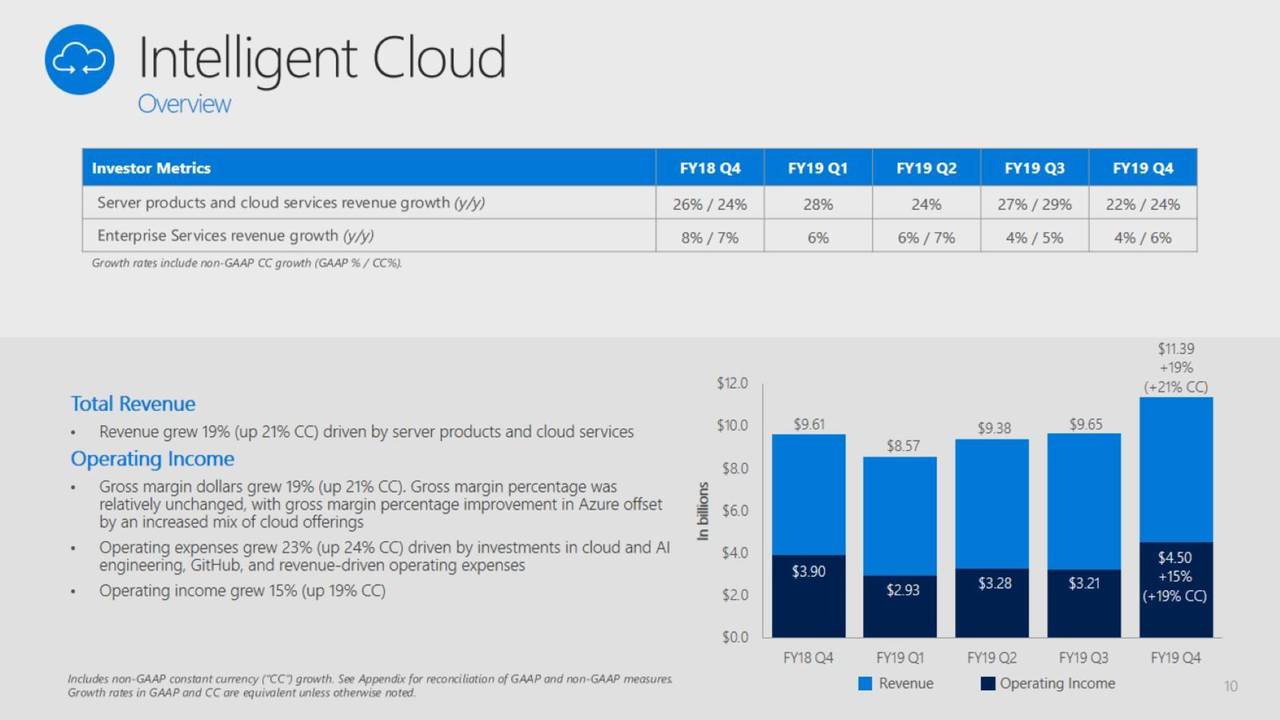 Its dividends and share buybacks are safe amid cash generation potential.
Microsoft has generated operating cash flow of $52 billion in fiscal 2019. This was more than enough to cover dividend payments and share buybacks.
Its dividend payments were standing close to $13 billion and buybacks at $19 billion in fiscal 2019. The huge gap in operating cash flows and cash returns allowed the company to increase cash returns for the following quarters.
The company expects to generate double-digit financial growth in the first quarter of 2020. It anticipates Q1 total revenue in the range of $32.4B. The analyst's consensus estimate for Q1 revenue stands around $31.99B. Overall, several catalysts are supporting Microsoft stock price upside potential. Therefore, buying and holding MSFT appears like a good strategy.