Intel (NYSE: INTC) shares have been rallying steadily over the past couple of months. Market analysts forecast an acceleration of the upside momentum in the case of a high single-digit dividend increase at the beginning of 2020. The company had increased its dividends in the past five successive years.
Fortunately, the chipmaker appears in a solid position to increase cash returns for investors. The company has topped revenue and earnings estimate in the latest quarter. In addition, its cash generation potential permits it to increase dividends in fiscal 2020. Intel shares are currently trading around 52-weeks high of $58, yielding above 2.2%.
Prospects are Strong for Dividend Increase
Intel has generated third-quarter revenue of $19 billion, up 0.2% from the year-ago period. The earnings per share came in at $1.35 in the third quarter. The company says record data-centric revenue contributed significantly to Q3 results.
Above all, the company has generated record operating cash flow of $23 billion in the past three quarters; the free cash flows were standing around $11.7 billion. Its dividend payments accounted for only $3.2 billion.
The huge gap in free cash flows and dividend payments offer a room for a big dividend increase. Moreover, the company has also raised its outlook for the full year. This is because of the improvement in data-centric revenue.
Bob Swan, Intel CEO said, "Our priorities are accelerating growth, improving our execution and deploying capital for attractive returns. We now expect to deliver a fourth record year in a row."
Intel Shares are Still Offering a Buying Opportunity
Despite a steady share price rally in the past couple of months, Intel shares are poised to extend the momentum. This is because of the potential dividend increase along with a share buyback plan of $20 billion.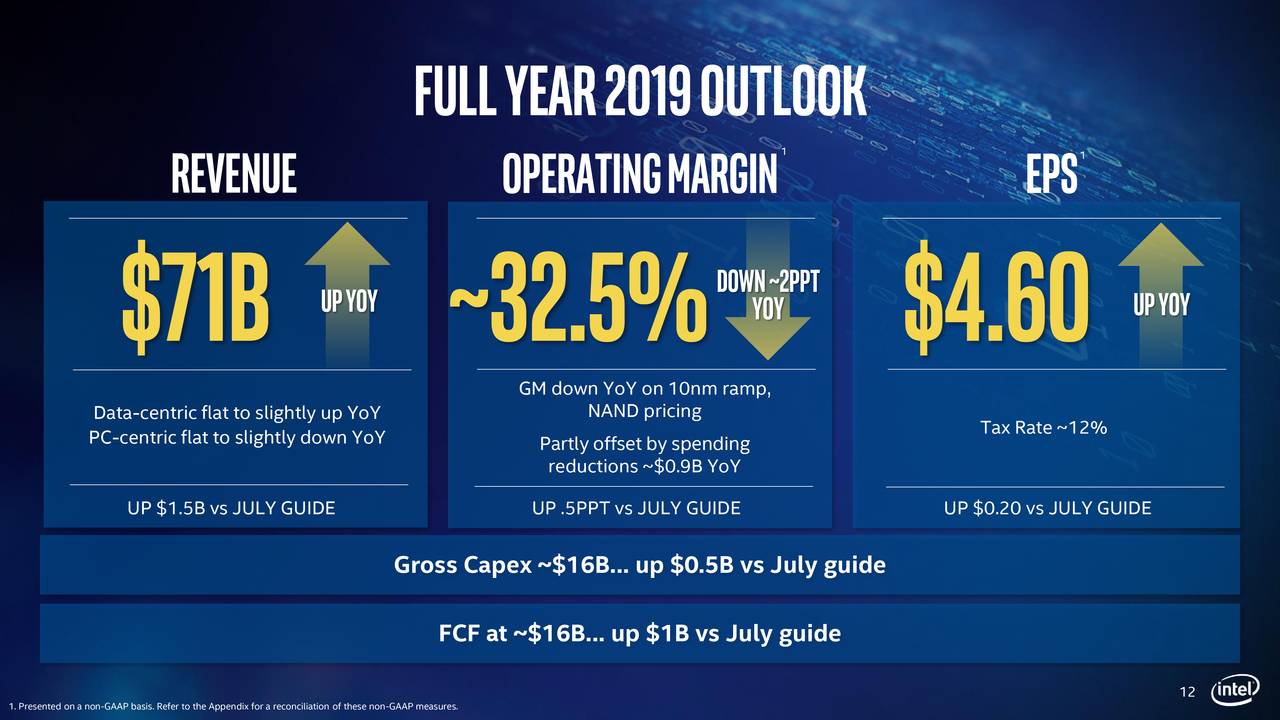 Strong revenue and earnings performance would also contribute to share price growth. It expects full-year revenue of $71 billion, up $1.5 billion from July guidance. Overall, Intel appears like a good stock for defensive investors.